Did you know that learning how to get referrals can lead to some of the best kinds of leads you can get? According to Referral Factory data, on average, around 76% of customers are willing to refer a friend if they have had a good experience with your business!
This means that if you want to get more client referrals, you need to build a good working relationship with your existing customers.
This blog post will show you how to get more referrals. Of course, you'll need to have an active referral program up and running before you can start asking for referrals. If you still don't have one, then we suggest reading this post first: How To Create A Referral Program In 8 Steps.
Once your business referral program is up and running, it's time to promote it. Promoting your referral program should be a crucial part of your marketing strategy this year, so make sure you're thinking about all the various ways to ask, prompt, and encourage your loyal customers and advocates to spread the word about your business.
To discover more information about generating referrals for your business watch this video and continue reading below!
10 Tips on How to Get Referrals To Your Business
1. Send personalized emails to your customer base
One of the most effective ways to promote a referral program is to send personalized emails to your current customers. You can use your referral software to do this or request referrals through an email marketing tool.
You could inform your current clients that they can give their friends and family a discount. And when they do, they will also get a reward. This works because you're not asking them to 'do sales' for you; instead, you are offering them the opportunity to help a friend, which will motivate them more.
You can segment your customer base by demographics and purchasing behavior to make it more effective. For example, if you sell a product that is popular among millennials, you can tailor your message to resonate with that type of audience.
Also, ensure that your email is visually appealing, easy to read, and has a clear CTA (Call-To-Action). Sending direct emails to your customer base is one of the fastest ways to get more referrals. You can also check out the once-off email feature that Referral Factory offers to do this.
Here's an example of an effective email that could help you get more customer referrals:
Hi 'Customer Name',
We hope you're enjoying our product/service. We wanted to let you know that you can share your love with your friends and family. When you refer someone to our business and they make a purchase, you'll both receive a discount on your next purchase.
The person who refers the most people this month will win a basket of gift cards worth $500 too!
Simply share your unique referral link with your friends and family, and they'll be able to redeem the discount at checkout. Plus, you'll earn a discount for every referral you make!
It's a win-win situation for everyone involved!
Thank you for being a loyal customer, and we can't wait to see who you refer.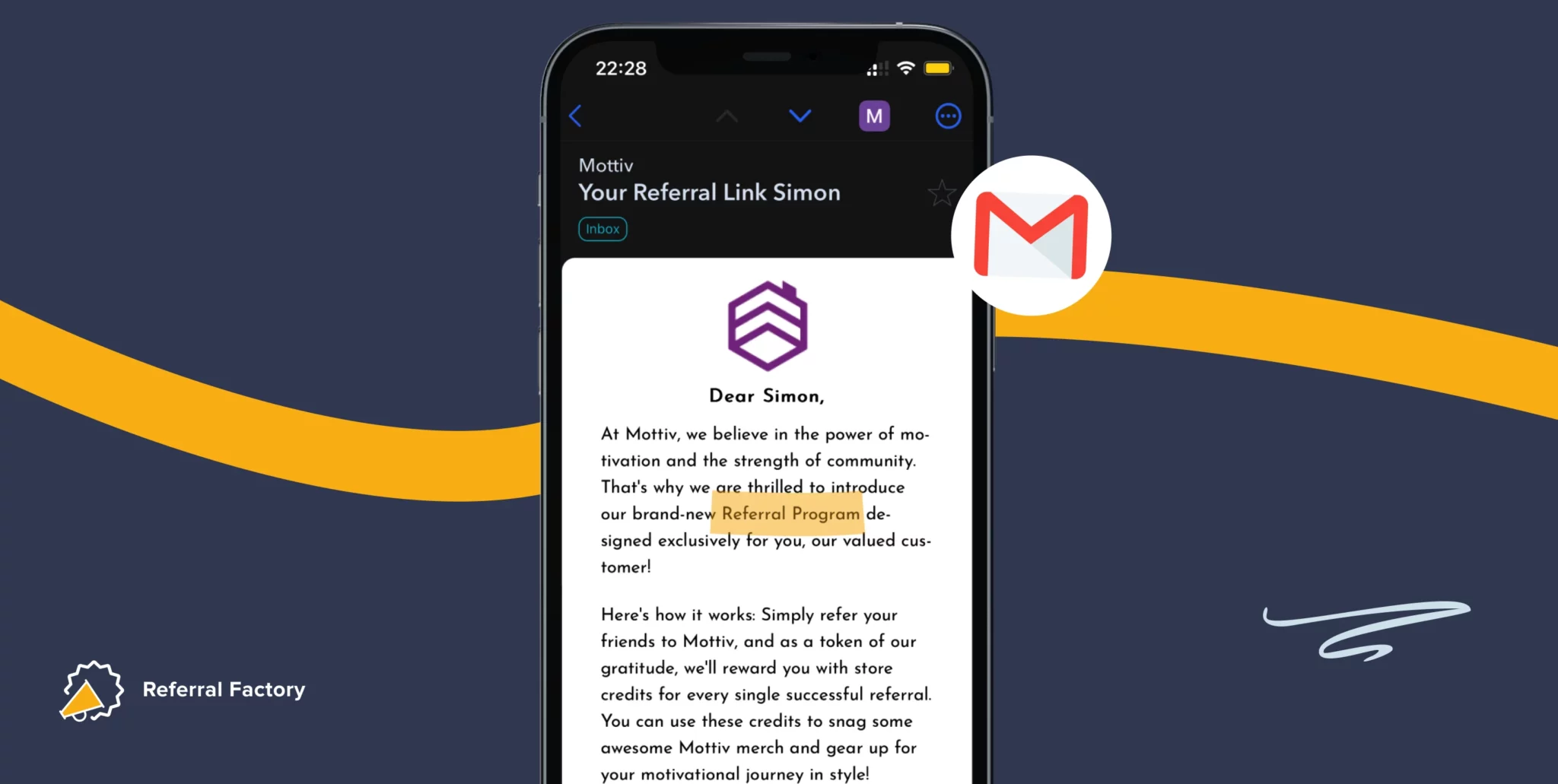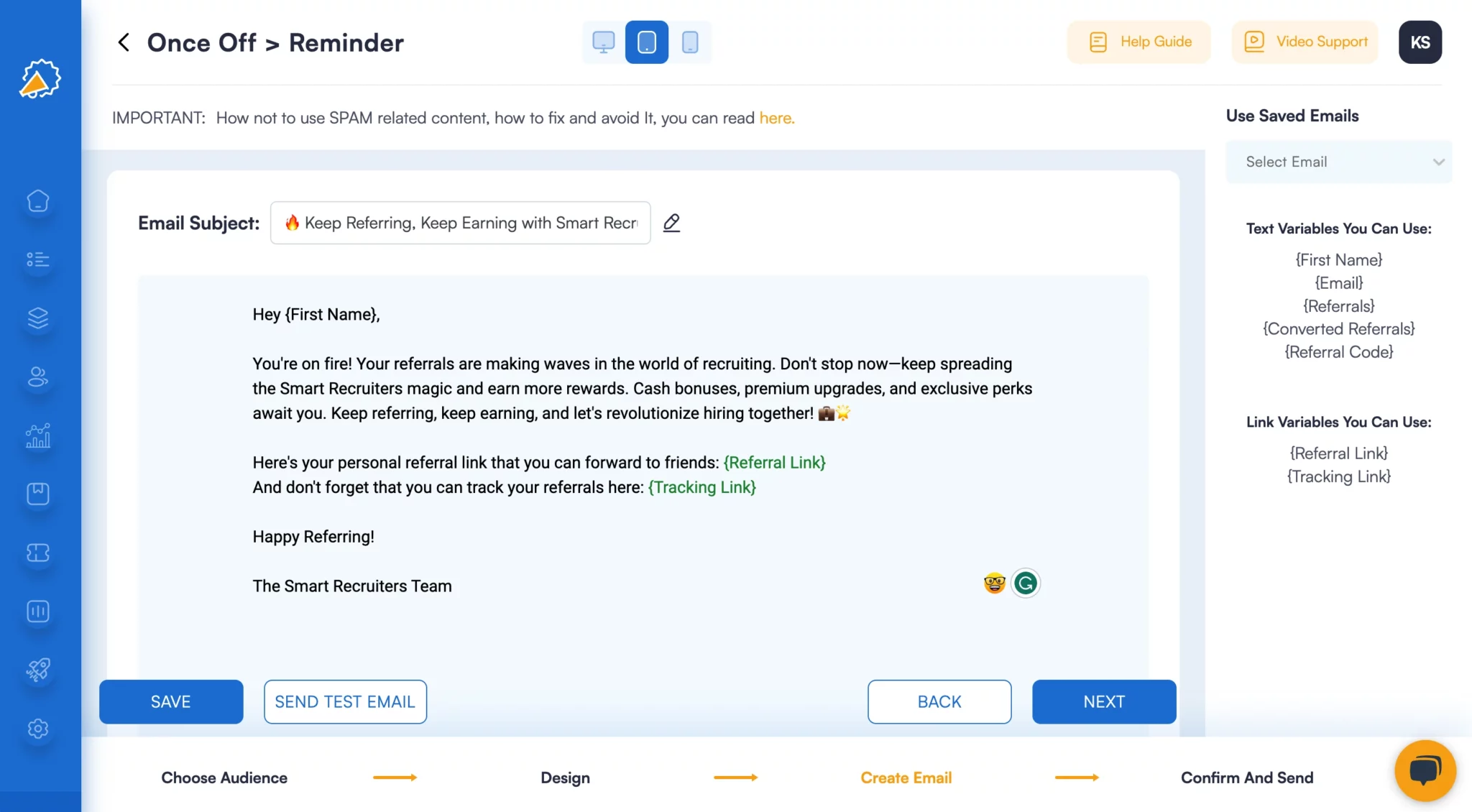 2. Advertise your referral program on your website or app
Another way to get more referrals is by advertising your referral program on your website or in your app. This means people will be prompted to refer when they are interacting with your brand because they have been promoted during their customer journey.
Make sure your referral program is easy to find (on your website or app) and that it's easy to understand. Don't forget that using referral links is easier for your existing clients than using referral codes. Links are more shareable, and they are each of your promoters with a personalized landing page that introduces your products to more people.
You can also use social proof by showcasing the number of referrals made and the rewards earned.
Here is an example of how you can promote your referral program on your website: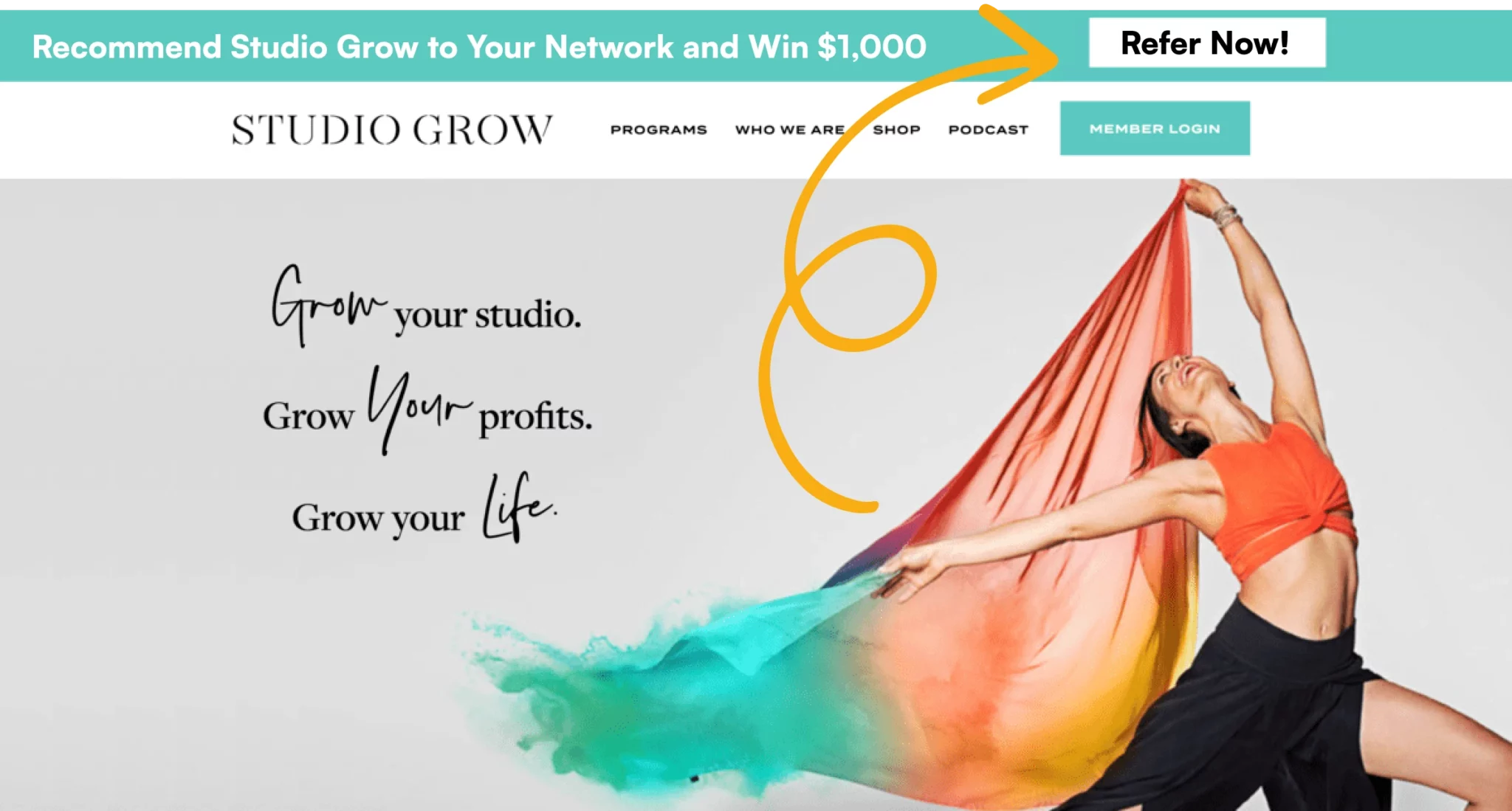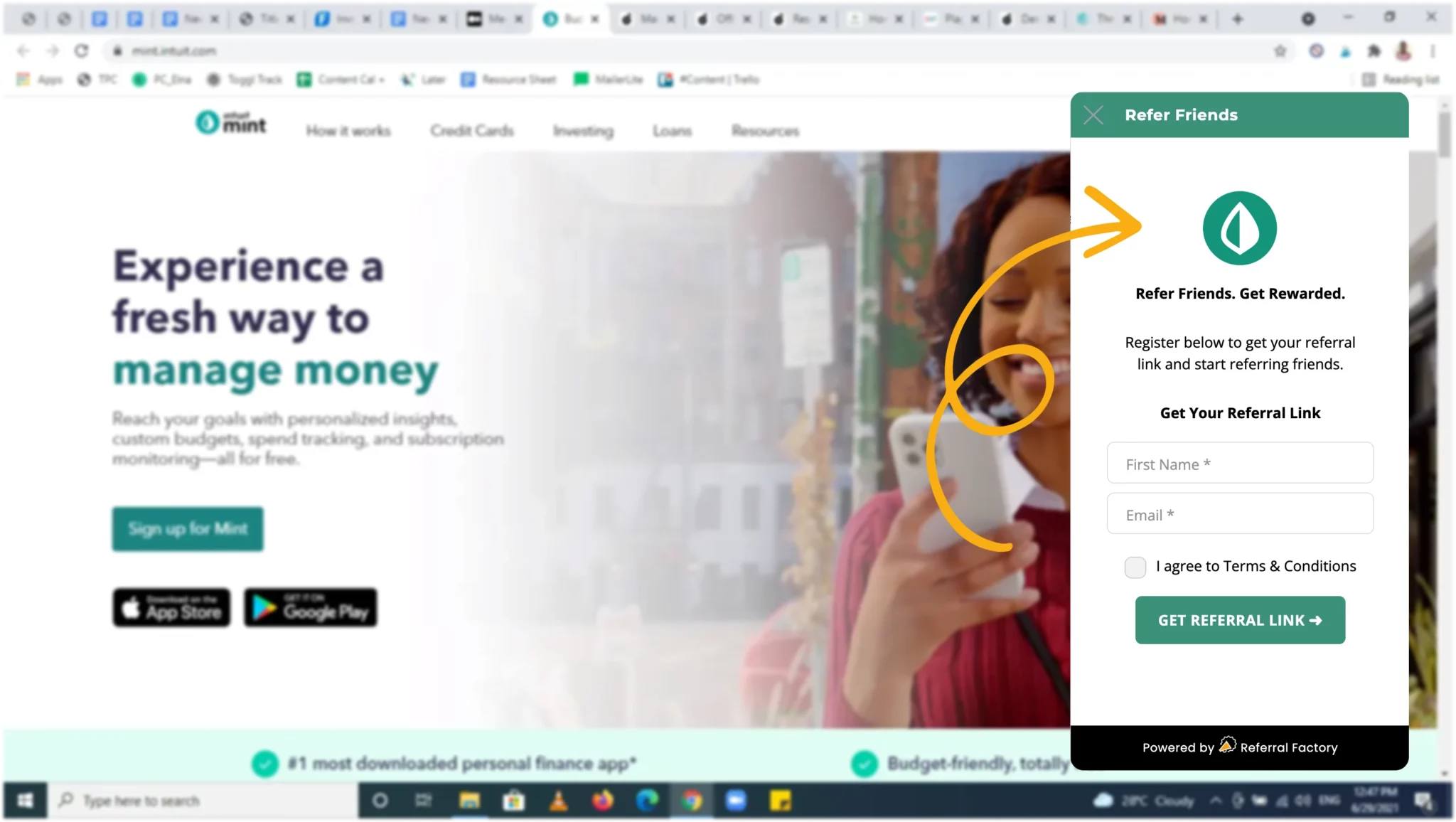 This could navigate people to a page where they can directly join your referral program. By using Referral Factory, you can create a join page, where you could say something like the statement below:
"Refer a friend, and you'll both earn rewards! Share your unique referral link with your friends and family, and you'll receive a reward when they make a purchase. Register to start referring customers now!"
Here are more examples: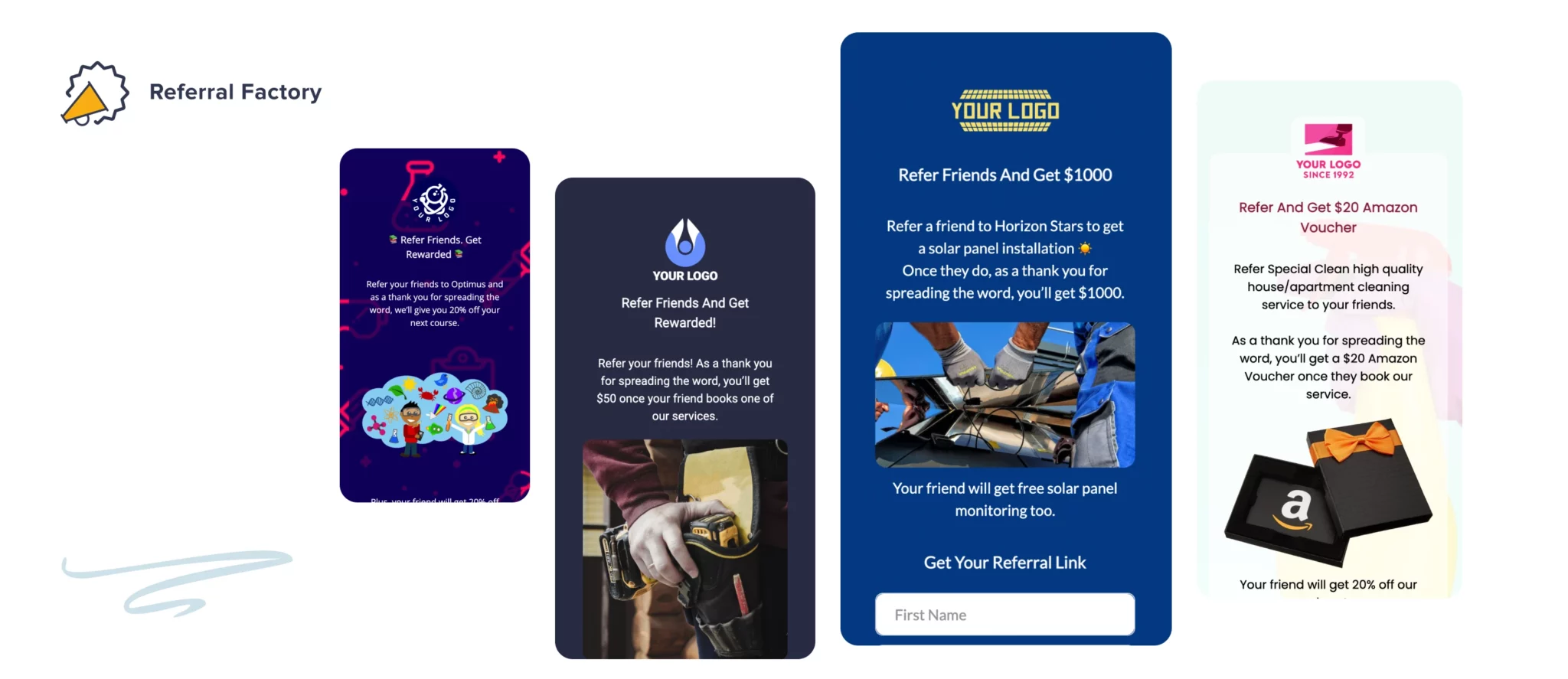 3. Include your customers' referral links in all of your customer communication
The third way to ask for referrals is to include your customers' referral links in your communication. This can be in your email signature (with a link to join your referral program), your invoices (showing their unique referral link), or your product packaging. By subtly reminding them to refer, you increase the chances of them actually referring potential customers.
To make it more enticing, make sure your referral program has a great offer for the person they are inviting. This way, they are more motivated to share their referral link with their network.
Here's an example of how you can include your referral link in your email signature:
"Love our product/service? Share the love with your friends and family and earn rewards! Register to get your unique referral link and start referring now."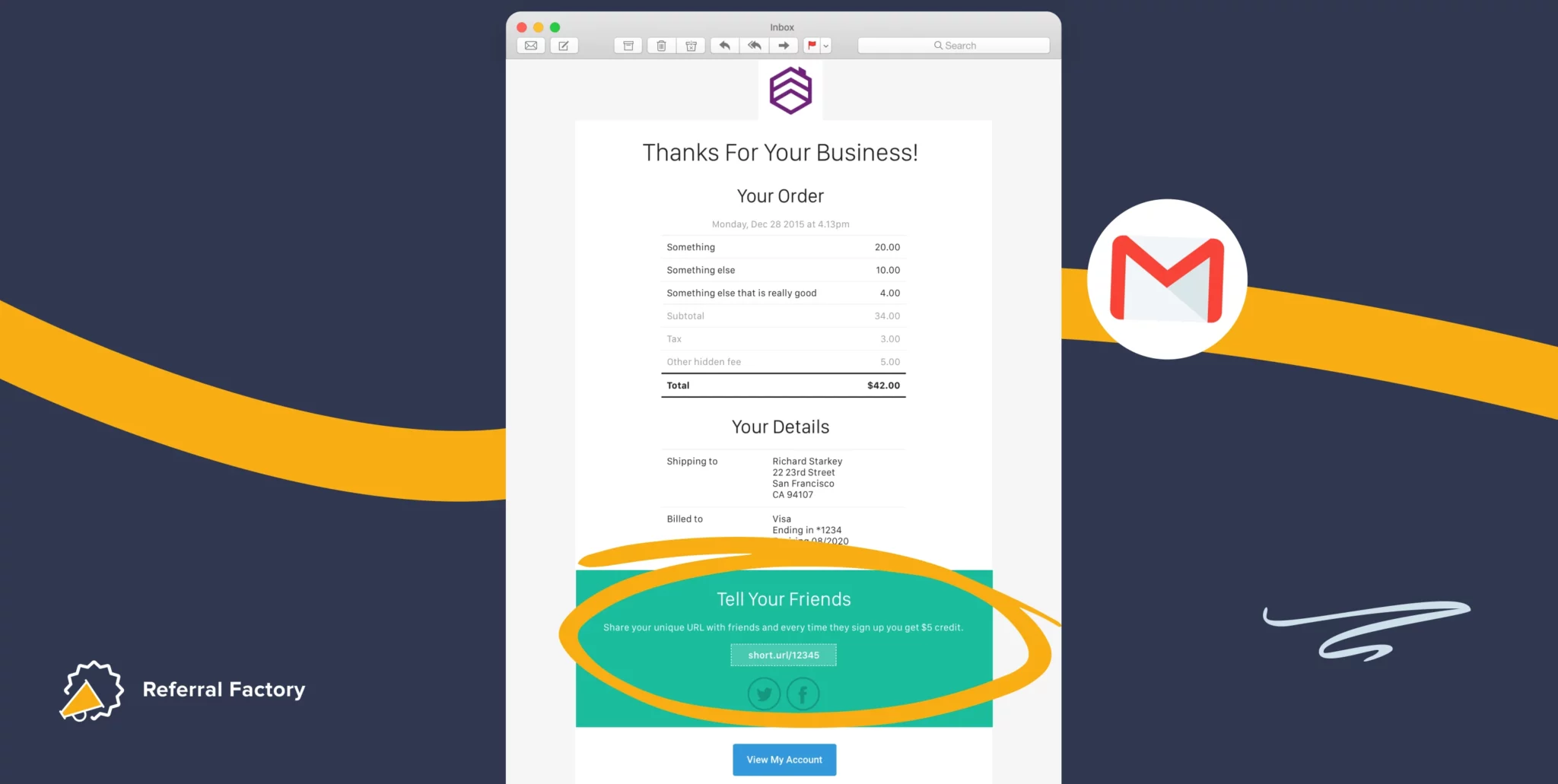 4. Send out a quarterly leaderboard email of your top referrers
The fourth way you can ask for customer referrals is by sending out a quarterly leaderboard email of your top referrers. This leverages social proof to tell people that others are doing this, and they should too. By showcasing your top referrers and the rewards they have earned, you can motivate others to refer more.
To make it more effective, you can also offer a bonus reward for the top referrer of the quarter or give them special recognition on your social media channels. This way, they feel appreciated and motivated to generate referrals.
Here's an example of how you can send out a quarterly leaderboard email:
"Congratulations to our top referrers of the quarter! Thank you for spreading the word and helping us grow our business. As a token of our appreciation, we're offering a bonus reward to our top referrer!"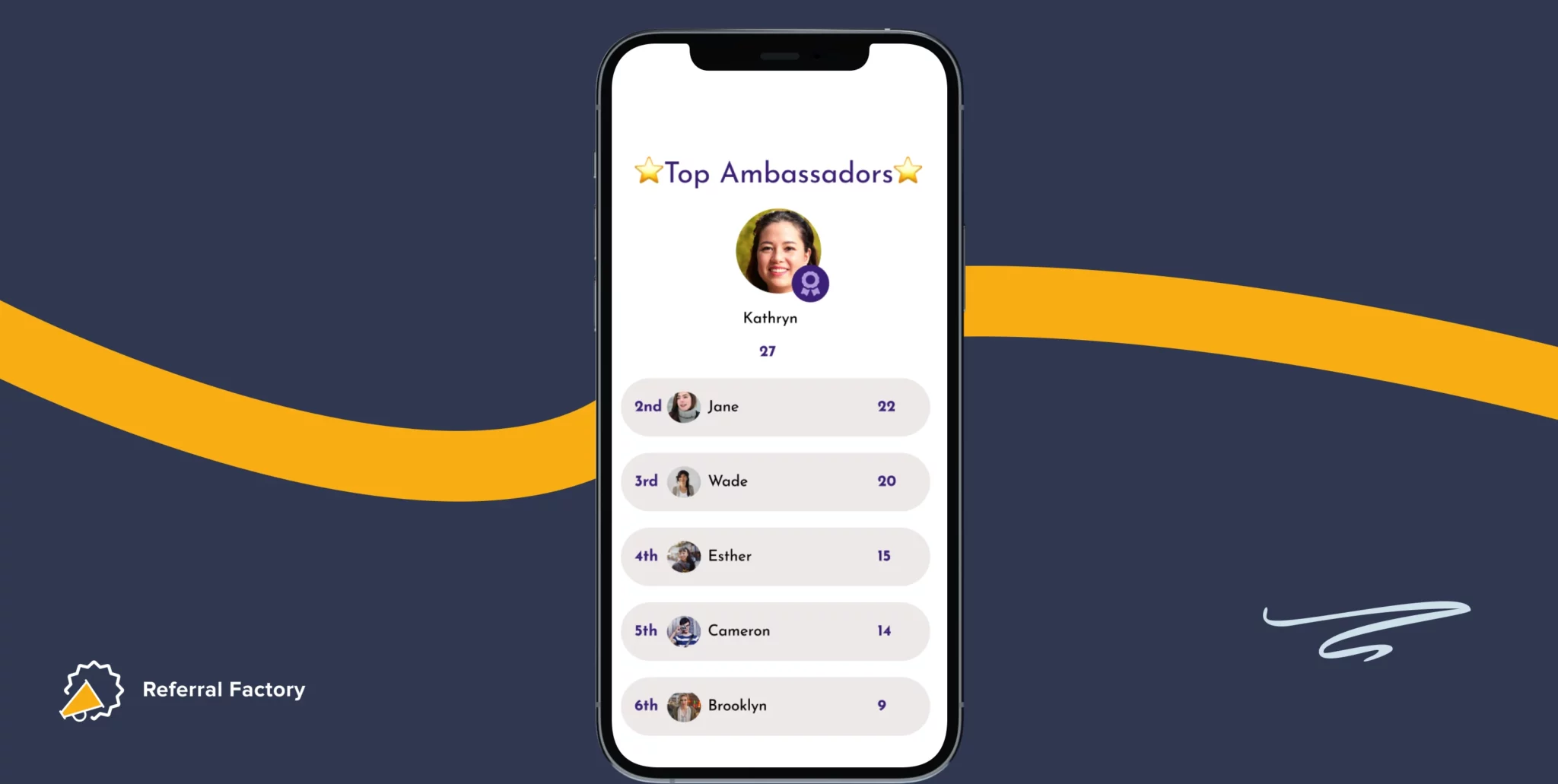 5. Advertise your referral program on your physical and digital assets
Along with using typical marketing channels like social media and your web presence, you should also use your physical assets. Create QR codes that people can scan to join your customer referral program and post in your physical locations.
The best time to ask people to make business referrals is when your brand is at the top of their minds, so be sure to advertise your referral program in every physical location you have! Think of all your sources of advertising (online and offline) and see if there is room to promote your referral program there.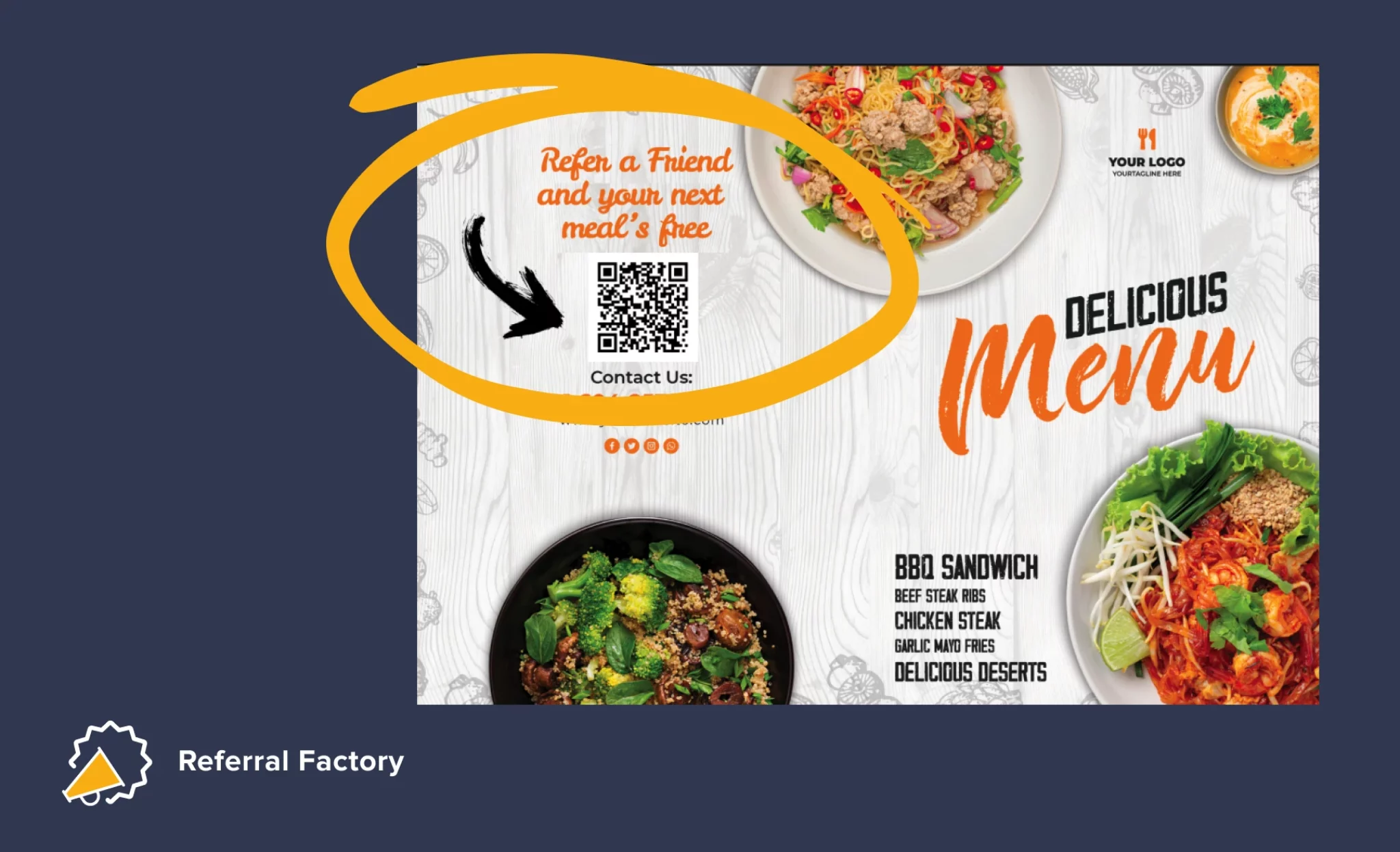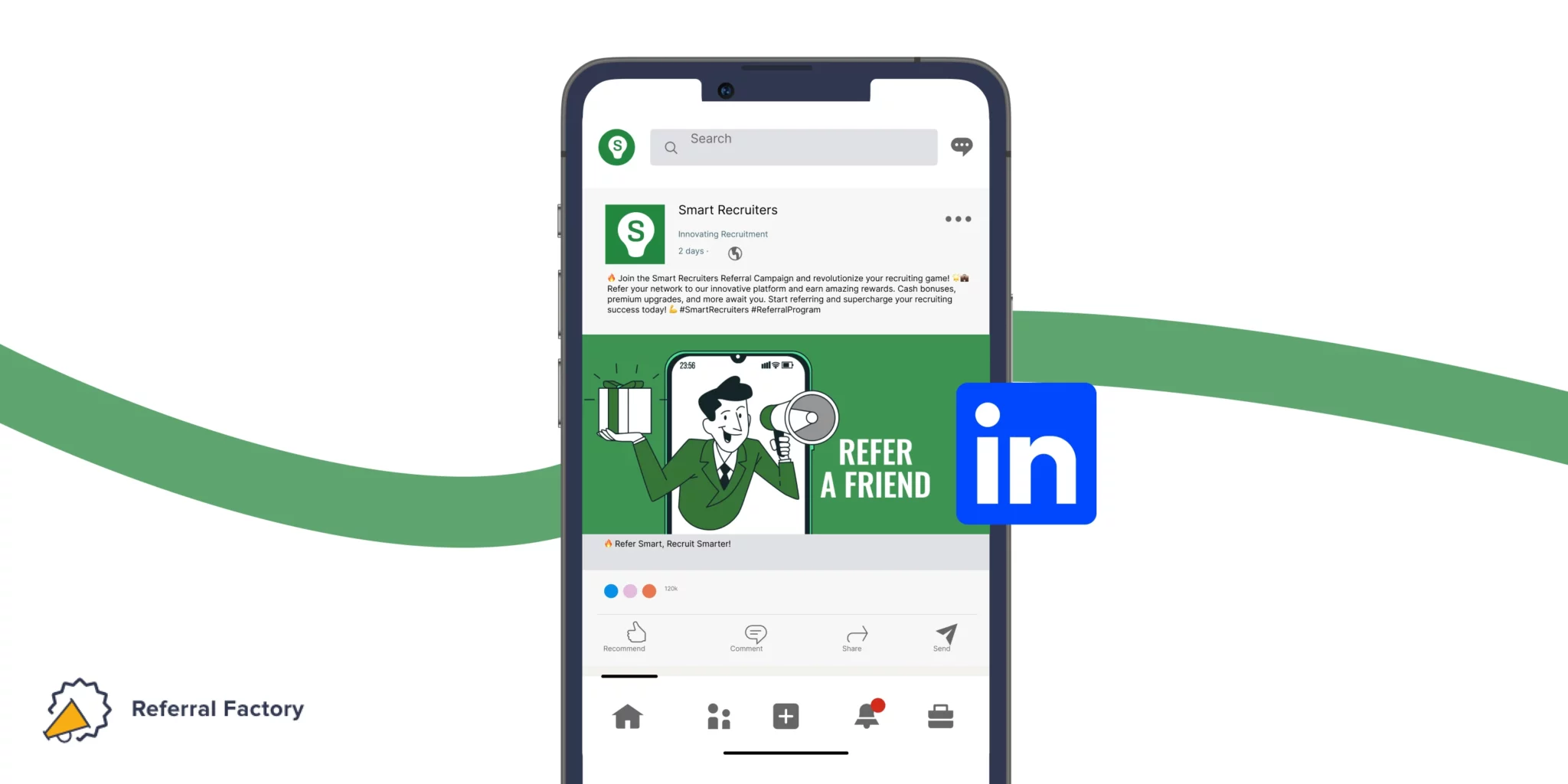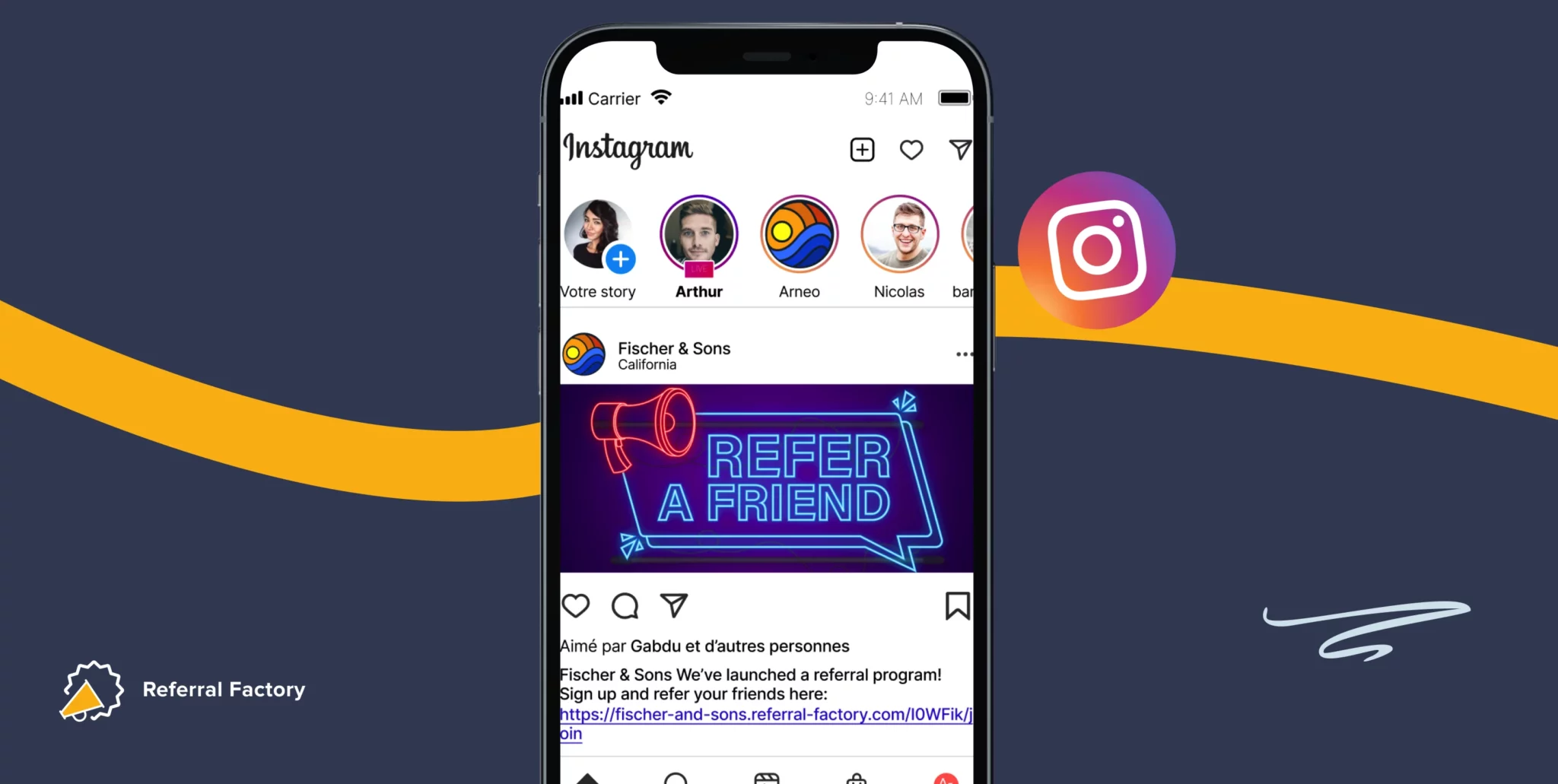 6. Get all your employees to advertise your referral program in their email signatures
Your employees spend all day talking to your customers, suppliers, and their business network. So, the perfect place to promote your referral program or customer loyalty program is right in their email signatures.
It also helps that your employees already have trusted relationships with your customers and suppliers, so they can help you get more referrals simply by using their email signatures as real estate to get referral clients.

7. Generate referral links for all your CRM contacts
Do you ever wonder how you could get referrals from your CRM contacts? Actually, it's easier than you might think!
Make sure you generate referral links for all your CRM contacts and sync their links back into your CRM. This means that every customer who will touch base in the future presents an opportunity to ask for a client referral.
Of course, you also have to make sure your team is trained to know how to quickly access each customer's referral link in your CRM. This makes the referral business process smoother when they find the opportunity to ask for a referral. Here's an example of how to get more referrals from your HubSpot contacts.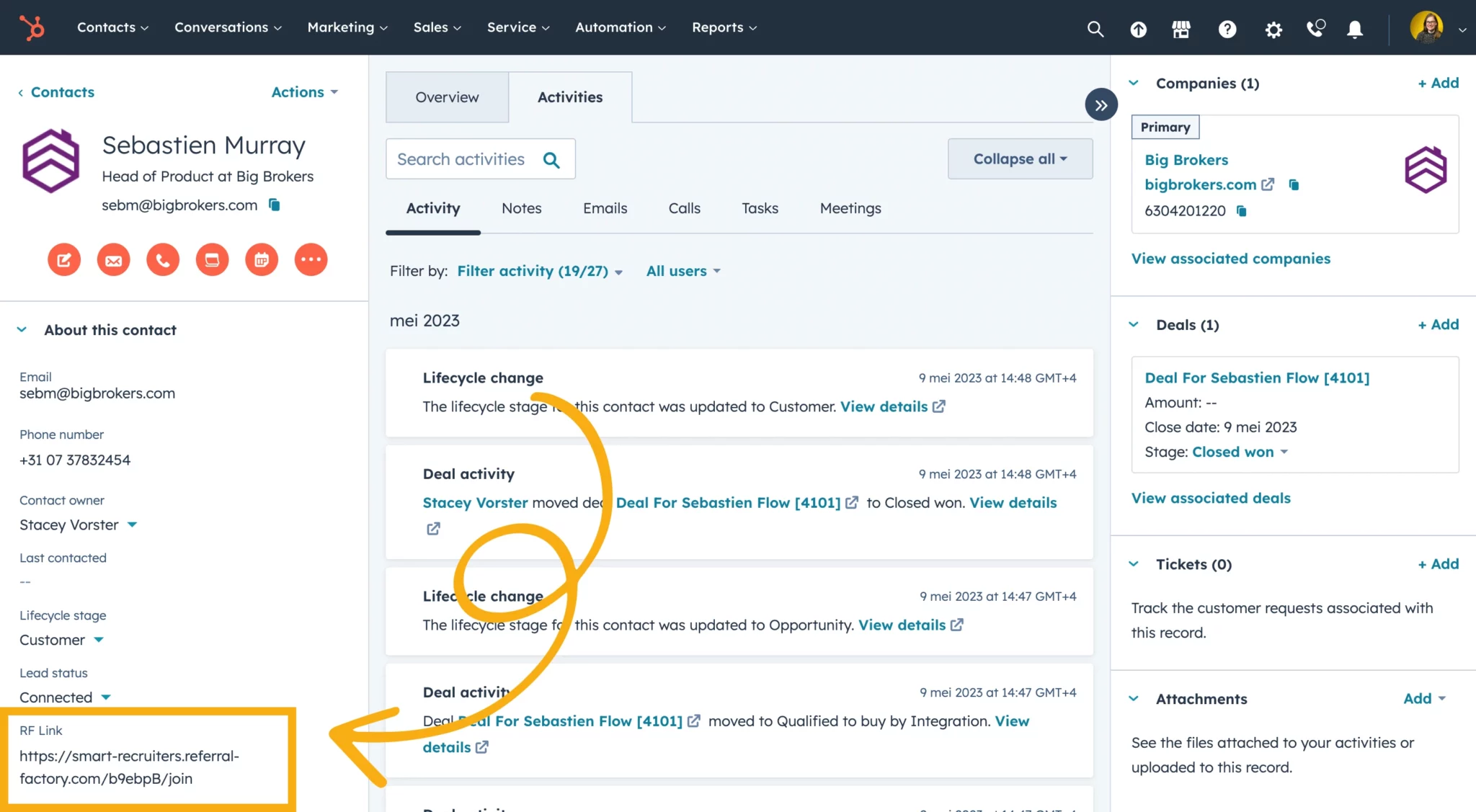 8. Embed your referral program in all your blog posts
If you work hard to create great content that people will find when searching the web, then it makes sense to embed your referral program into your blog posts, especially those pages that receive the most traffic.
When you get new blog readers who are already interested in your niche, that is a perfect opportunity to prompt them to refer friends too. Moreover, this is also a viable platform to promote your business referrals program to your existing clients.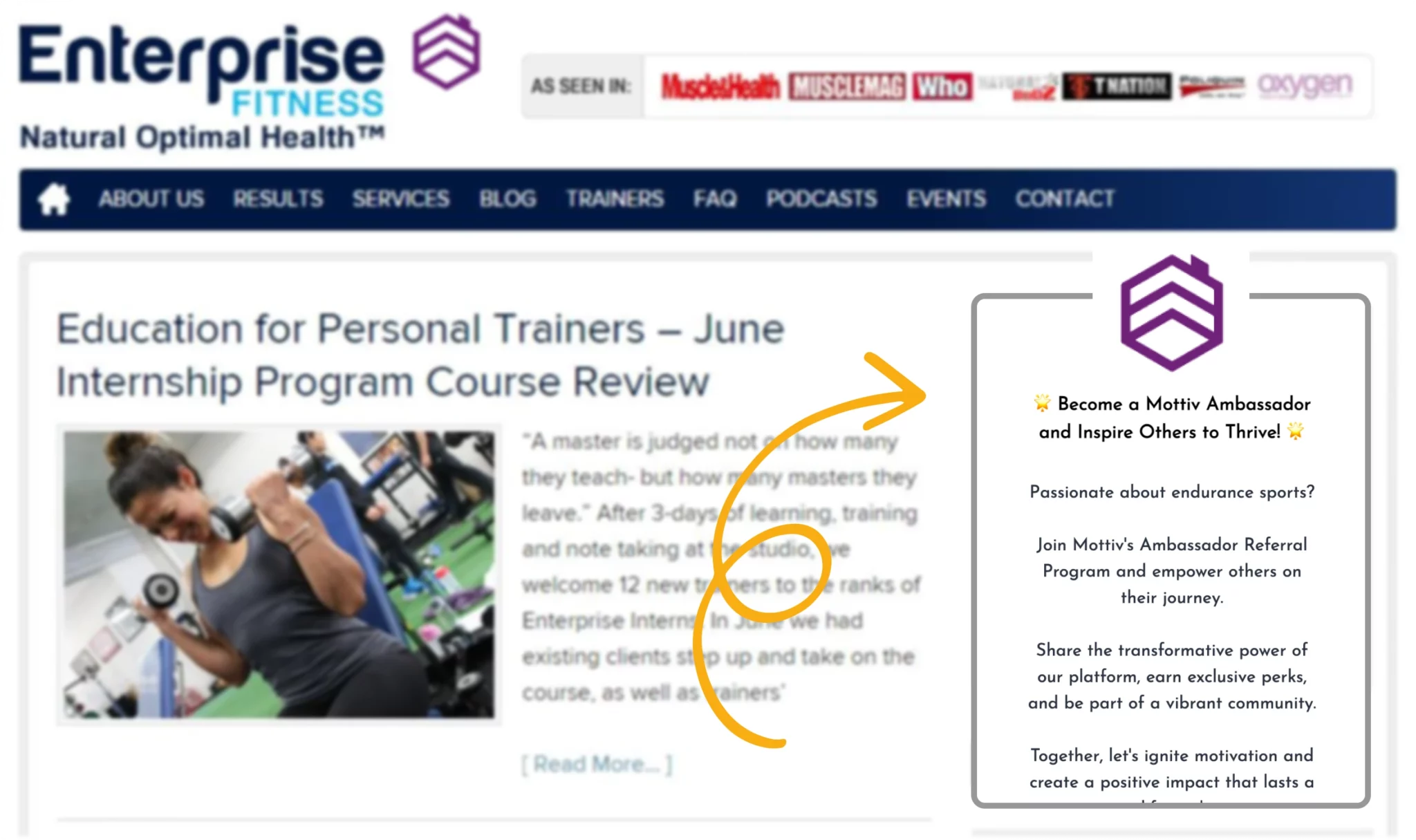 9. Find micro-influencers to join your referral program
If you already have an active referral program, you might want to consider broadening the reach of your referrers. One way to do this is to approach micro-influencers and encourage them to speak about your brand.
A micro-influencer is any social media profile with 1000 to 5000 followers. You'll only want to approach influencers who are already talking about your niche online. This way, you're also collaborating with a strategic partner and tapping into an audience base that is also interested in what you're offering.
Furthermore, you should also do a background check on the influencer that you're partnering with. Brand reputation is a crucial factor in getting customer referrals, so it's important that you have your bases covered.
Some (relevant) micro-influencers may be interested in promoting your product or service. If they join your referral program, you should also monitor if they are successfully driving more sales to your business. If they do exceed expectations, then you might want to nurture this partnership.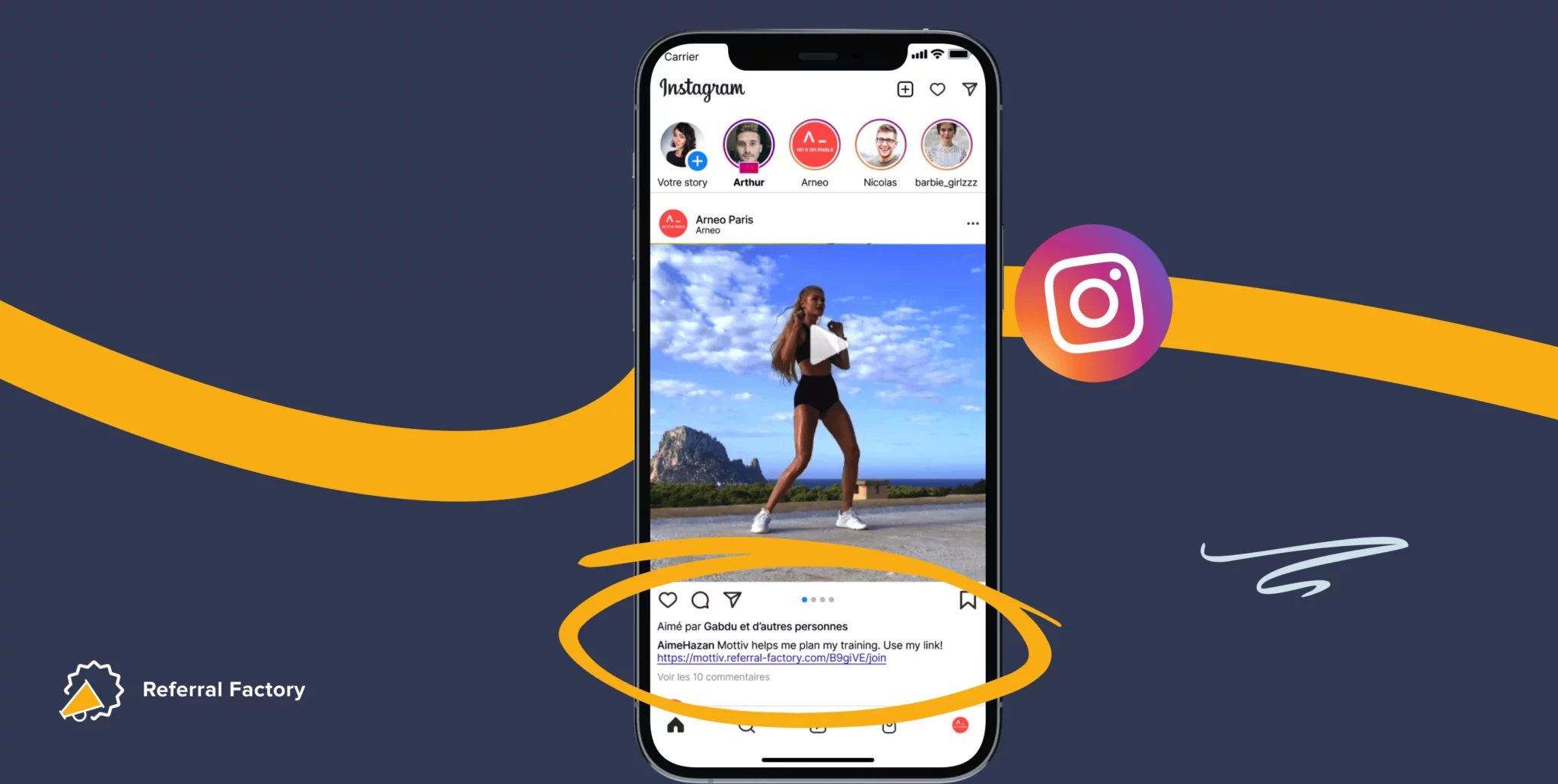 10. Make it a part of your sales and customer support process
Let's face it. The best platform on how to get referrals is by doing it in a one-on-one way, particularly after your satisfied customer has had a positive experience with your business. You don't want to ask a favor from a disgruntled customer, do you?
When asking for customer feedback through one of your communication channels, you can also put in referral requests as a conversation segway. This is a great chance to take advantage of, especially if you're getting positive online reviews from your loyal customers.
Most importantly, think about training your sales and support teams to actively ask their clients to refer. A small effort can go a long way. It takes more work and a longer process to ask for referrals in a one-on-one way, but the results are amazing if you can get it right!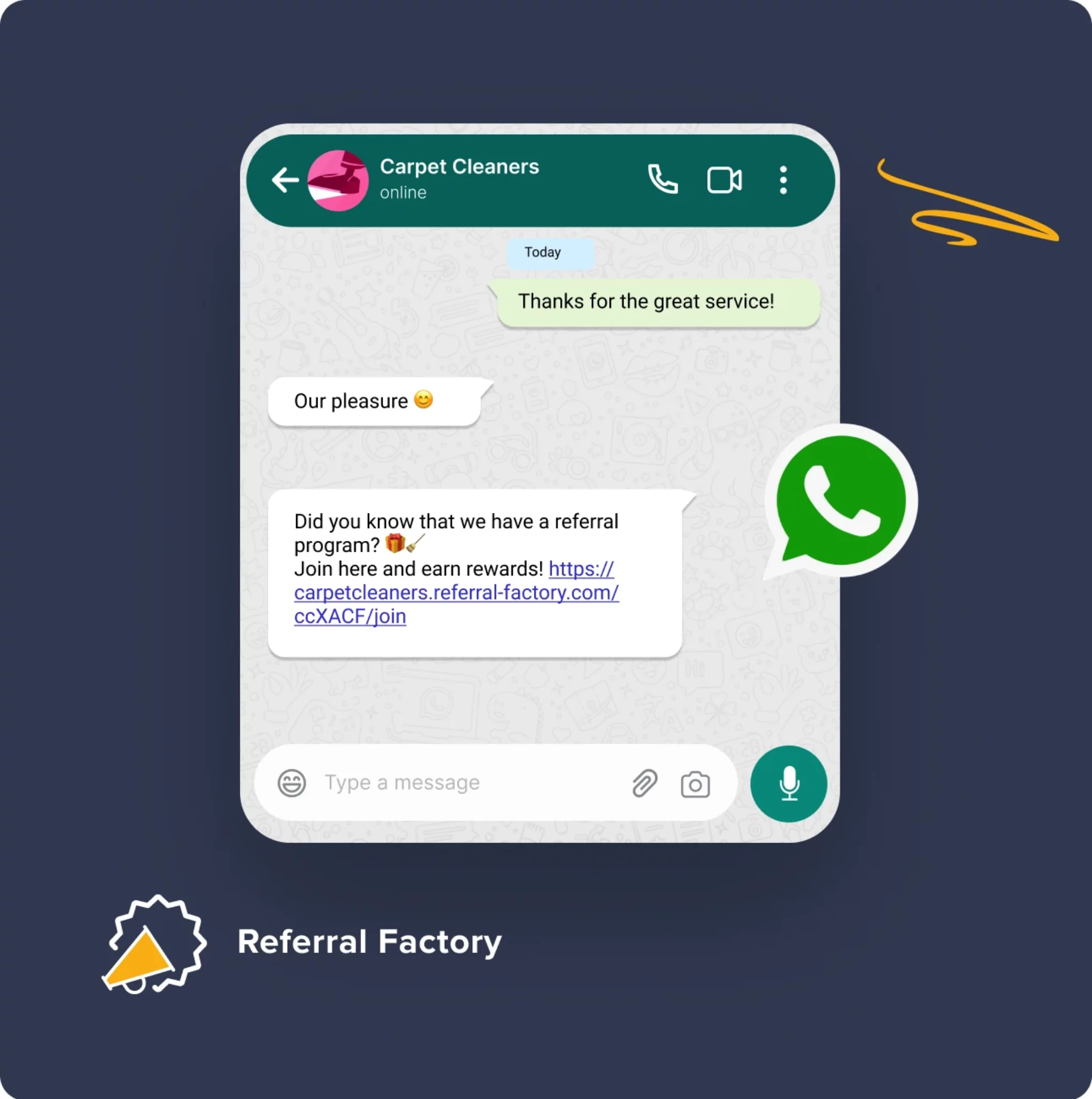 Referrals as a Business Growth Driver
Driving growth through referrals is also one of the most sustainable ways to grow your business. According to a study by the New York Times, referred customers have a 16% higher lifetime value than non-referred customers. This is because referred customers are more likely to be loyal, have a higher retention rate, and are more likely to refer others.
"Referred leads also convert at a rate 2x higher than leads acquired through paid marketing channels. This means that not only are your customers more likely to refer their friends and family to your business, but those referrals are also more likely to become paying customers. This creates a positive cycle of growth for your business, as happy customers continue to bring in more happy customers," says Kirsty Sharman, founder of Referral Factory.
If you're ready to launch your referral program and ask your happy customers to refer friends, you'll need to find a referral platform that can help you build, launch, promote, and manage your referral program. Over the last decade, we've seen huge growth in the tools available to build and manage your referral software program.
As technology advances and systems improve, you're now able to do a whole lot more by using a plug-and-play referral solution. It just doesn't make sense to hire a developer and build your own referral program anymore. You can get started using the top referral tools for as little as $95, and most of them offer a free trial too.
When choosing your referral program software, you want to consider a few basics, including the ones below:
Ease of use
Access to referral program templates
Great integrations
Tools to promote your referral program
Dynamic range of incentive and reward options
Referral tracking and analytics dashboards.
Some examples of referral program software you can consider are Referral Factory, Tapfiliate, Viral Loops, Friend Buy, Everflow, or Mention Me.
FIND THE BEST REFERRAL SOFTWARE FOR YOU
Read our in-depth guide on the best
referral software to use in 2023
Referrals are Driving Sustainable Growth Across Many Industries
The data collected by Referral Factory's Top 1000 referral programs in 2022 showcases one simple message: referral marketing works.
If you've been wondering how to get referrals flowing into your business, then launching a referral program will be the first step you want to take. After your program is launched, you'll need to think about how to automate asking people to refer their friends and family to your business.
Your customers probably have friends with similar interests to them, which means that their friends are highly likely to be interested in your product or service too!
If you actively promote your referral program and ask your customers to refer, the results can be astounding. The table below will show you how brands across various industries accelerated their customer acquisition by launching a referral program.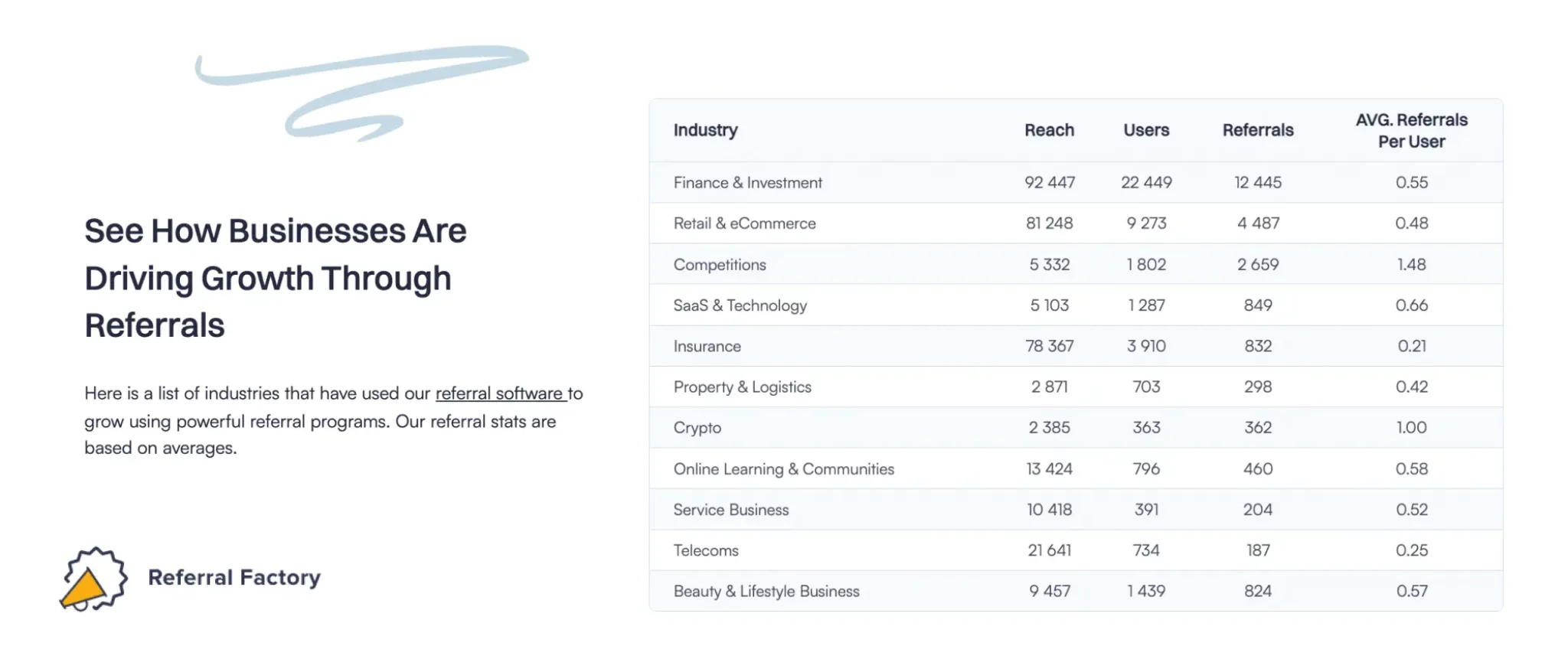 The crypto industry saw the highest 'average referrals per user' when launching a referral program. In some cases, they manage to double the size of their community overnight by asking their crypto community to share their referral links across Twitter, Telegram, and Discord.
Other industries that generally see a high referral rate are Education, Beauty and Lifestyle, and SaaS (Software-as-a-Service). This is because it's particularly easy to prompt people to make client referrals, and the buyers of these kinds of products are highly likely to know potential customers who would buy too.
Below is an example of a crypto referral program. If you're interested in crypto, then you might want to check these posts:
👉 How to grow your community through referrals
👉 How to launch a Discord referral program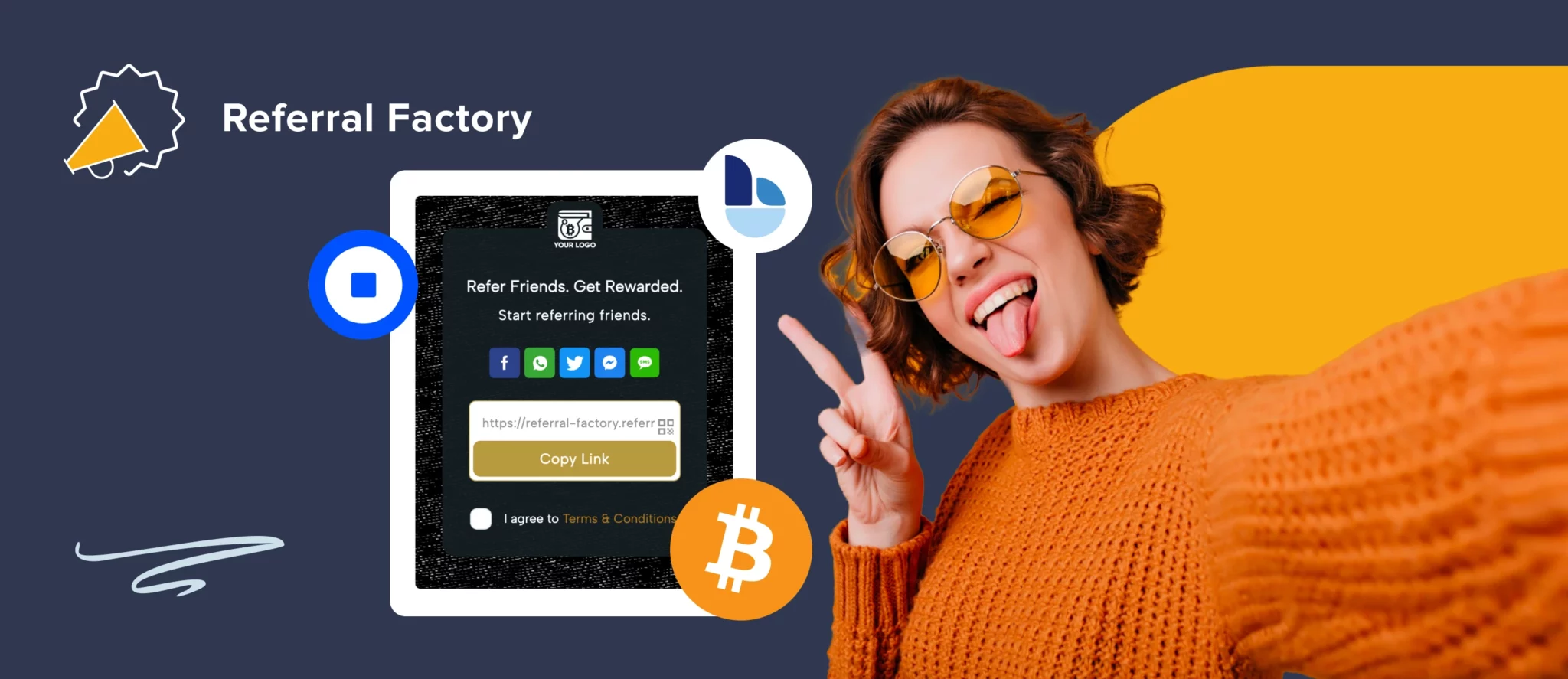 This popular cryptocurrency brand ran a referral promotion for a few months, offering tokens to the people who would actively recommend their coin to friends. If you're looking for a new Web 3 marketing strategy, referral marketing is for you.
Things To Remember When Planning Your Referral Program
It's important to remember that building a successful referral business takes time and effort. To discover how to get referrals in a more efficient way, here are some things you need to keep in mind.
Think of an attention-grabbing reward
You'll need to create a compelling incentive for your existing customers to refer their friends, whether that is a monetary reward or a discount on their next purchase. The important thing is to give your existing clients something they could use right away so they would be more motivated to get referrals for you.
Set up your referral process tracking tools
You'll also need to set up your referral tracking before your campaign launches. It's important to track the results early so you can make optimizations if you need to. If you use a plug-and-play referral software to build and manage your referral program, tracking should be automatically set up for you.
Have a clear-cut customer referral agreement
Before you announce your referral program to existing clients, make sure that you already streamlined your customer referral agreements. Serving as a legal contract between you and a referring customer, these agreements should clearly state all terms of the program so as to avoid any dispute in the future.
Maintain a proactive approach to promoting your program
Most importantly, you need to plan how you can actively promote your referral program and incentivize your customers to keep referring. Use the ten tactics listed above to actively advertise your referral program. This will help you recruit more people to get customer referrals and remind customers who are already enrolled in your program.
Even though setting up a referral program requires time and effort, it's important to remember that a successful referral program can be significant — both in terms of new customers acquired and increased loyalty from your existing customers. Just remember that building your referral program is only the first step; you also need to be proactive in your promotional efforts.
How Powerful Can Referral Marketing Be?
To illustrate the power of referral marketing, let's take a look at two successful companies that have used this strategy to drive their lead generation.
Tesla, the electric car manufacturer, launched a referral campaign that rewarded both the referrer and the referred with a variety of incentives. These rewards came in the form of free supercharging, exclusive events, and even a chance to win a free Tesla Roadster.
By leveraging its existing customer base to spread the word about its products, Tesla generated a significant amount of buzz and attracted potential customers.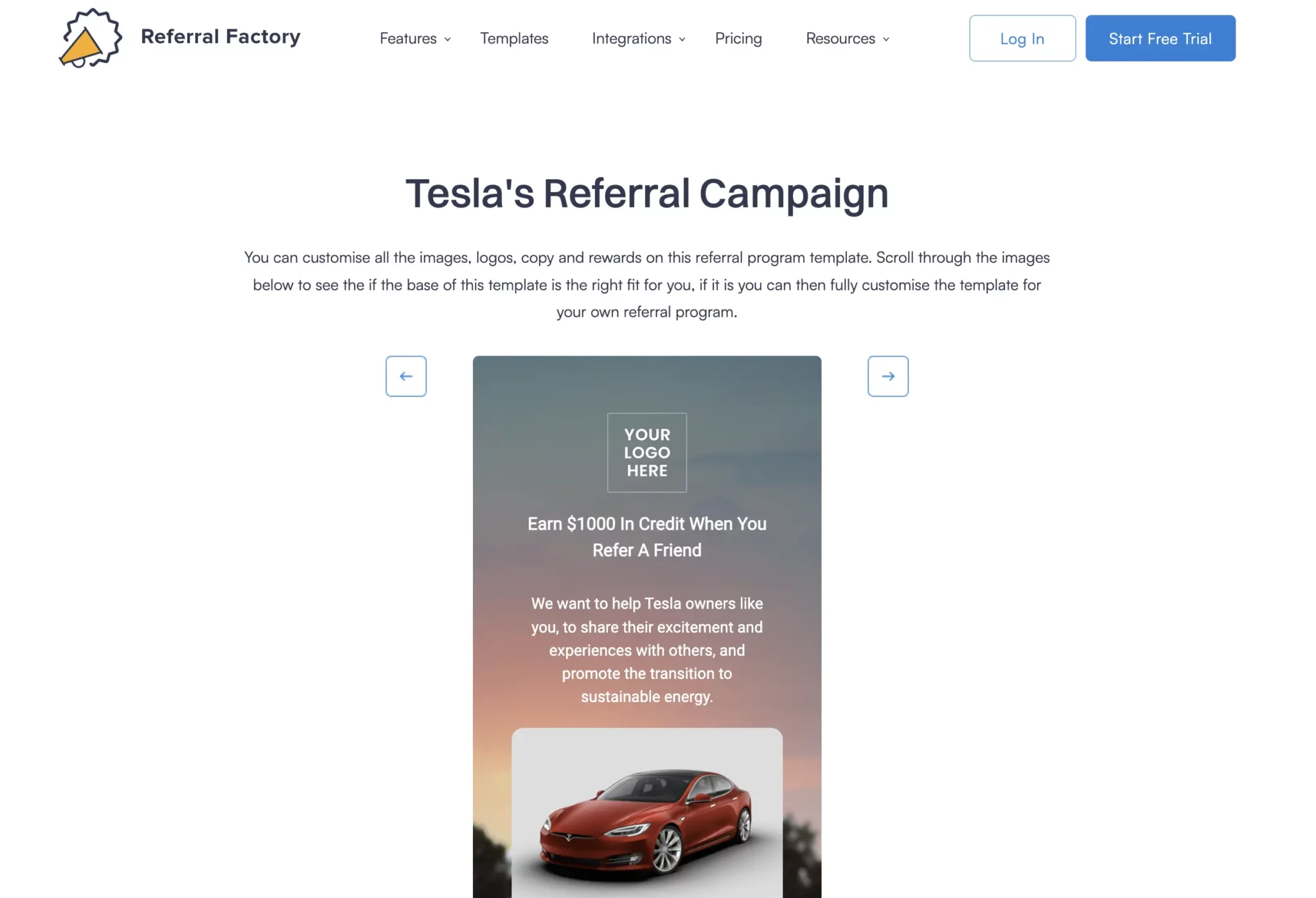 Similarly, Revolut, the digital banking app, has grown rapidly thanks in part to a referral program that rewards users with cash bonuses for referring friends and family. By making it easy for their customers to share the app with others and incentivizing them to do so, Revolut has been able to acquire new customers at a low cost.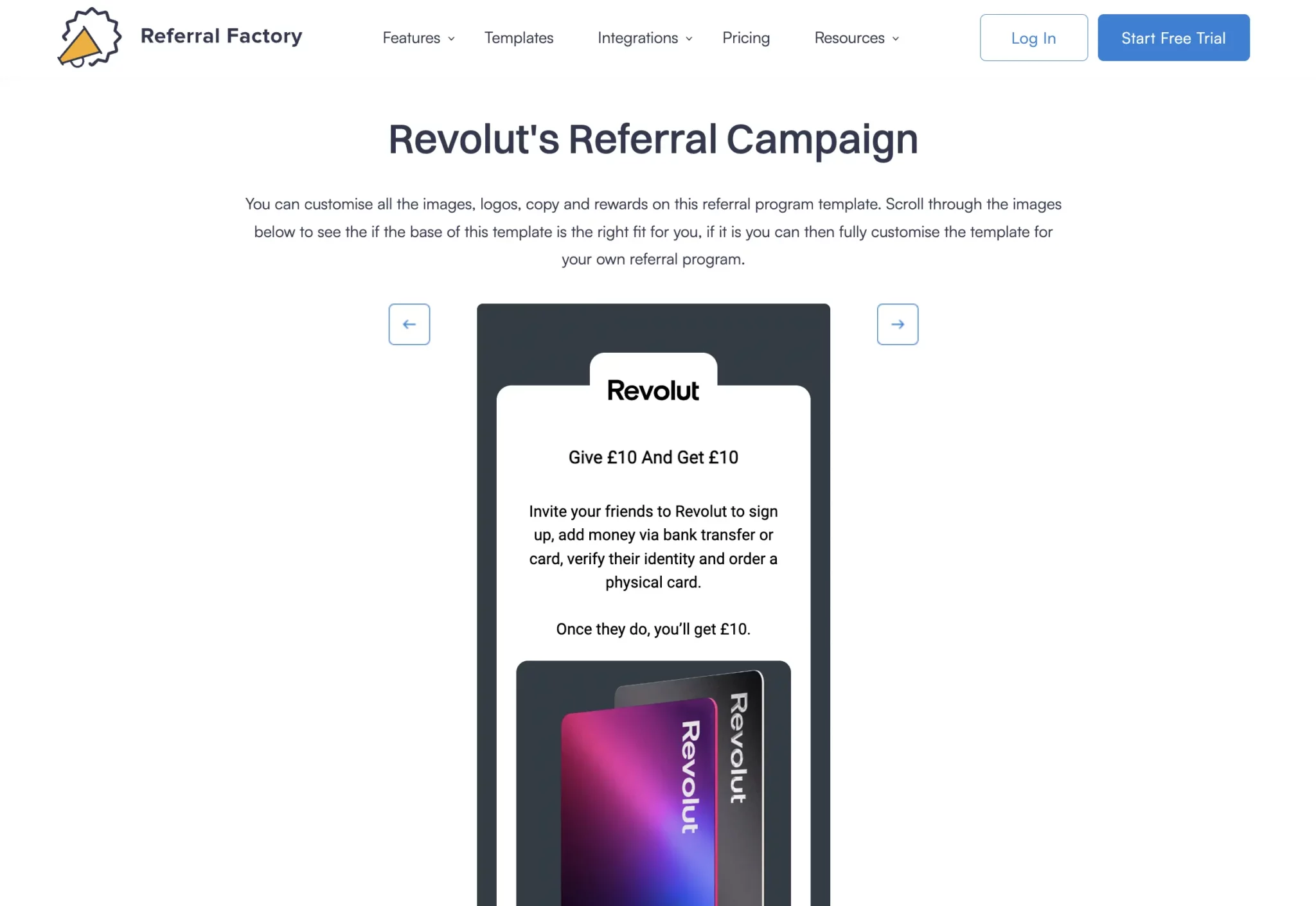 Revolut invited their customer base, employees, and affiliate network to participate in their referral campaign. This is how they managed to get so many people actively referring their friends to this new digital banking app.
But referral marketing isn't just for big companies like Tesla and Revolut. Small local businesses can also benefit from this strategy by offering incentives for their existing customers.
For example, a local restaurant could offer a free appetizer or dessert to customers who refer friends or family who come in and dine. Similarly, a hair salon could offer a discount for both the referrer and the referred. By tapping into their existing customer base and incentivizing them to spread the word about their business, small local businesses can drive growth by launching a referral program too.
The exciting news is that this marketing strategy is no longer just for tech startups! With the rise of referral software and affiliate tools that offer 'no code' solutions, it's now possible for businesses of any size to build and launch their own customer referral programs.
Advantages of Using Referral Program Software
Launching a referral program can be a game-changer for your marketing efforts. But do you know how to get referrals without hiring a developer?
The answer is a no-code referral software. These kinds of tools allow you to create all the pages, links, and elements for your referral program without writing a line of code. Some of the advantages of using referral program software over building your own custom referral solution are:
1. You'll save time
By using a plug-and-play solution, you'll get most of the features you need to successfully run a referral program out of the box. You won't have to build anything from scratch. This means you can get your referral campaigns up and running in days, not weeks or months.
2. You'll save money
Hiring developers to build every element of your referral program can get expensive very quickly. There are tons of client referral features that you need to complete, including landing pages, user tracking, referral link generator, email notifications, and widgets.
Building a referral program means promoting it and polishing all the technicalities. By opting for a no-code referral software, you'll get all these elements out of the box. Think of it like leasing them rather than buying them. You get all the goods without the necessary hassle!
3. You'll gain access to built-in tracking and referral analytics
Tracking the success of your referral program is extremely important, but it takes time to configure and set up your tracking and analytics tools from scratch. Your social media and website analytics tools will not give you very accurate statistics, which is why you have to set up third-party apps to make sure that you're on top of your client referrals analytics.
But if you find referral software with analytics built-in, you're off to a great start! Along with the numbers they could crunch for you, most of these software can also integrate third-party tools into the mix.
4. You'll gain access to built-in promotional tools
Most plug-and-play solutions offer a wide range of tools to promote your referral program. You could easily automate advertising features like website widgets, pop-ups, and email marketing tools. This helps you reach your target customer base directly and ask them for referrals.For more information on how to get referrals, we also talked about the features to look for in your referral software.
Examples of Programs Built Using a Referral Program Software
Optimus (B2C education industry)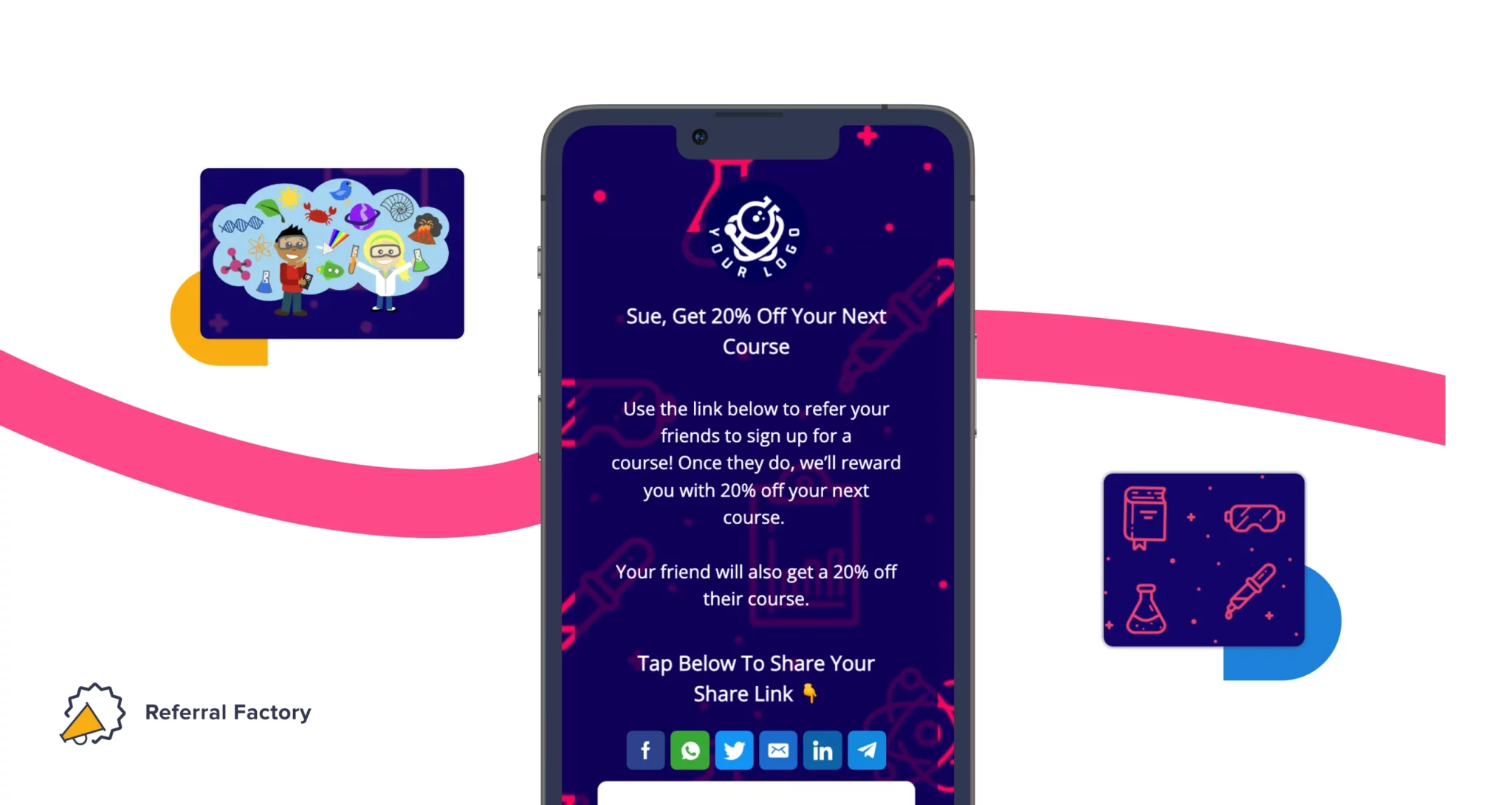 Refer a friend and get a discount on your next course. The friend you refer will get a discount too. This is a classic double-sided referral program in the education sector.
Angels Cafe And Cooking School (B2C food and beverage industry)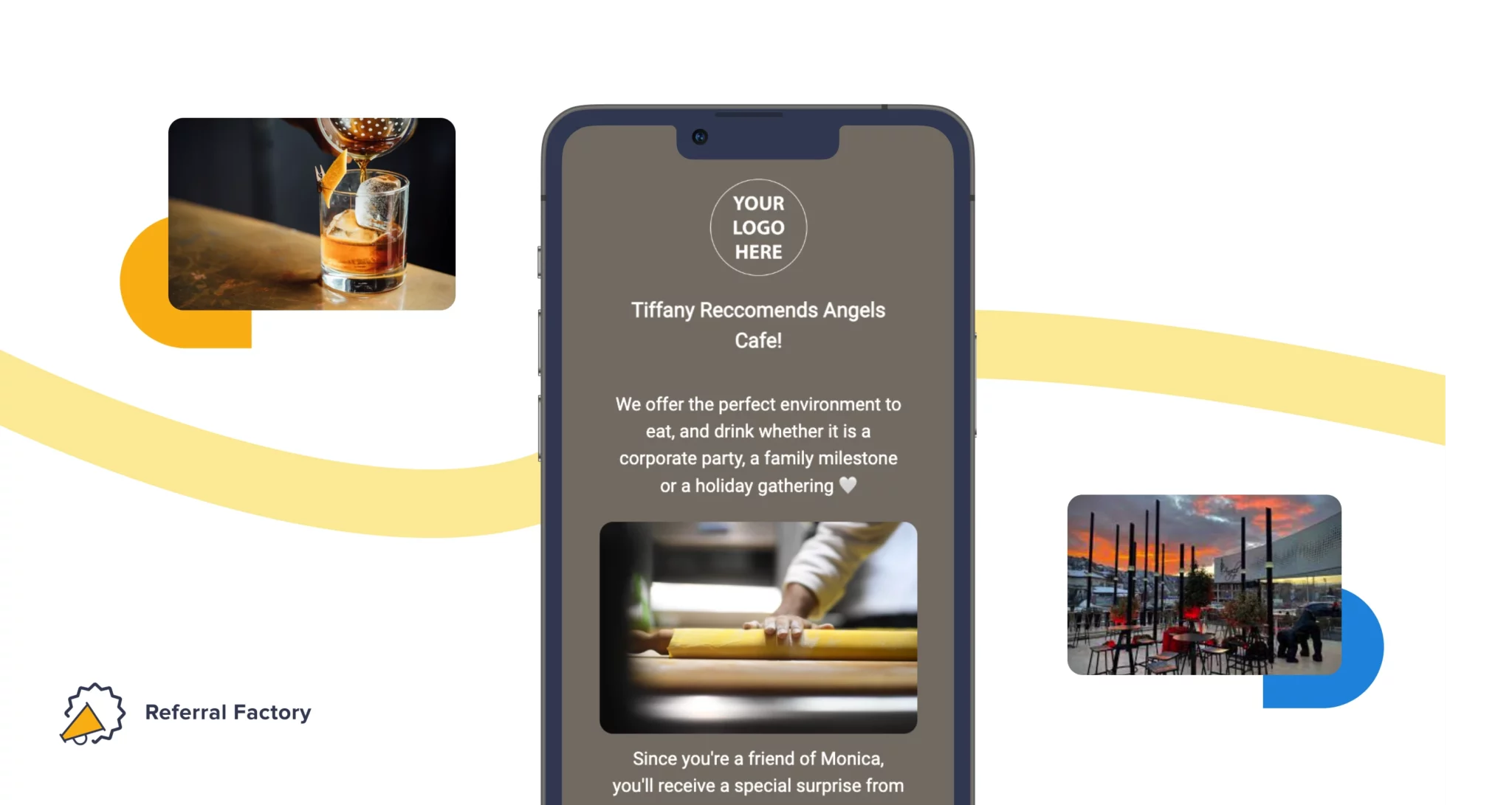 This is a simple referral program that lets you offer your friend a coupon if they try the home cooking service. Having a great incentive for the person invited (like a coupon for a free meal) was key to their winning referral strategy.
Ourbus (B2C travel industry)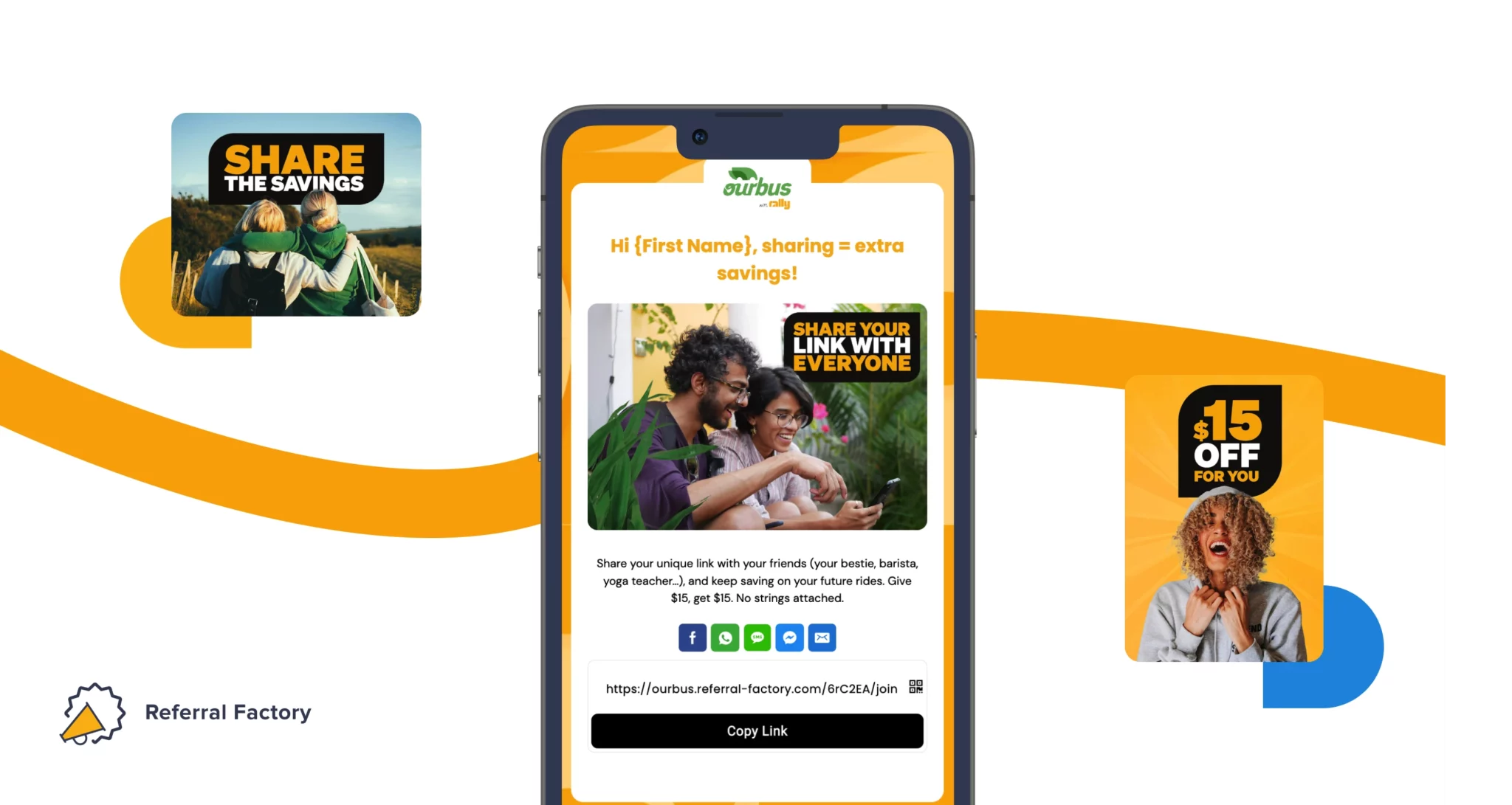 Another double-sided referral program that lets you get $15 credit when you give $15 credit. People love to talk about their travel experiences, so asking them to include a referral link in their posts is a brilliant strategy to get more referrals.
Radius (B2C Insurance industry)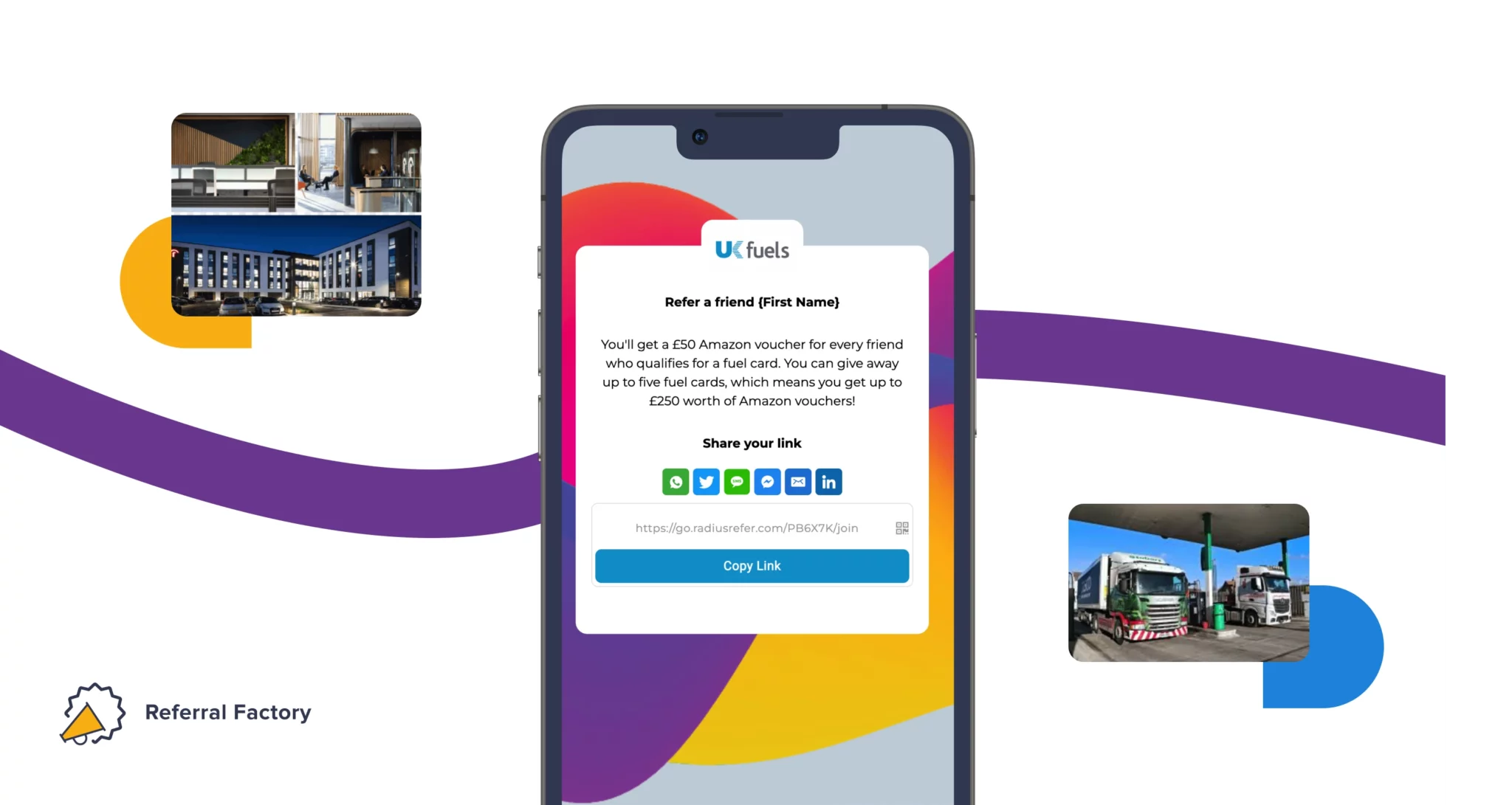 This one is a classic give-and-get strategy to get more client referrals. In times of economic recession, people need essentials more than luxuries. This is why Radius used a reward and an incentive that would encourage their customers to give their friends a free tank of fuel. Give £50, get £50.
iKhokha (B2B Online industry)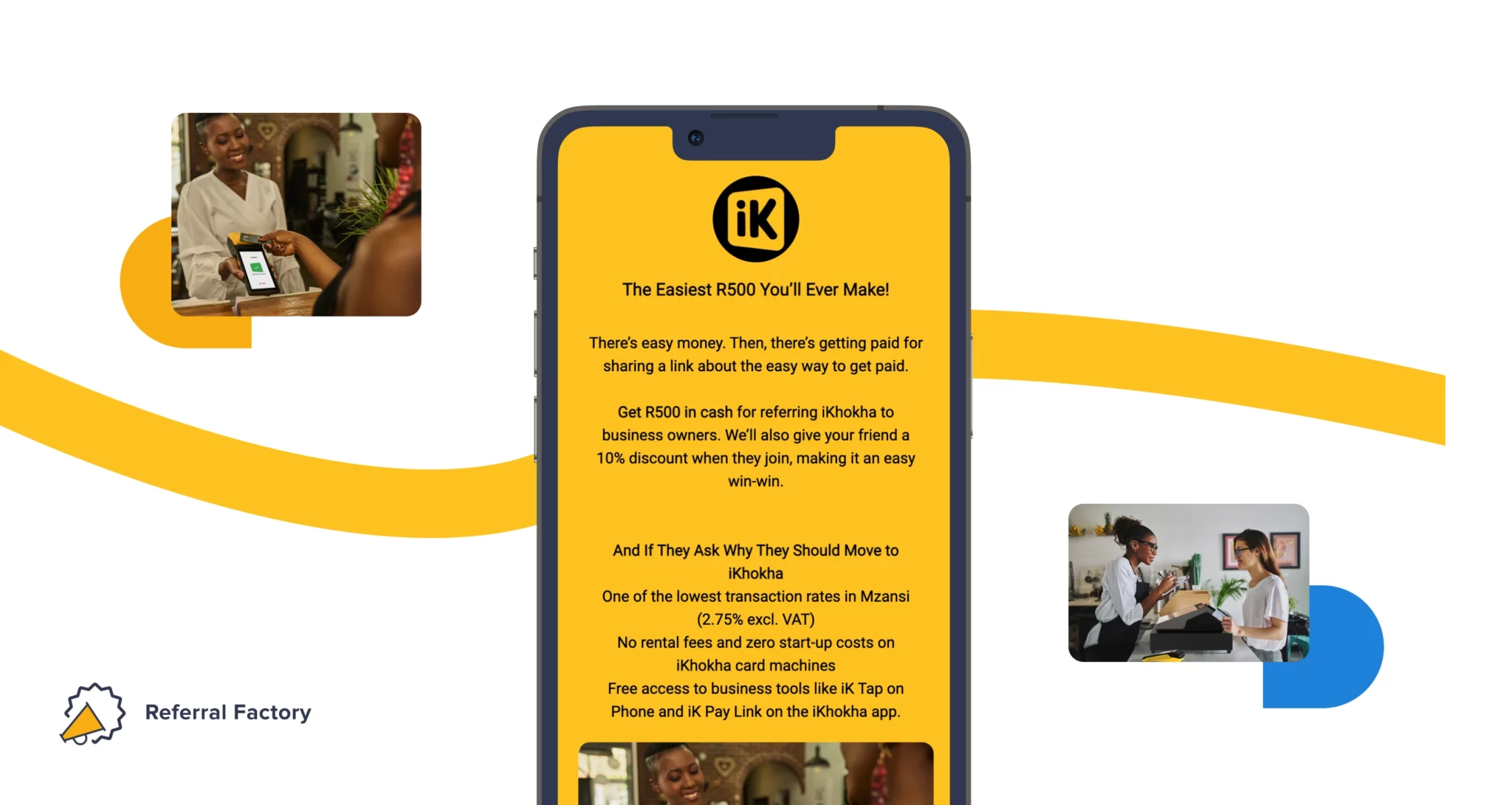 This is a B2B referral program where businesses have the opportunity to help other business owners succeed. Successful business owners receive an R500 cash-back reward for referring other entrepreneurs to switch to iKhoKha for all their payment processing needs.
In addition to the lowest transaction fees in town, new businesses receive a 10% discount on their card machine, along with a chance to apply for funding after three months.
Auspac Solar (B2C and B2B Solar industry)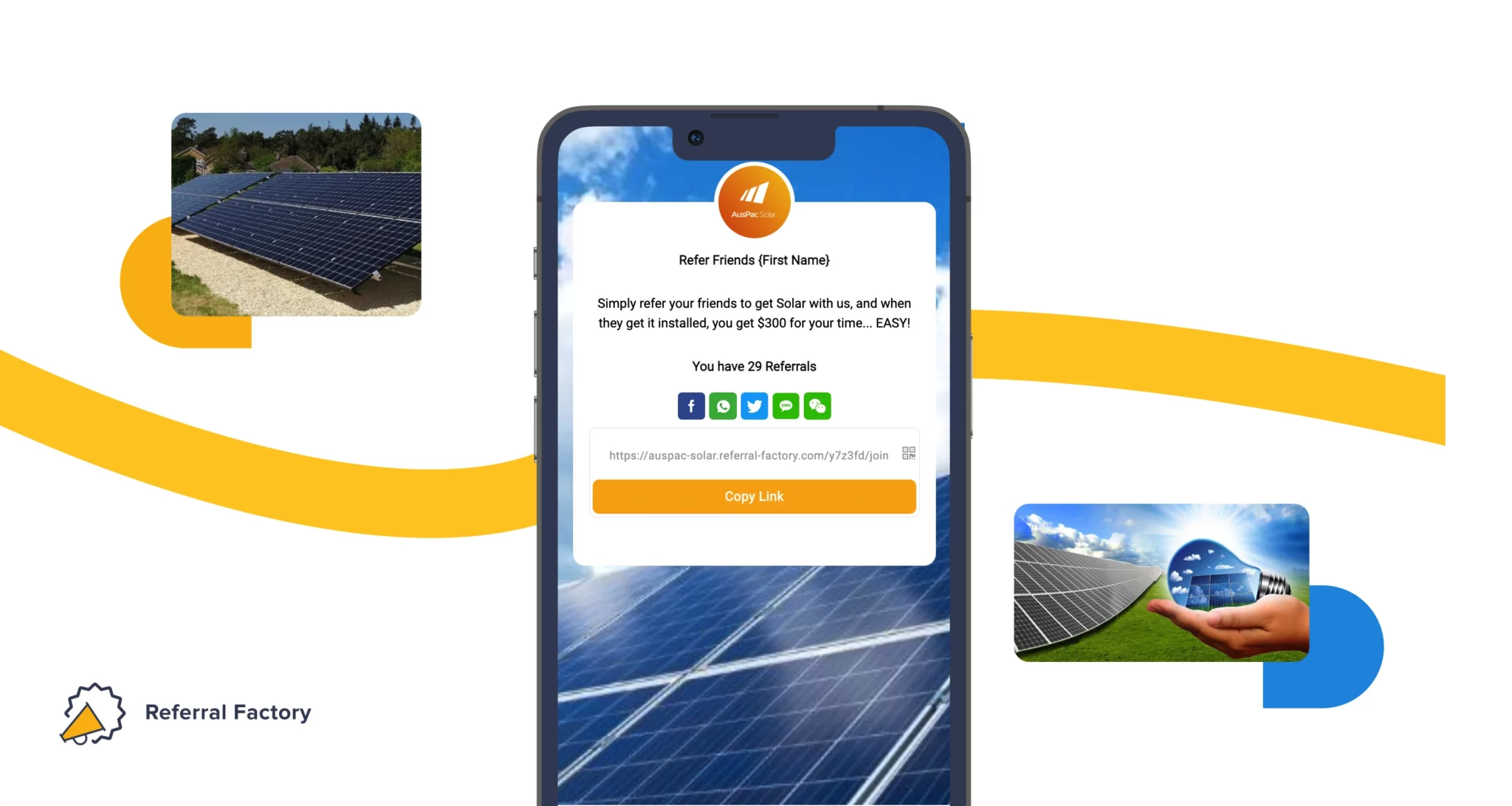 Auspac Solar offers a big reward for a big referral. Get $250 for every friend you refer who installs a solar panel off the back of your referral.
Main Factors That Influence The Number of Client Referrals You Can Generate
Getting client referrals from existing clients could be a challenge, that is, if you don't do enough legwork. For example, only a satisfied customer will be willing to get you that client referral. So, it goes without saying that you need to develop your product or service in a customer-centric direction.
There are also other crucial factors that influence the number of client referrals you can generate, as we have listed for you below:
1. How good is your incentive?
A great incentive isn't just attractive in itself — it should also be relevant to your niche customer base. To encourage customers to get client referrals for you, the incentives should be something that they could use right away.
If you have that kind of relevant, customer-centric incentive, it will be easier for your current clients to participate in the process. It will not only improve your clients' motivation, but this strategy could also increase customer satisfaction.
Moreover, a great incentive means people feel comfortable promoting your business to their friends because they can say, "Hey, use my link, and you'll get a free coffee." Essentially, the existing client feels like they are helping their friend out with a cool offer, so it's immediately a win-win situation.
If you want to make sure your referral program gets high engagement and conversion, then you should create a killer offer for your referrers to share with their friends.
2. How big is your customer and fan base?
Essentially, this is the pool of people you have to ask for referrals. The more people you have to ask for referrals, the more chances that your program can get referrals for potential customers.
So, if you're sitting on a large base of customers or fans and you aren't asking them to refer friends, you're missing out on a golden marketing opportunity. At the same time, you shouldn't be too confident in assuming that having a large customer base will automatically help you get more client referrals. That's not how referral marketing works.
You should let your customers feel valued and could do that by constantly engaging and re-engaging with them. Posting creative and relevant social media content is one way of getting engagements, although it's not as effective as having excellent customer service. You could increase customer loyalty by staying connected through their feedback, whether they are positive or negative.
Again, it's not enough that you have a big customer count; it's more important that you have a high level of customer loyalty in your ranks. This way, it becomes easier for you to ask for favors in the future, just like when you ask them to participate in your program and get a client referral.
Oh, and it's important to remember that you can also bring your partner program into your pool of referrers. If you already have other businesses actively promoting you, then they should be enrolled in your referral program too.
3. Does your product or service have a good reputation?
This one is impossible to fake: you just have to be a valuable business if you want to get more customer referrals. In the day and age of digital platforms, your business reputation is always put in the spotlight. If you make even just a tiny bit of mistake, it is so easy for people to spread the word, eventually tarnishing your business's image.
On the other hand, customers are more than willing to provide referrals when they are satisfied with your products. If you offer the utmost value to your customers and provide them with great service, you'll discover that they will be happy to tell their friends, family, and connections about your service business.
Make sure that you keep your reputation in check so that once you launch your referral program, you can give yourself the best chance of success. After all, your product is the centerpiece of your reward program. It goes without saying that you can only generate more client referrals if you have a good product on your hands.
4. What kind of referral marketing platform are you using?
A referral marketing platform, or referral program software, is a powerful tool that you use to create and promote your referral campaigns. With the advent of this kind of marketing strategy, you can now find so many referral marketing platforms offering their services.
Each of these tools has specific strengths and focal points, requiring you to scrutinize which features have direct benefit to your campaign goals and objectives. Some of the features you need to seriously consider are:
Promotional features on social media platforms
Campaign management, tracking, and analytics tools
Customization options and no-code capability
Easy options for customers to distribute unique referral links
Ability to integrate with third-party platforms
Level of customer and technical support
Data confidentiality and fraud prevention
Despite how important its impact is, referral marketing is just one aspect of your business. You still have to focus on product development, leadership and management, and the other sales and marketing strategies you have planned.
So, getting powerful referral marketing software is crucial to your campaign, as it can automate much of this process for you. It won't hurt to spend more time researching the best tool for you, especially if this can help you generate more client referrals in the future.
Here, we have gathered a complete checklist of what to include in your referral program →.
Conclusion
In conclusion, referral marketing is a powerful strategy that can help businesses of all sizes acquire new customers and grow their revenue and profit. Referred customers buy sooner, spend more, and stay longer.
Another benefit of referral marketing that is not talked about a lot is its potential for increased loyalty among existing and new customers. For example, a referred customer got wind of your business through a connection who is also satisfied with your product. This means that you're distributing your good reputation across many networks, which is essentially as good as word-of-mouth marketing.
So, if you have a great business and you launch a referral program, your customers will be likely to participate and generate more client referrals. And if they do, you'll be able to supercharge your growth in a whole new way!
So… what are you waiting for?
Calculate how many referrals you can get by launching a referral program
Based on the number of people you have to ask for referrals (these people could be customers, fans, or employees), you can calculate how many referrals you can get by launching a referral program. You can use this referral calculator to estimate how many referrals you could get 👇