If you want to learn how to create a referral program, the time is now. Referral marketing is currently at a high in today's digital platforms, so you want to take advantage of this ample opportunity.
Whether you're just starting your journey or want to optimize your existing referral process, this in-depth guide will help you get started. Continue reading below to find out more!
As a business owner, you're always on the lookout for new ways to grow your customer base and drive sales. One effective strategy to achieve this is by creating your own customer referral program.
By incentivizing your existing customers to refer their friends and family to your business, you can generate new leads that are 2x more likely to convert than leads acquired through paid marketing channels. A successful referral program could help you streamline your customer acquisition cost.
Referral marketing has been a popular growth channel for businesses since PayPal launched its referral program back in 2000. PayPal offered its customers $10 for every new customer they referred to the platform, and it worked wonders for the company's growth.
In just a few months, PayPal grew its user base from 100,000 to 1 million. Since then, many businesses have adopted this strategy, and it's become one of the most effective ways to acquire new customers.
Other than PayPal, more startups benefit from optimizing their referral process. We'll dive deeper into these referral programs in the latter sections of this guide.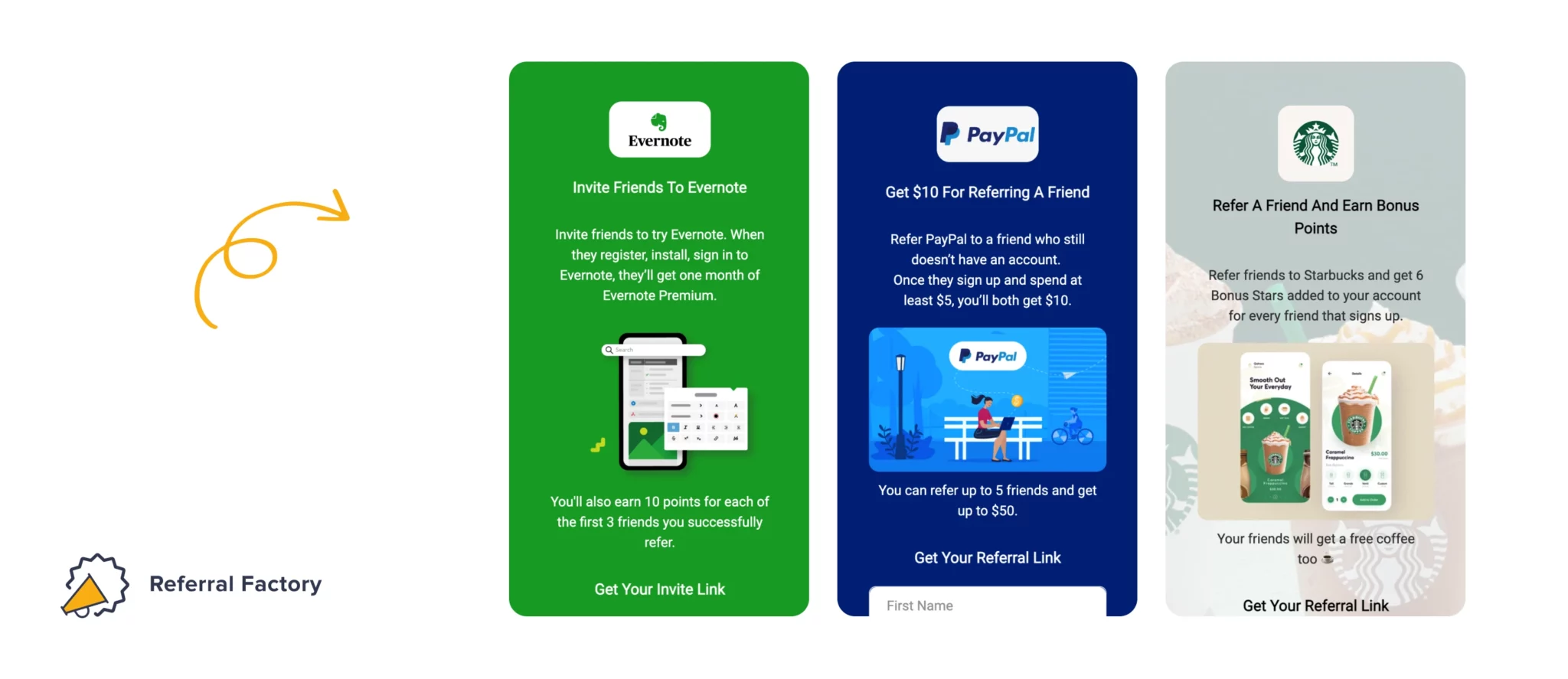 Referral marketing has become especially popular in recent years due to the rise of social media and direct messaging. People are more connected now than ever before, and sharing their experiences and recommendations with their friends and family is easy.
As a result, a recommendation from a friend or family member carries more weight than any other form of marketing. Word-of-mouth marketing has taken a new level of relevance these days, which can make or break your business.

If you plan to generate more leads this year than you did last year, then you're probably already asking yourself: how can my business get more referred customers?
The answer is simple: you must create a referral marketing program and invite your loyal customers to spread the word!

Now, let's dive into the steps you need to follow to create and launch your own referral program. If you follow these 8 steps, you'll be up and running and generating referrals in just a few weeks.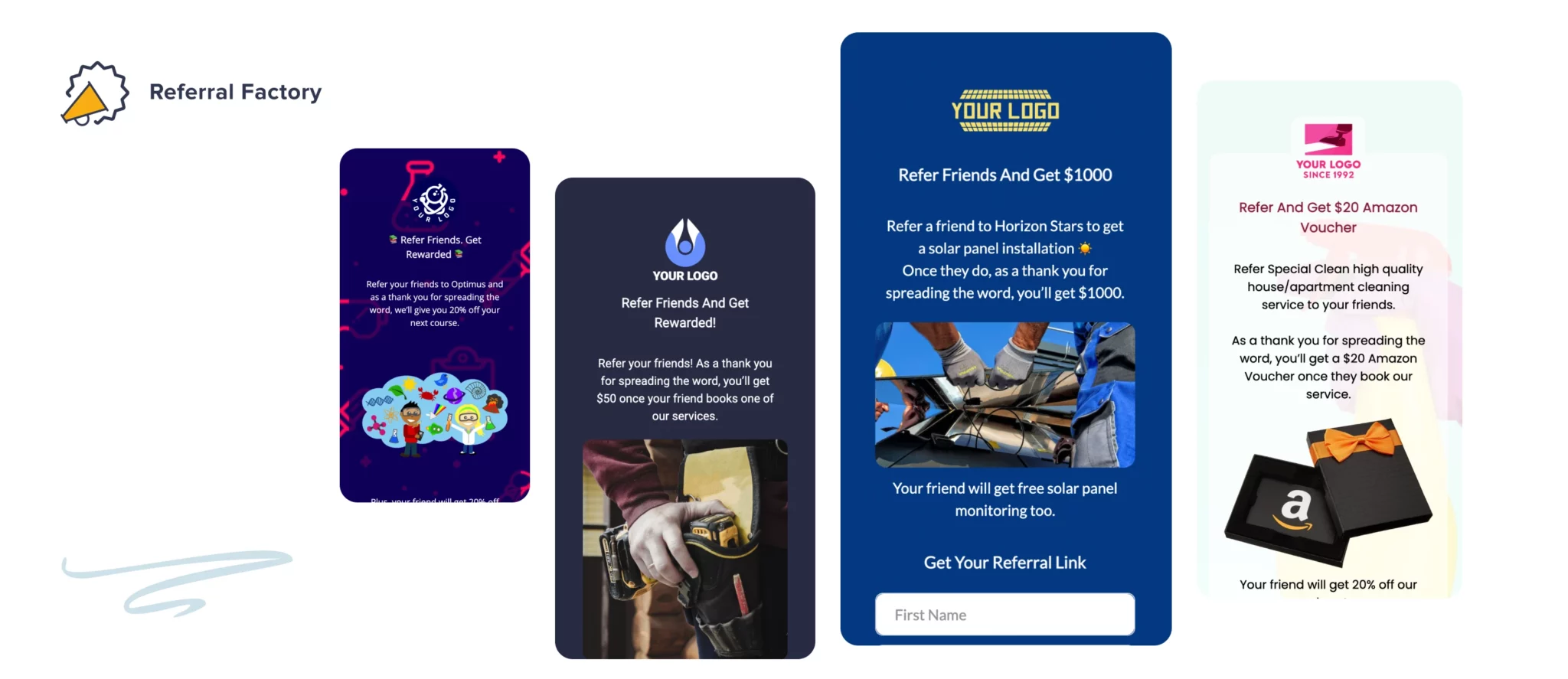 8 Steps You Can Follow To Create A Referral Program
Step 1: Define Your Referral Program Goals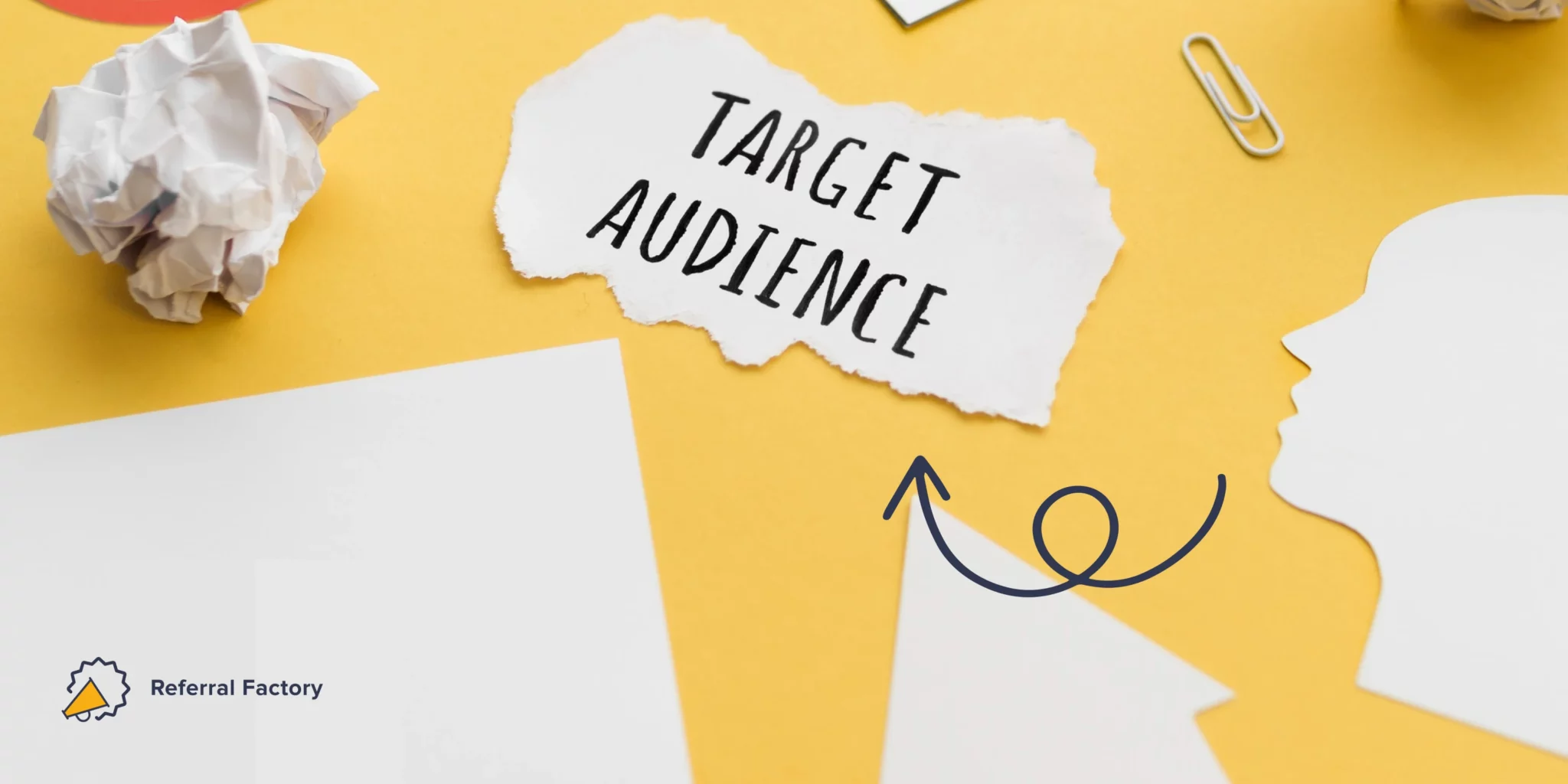 Before you create your referral program, defining your goals is essential. What do you want to achieve with your referral marketing program? Do you want to increase sales, generate new leads, or just reward your existing customers who are referring to their friends?

Once you've established your goals, you can design your program to align with them. For example, if your objective is to increase sales, you can offer a discount to satisfied customers who refer a friend and make a purchase.

If your goal is to generate more leads, you could include a mechanic in your referral program where the top referrer wins a monthly prize. That's on top of the standard referral incentives they should be getting.

Of course, these KPIs (Key Performance Indicators) depend on the product you're promoting and the size of your business. Still, the important thing here is to set measurable and achievable goals. This way, it becomes easier for you to manage your entire referral process because you already have a direction moving forward.
Step 2: Design Your Referral Program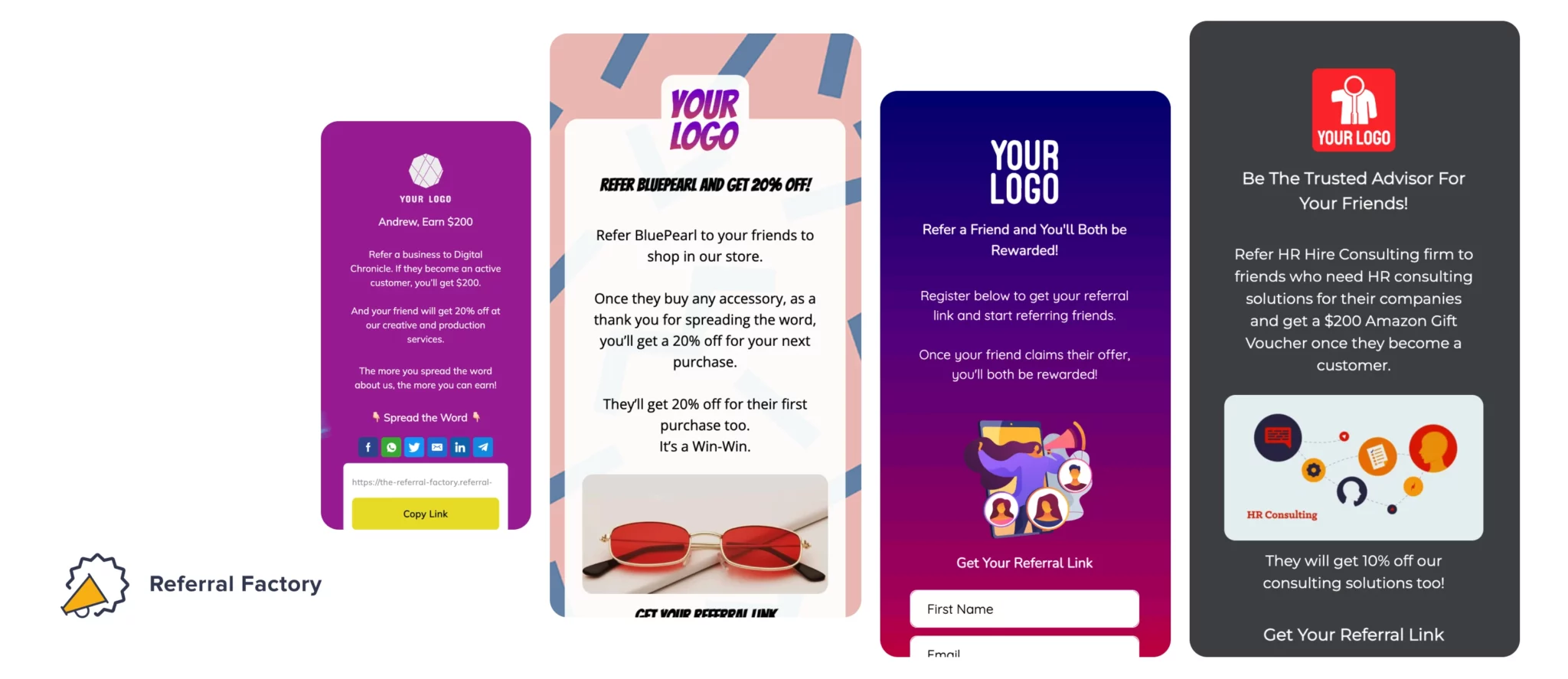 Once you have set your goals, the next step is to design your referral program. You'll need to decide on the type of referral program you want to build. Is it going to be a single-sided or a double-sided program?
A single-sided referral program rewards only the referrer, while a double-sided program rewards both the referrer and the referred customer. Double-sided programs are generally more effective since both parties benefit from the reward structure.
Once you've decided on the type of referral program you'll launch, you'll need to ensure it has a catchy headline so that people notice it and feel motivated to get involved. Here are some examples of striking headlines that you could adapt for your own referral program:
"Give $50, Get $50."
"Refer a friend, and both of you will get an exclusive reward!"
"Offer your friends a special discount. If they accept it, you'll get one too!
You'll notice that all the headlines cater to a double-sided referral program where both parties get rewarded. As we mentioned just a while back, this is the type of referral marketing strategy that works best in this day and age.
Your loyal customers like getting rewards but are much more likely to refer if they know their friends will get something. It makes them feel more comfortable sharing their referral links when giving their friend an incredible offer.
As a customer referral program, you're hitting two birds with one stone: making your happy customers happier and introducing potential customers to your business.
Here's another pro tip: look for software with built-in referral program templates. By using a referral program template, you can model your referral program design on a template that a marketing technology expert has created.
If you want to create a referral program quickly and more efficiently, then using a template is the only way. This will save you a ton of time and help you avoid mistakes!
Step 3: Choose Your Rewards And Incentives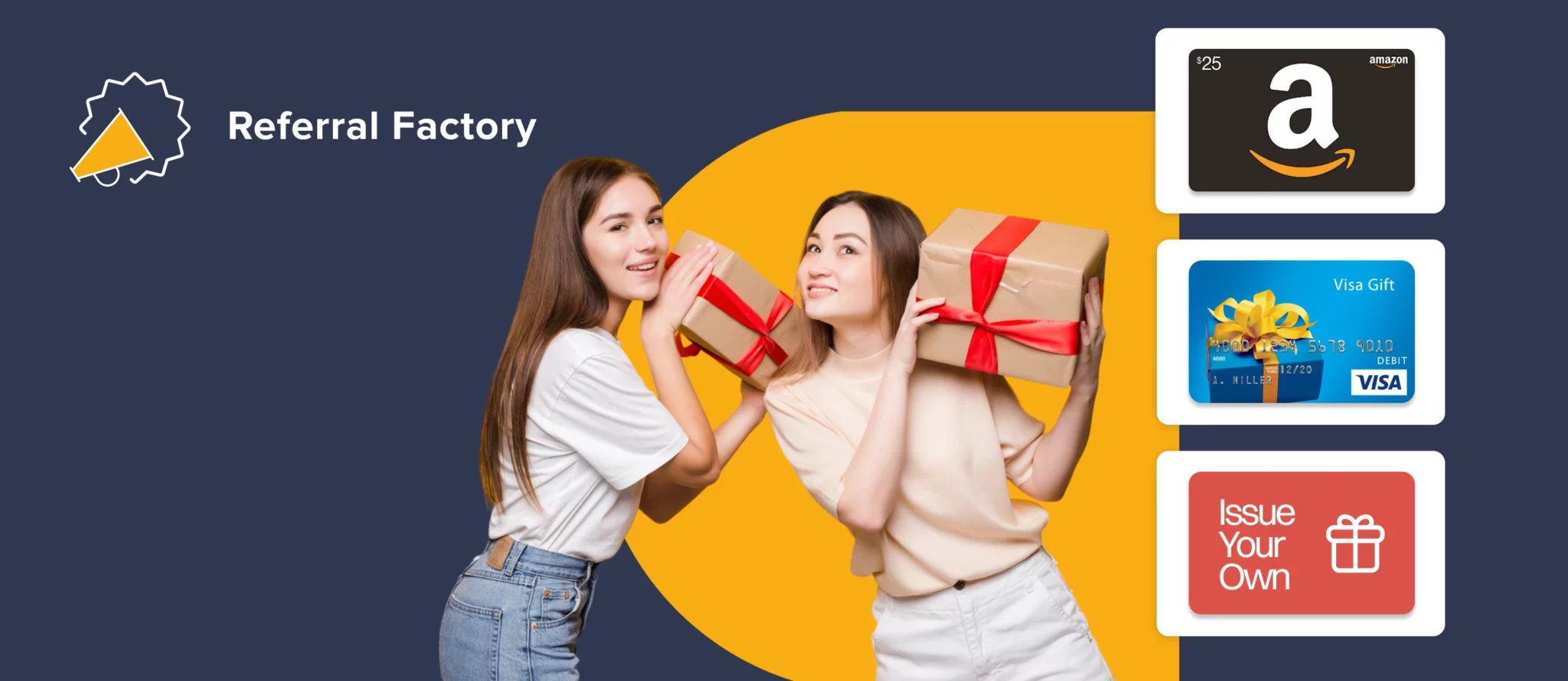 The referral rewards you offer will undoubtedly play a significant role in the success of your customer referral program. You'll need to strike a balance between providing enough incentives to motivate customers to refer their friends while also ensuring that the rewards don't eat into your profits.
A great way to calculate the true value of your referral rewards is to take your total average marketing budget per month and divide it by the total amount of converted leads you get monthly.
Technically, you're making the reward value the same as your current cost per converted lead.
Remember that referred leads convert at a rate 2x higher than leads acquired through paid marketing channels. So even if you make your reward value the same as your "cost per converted lead," you still win because a more significant chunk of the leads is actually converting.
Making your reward value too low will mean the incentive to refer is lower too. So, it goes on to say that this is a balancing act!
Some popular referral rewards include Amazon gift cards, Digital Visa cash cards, discounts, free products or services, and store credit. Some referral programs offer tiered rewards, where customers receive increasing incentives for referring more friends. But in our experience (having created over 200 referral programs for brands), we have discovered that tiered referral programs are more complicated to manage and actually drive lower results.
Keeping your referral program simple is the best tactic to ensure your success. Everybody can easily understand how it works, and it's simpler for you to manage it too.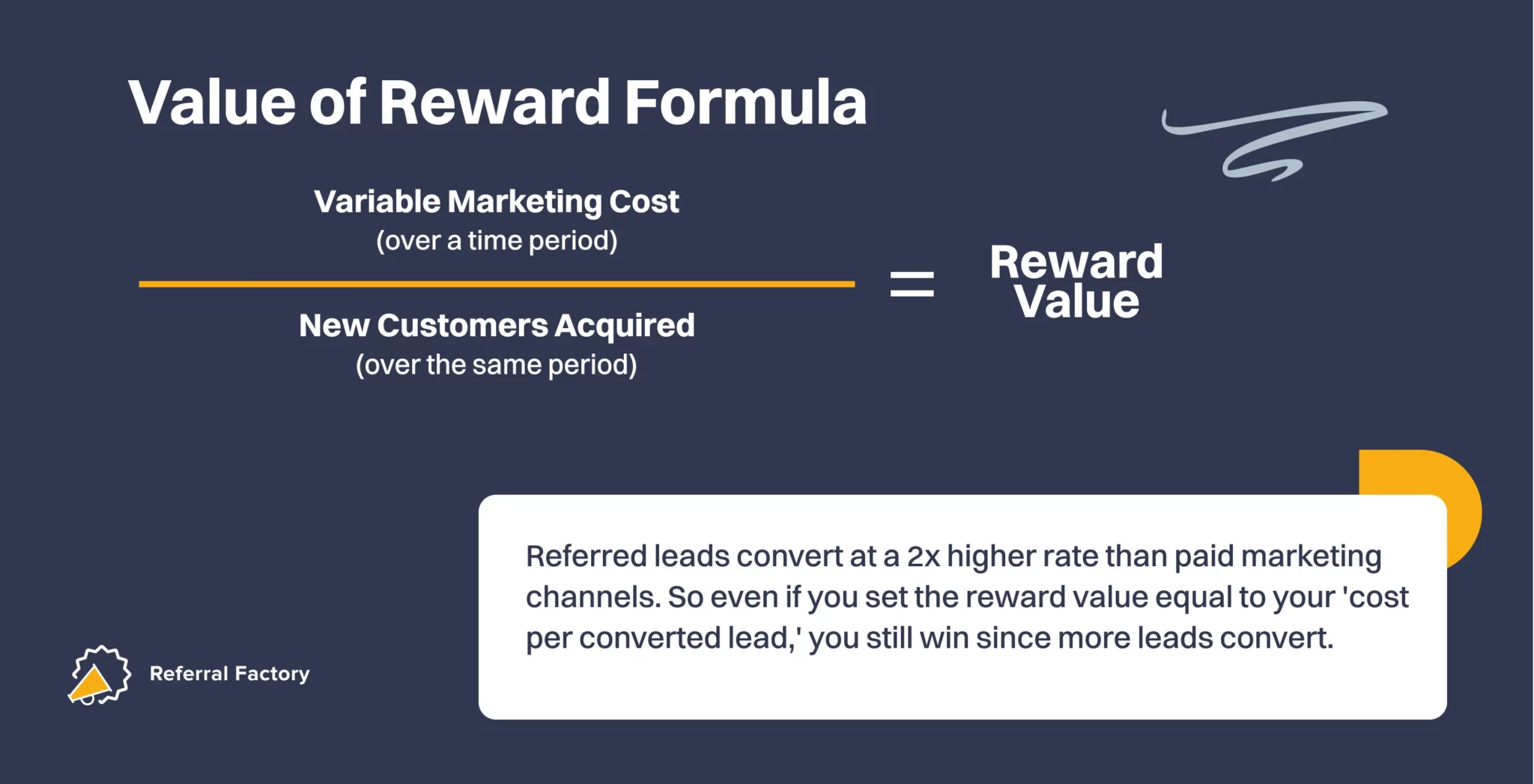 If you want to know how to calculate the value of your reward, you can read this post or see the summary in the visual above.
Step 4: Make sure you have a killer offer!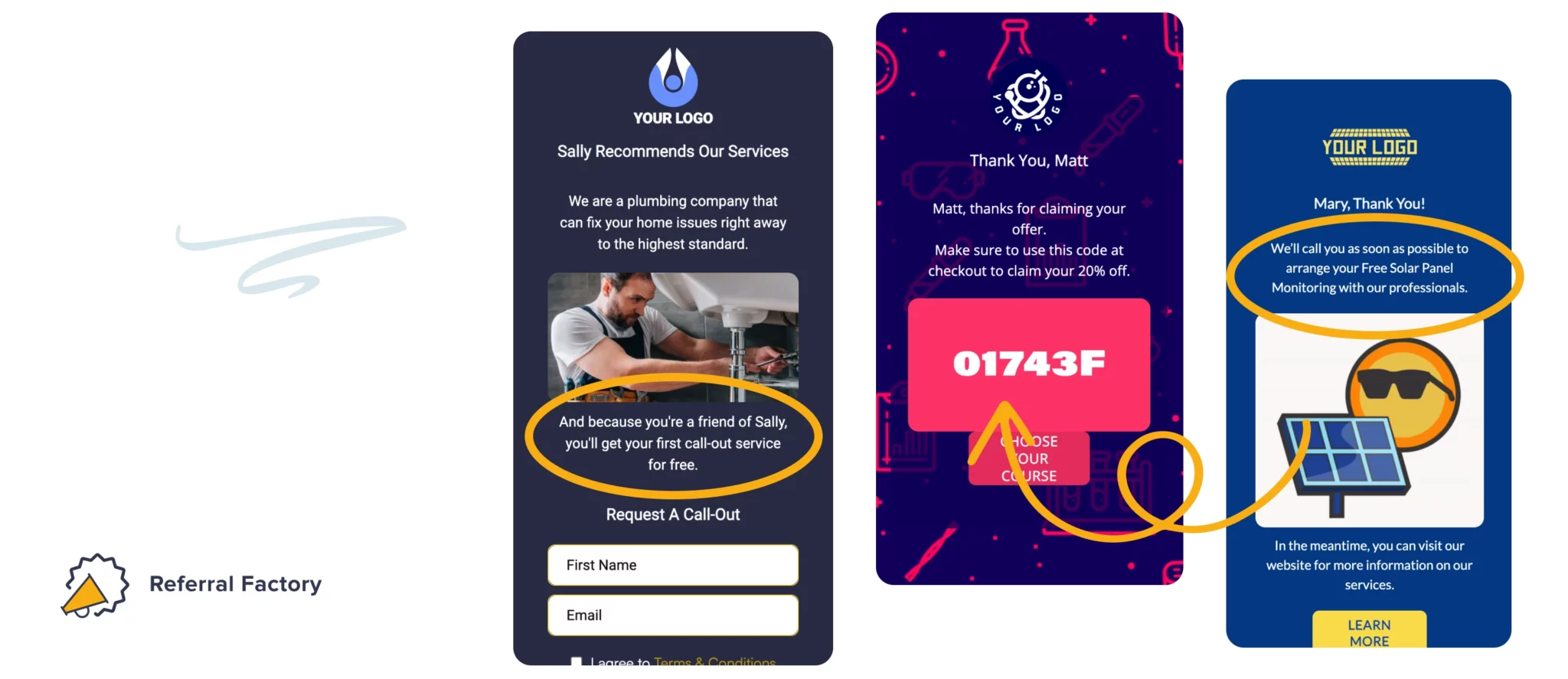 We already discussed rewards and incentives in the previous step, but if you want to win at referral marketing, you must take it one step further. This is the secret sauce that most marketers miss.
Choosing the right 'incentive' in your double-sided referral program is actually more important than selecting the proper reward. The incentive is what you offer to the person being invited.
To encourage your existing customers to join your referral programs, they need to feel that they are not just selling your product or service. They should feel that they are giving their friends something tangible and valuable, so getting your referral incentives right is crucial.

People love to give offers and incentives to their friends, which could boost their ego and make their friends happy. On top of the recommendation made by your existing customer, the incentive is also a great motivation to push the referred friend to convert and become your customer.

So, having a great incentive means that the person referring is more likely to share their referral link with more friends, and the person being invited is more likely to act. That is why we suggest you also consider a killer offer for the referred friend.

An offer can be anything useful, including free onboarding, a free monthly subscription, a free consultation, a free call-out fee, a coffee voucher, a bottle of wine, an upgrade, a discount, or anything similar. Think of it as a perk that your new customers can use immediately.

Tip: Tools like the Meltwater consumer intelligence suite help you understand how to incentivize your customers best
Step 5: Build Your Referral Program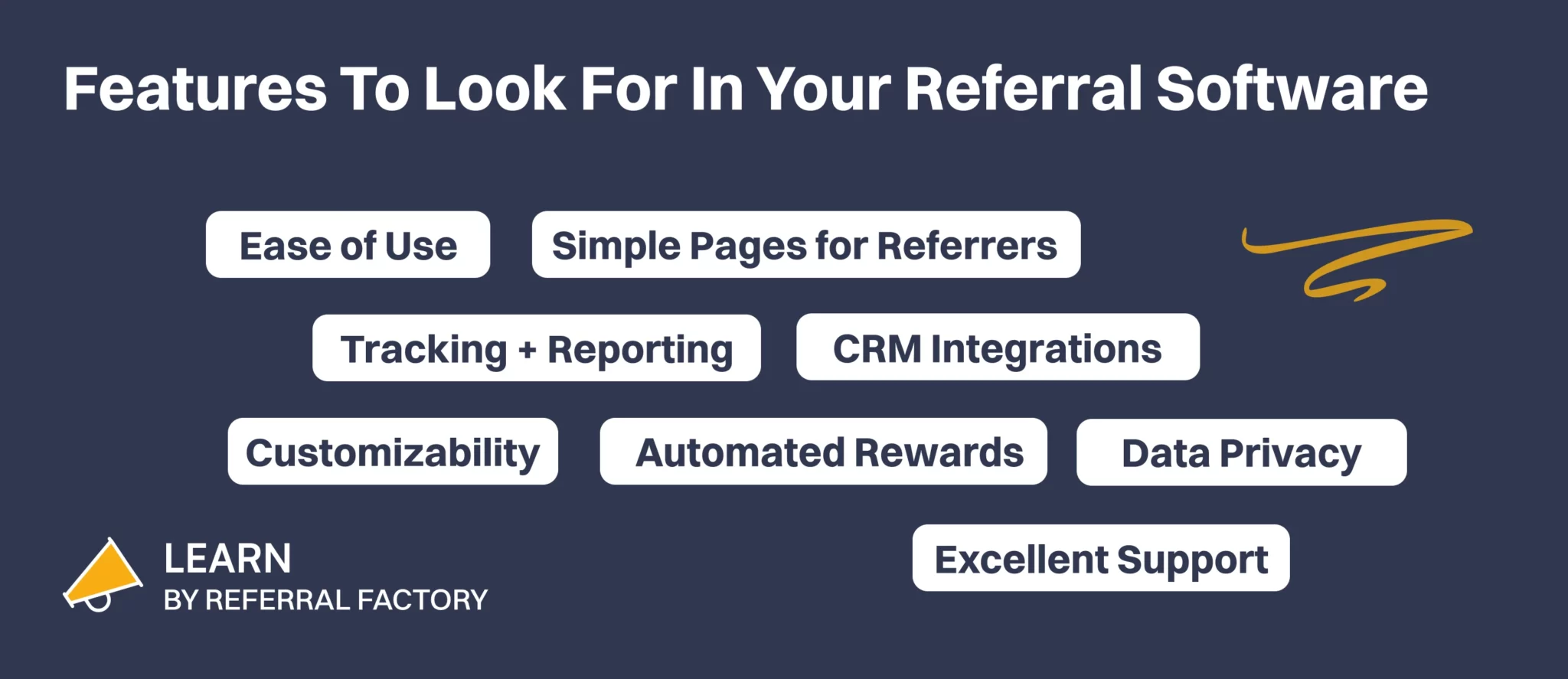 Now that you've done all the planning, it's time to build and launch your referral program! There are two ways you can do this:
1. Hire a developer to build your preferred referral marketing system
2. Use a referral software that offers a plug-and-play solution
Building your own custom referral system will give you the most flexibility, but it will also mean you have to do a lot more work to get your program off the ground. There are so many intricate facets to creating your customer referral program, including optimizing your product pages and referral landing pages, generating a personalized referral link for each of your existing customers, and tracking your referral campaigns.
There's also the fact that you need to issue automated rewards and incentives while setting up customized email notifications for specific activities done by your customer base. All this work could exhaust your energy and resources, plus you also have to shell out a budget for maintaining the program.
But in most cases, you can get all these features and more by using a plug-and-play referral program software. We've written a complete guide here that covers ALL the features you should look for when choosing your referral software. To give you a quick overview, here are the crucial components that your customer referral program should include:
Ease of use
Customization options (so that your program can look and feel on brand)
A simple way for your users to share their referral links and track their referral count
Automated referral tracking and reporting
Easy reward management
Integration with other tools
Data privacy and security
Excellent support
We suggest using a referral software tool to build your referral program because it means all the technical elements are taken care of. It allows you to focus on the marketing elements that you know best, including mechanics, branding, messaging, promotion, and more.
Step 6: Connect Your Referral Program To Your CRM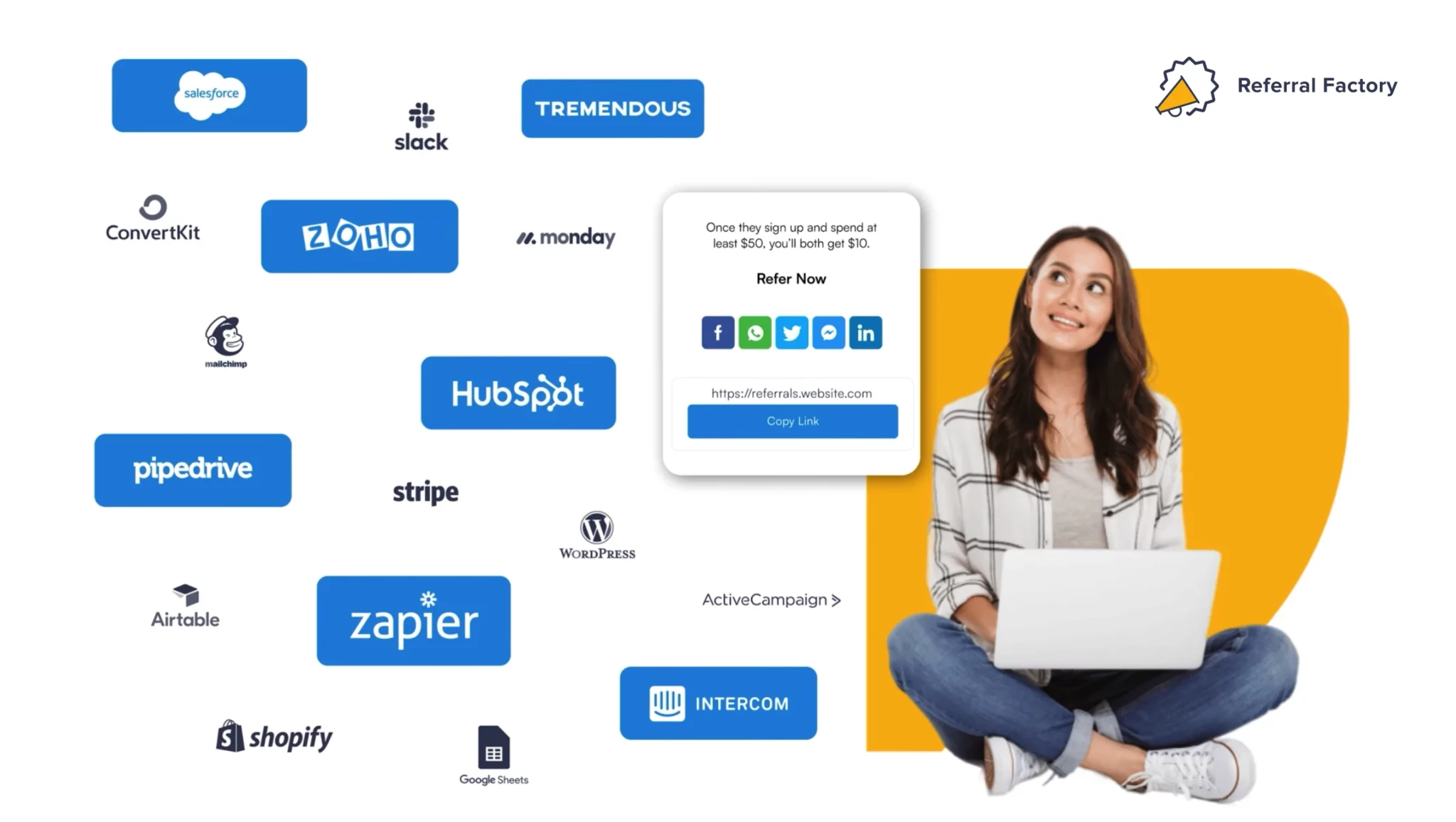 Connecting your referral program to your CRM (Customer Relationship Management) system is a crucial step in ensuring the success of your referral campaign. This integration will allow you to easily track and manage your referrals and send them directly into the workflows you are already using. By automating this process, you can save time and resources, ensuring that the leads you generate are being followed up with in a timely and efficient manner.

More importantly, when those referrals convert, your CRM (if integrated) can let your referral program software know that a conversion has occurred. This can automatically trigger a reward for the person referring too. This way, the rewards and incentives you're rolling out are accurate and perfectly timed.

Another thing you can do by connecting your CRM is to generate referral links for all your CRM contacts automatically. It means that every contact in your CRM has their unique referral link right in their profile. With this feature in your system, you can include a contacts referral link in all your customer communication in the future!

Your CRM system can also help you keep track of valuable data, such as the number of referrals and converted referrals generated by each contact. If you have this data in your CRM, you can easily reach out to your top referrers to thank them and even give them a special reward if you're feeling generous.

Connecting your referral program to your CRM system is essential for streamlining your referral process, optimizing your results, and ensuring that your customers' referral links are always ready and available for when you message them next time. Having all of these steps automated makes your job as a marketer much easier to manage.
Step 7: Promote Your Referral Program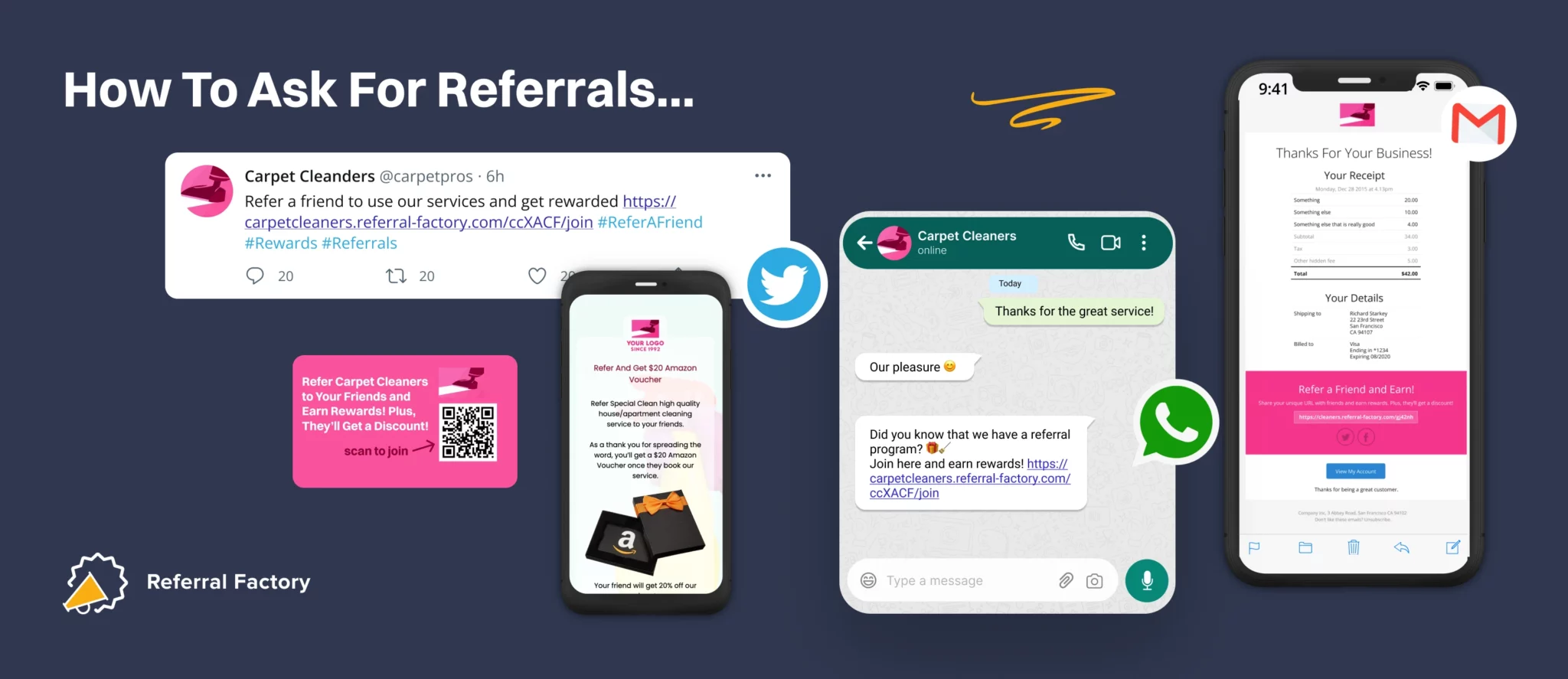 Once you've created and launched your customer referral program, it's time to promote it! Asking your customers to spread the word about your business is simpler than you think, but you need to take the leap and do it.
You can use various channels to promote it to your customers, including directly emailing them, promoting it on social media, running paid advertising to a page where people can join your referral program, installing widgets and pop-ups on your website to promote your referral program, and more.
It would help if you read this guide for a detailed list of how to promote your referral program to your customers.
It's crucial to communicate the benefits of your referral program clearly. You should highlight the rewards your existing customers can earn, the ease of participating, and the value your products or services will deliver to the friends referred.
A direct, clear-cut message, along with valuable rewards and incentives, will help you launch a successful referral program.
Step 8: Setup Referral Tracking (And Optimize Your Referral Program)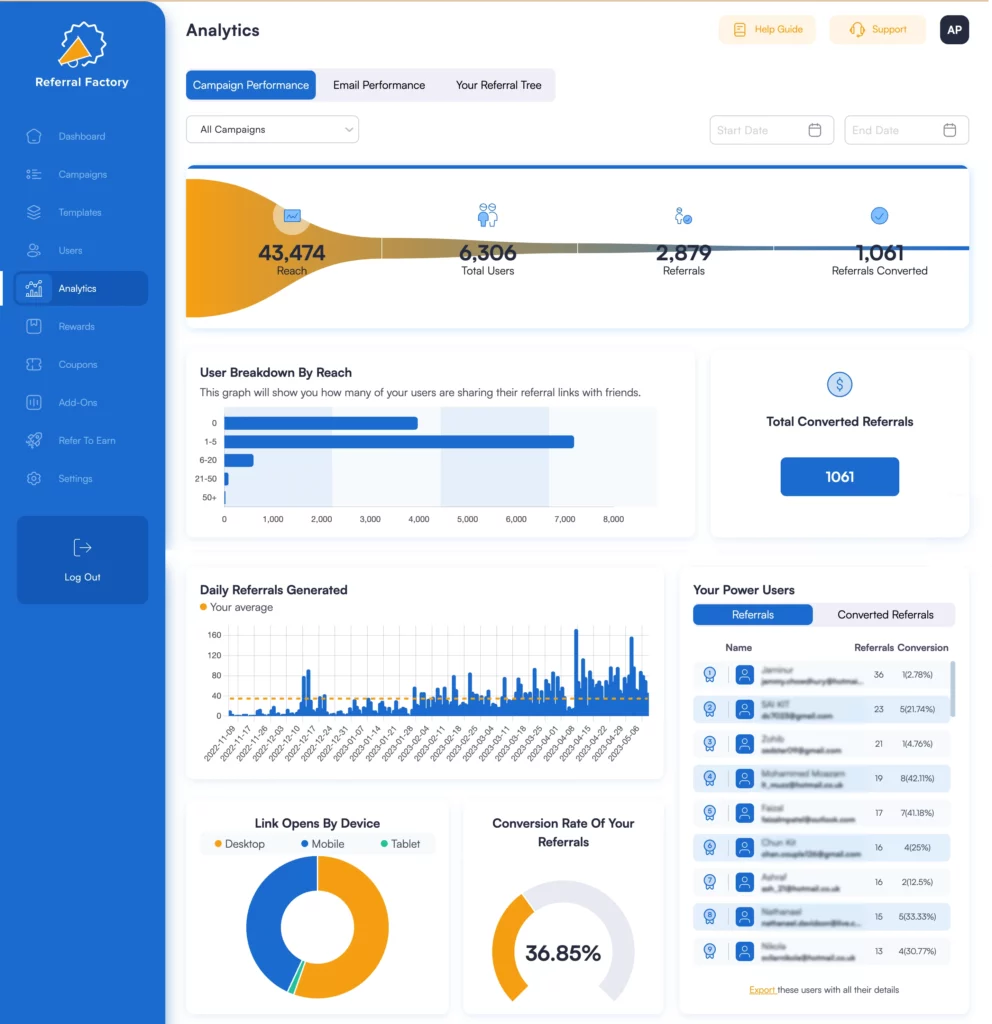 After launching your program, you'll need to monitor its performance regularly. You have to remember that any form of marketing is ever-changing in its nature. Customer interests and market trends will always vary from time to time.
With that said, you need to analyze the data to determine how many referrals you receive during a particular period. It's also vital that you know which type of customers drives the most referrals, the social or direct channels they use to refer friends, and which rewards lead to more activity and customer referrals.
Most importantly, you can use this information to optimize your program continuously. You can tweak your incentive, adjust your messaging, or experiment with new promotion channels to invite more people to start referring. The key here is to make the necessary changes and optimize per the data-driven insights you see on your tracking and monitoring tools.
As with all things in marketing, tracking is essential. Great marketers know the sources of their best leads, and they allocate more time and resources to the channels that deliver the highest ROI (Return On Investment).
These are the eight most important steps you need to follow if you want to create an effective customer referral program. We also suggest researching other referral program examples, but the best way to learn is to look at what other businesses in your industry have done to achieve success.
If you were wondering why there's so much buzz surrounding the topic of referral programs, let's explore the basics and uncover the inherent value that makes them a game-changer in the realm of customer acquisition and loyalty.
What is a Referral Program?
A referral program is a type of word-of-mouth marketing that offers a reward structure to current customers who successfully refer a friend to a particular business. With the advent of digital platforms today, customer referral programs have become an effective way to lessen customer acquisition costs and increase brand visibility.
Of course, there are prerequisites to take care of before you create a referral program. An established product or service is necessary, as people would want to recommend something tested and proven. Moreover, you need to rack up the number of customers you have. After all, a strong customer referral program depends on how willing your customer base is to make a successful referral for you.
In a nutshell, your referral program relies heavily on your reputation as a product and as a business. If you have a brand that is already trusted by a lot of people, there is a bigger chance that you can successfully launch referral programs.
Benefits of Referral Programs
Referral marketing is not an easy strategy to pull off. Building up your product in the right direction takes a long time, and it takes more time for your niche customer base to fully trust your brand.
It might require lots of planning and resources, but the benefits you'll reap from a brilliantly crafted referral program are more than worth your while. There is more to a referral program than just bringing in new customers. Read more below to find out.
Increases customer retention rate
Brand loyalty is a very contagious attribute, especially in today's social media and digital communications. It is easier to say anything about a product or service and even more accessible for spreading the word.
This is why referral programs lead to a higher customer retention rate. A referred customer already has the notion that your product is something they can trust, as per a strong recommendation from your existing customer.
Customer retention is a crucial growth factor, especially among businesses that roll out subscription-based pricing models. It's much more expensive to onboard new customers than trying to retain your current users. Most businesses ignore this fact, too, as only 18% of companies pour a large chunk of their efforts into customer retention.
Don't make that same mistake; focus on retaining your customers, and you'll discover how this could help you save up on your resources.
Lowers customer acquisition cost
As mentioned in the previous section, referred customers are likelier to stay loyal to your brand. It will help you reduce onboarding expenses that have proven to be more costly.
Along with the savings you get from customer retention, a referral program can help you lower custom acquisition costs. Studies say that referrals convert a higher percentage of leads than other leads that come through different marketing channels.
If you have an extensive customer base, there's no shame in leveraging this to your advantage. In fact, this is a testament to the customer-centric product that you have developed. You don't even have to exert a lot of effort in asking your existing customer base to refer a friend if you're also providing them with top-notch service and support.
Improves brand awareness and visibility
While it is true that referrals convert better than other leads, it's still not a 100% hit rate. Some referral program examples don't work to a certain extent, so monitoring your campaigns and performance is essential.
But even if there are instances that your referral marketing program is not bringing in tons of converted leads, you should know that all is not lost in your cause. With your current customers distributing your business name across different channels, your products and services are still gaining traction.
Your company's referral program is a great avenue to boost brand awareness and visibility. Instead of paid and sponsored advertisements, your referral program messaging is a natural way to put your name out there. With so many businesses promoting themselves on social media platforms and on the web, a strong recommendation, review, or feedback from your existing customers will always do wonders.
However, you should take note of the highs and lows of digital marketing. Sure, it's easy to boost your brand if you have the right stuff, but it's similarly easy to pull down your reputation. So, ensure you protect your product and business image, especially if you plan to dive deep into referral marketing.
Provides an opportunity to diversify your customer base
Some people think that diversifying your customer base is the way to go. However, targeting different demographics and locations could be daunting, so focusing on a niche customer base and winning that market is recommended.
But there are still instances that diversifying their reach becomes effective, especially if your product or service is ready for it. So, how would you know if your product is already ripe enough to enter another market? You can launch a referral program.
When they start sharing their personal referral link, your current customers might be reaching out to people from different backgrounds and communities. Essentially, you're already experimenting with diversifying your customer base.
If your existing customers successfully refer a friend from a different demographic than your niche audience, you might also consider targeting other markets. Your refer-a-friend program is a low-risk, high-reward marketing strategy, no pun intended.
Offers an easy way to optimize your marketing campaigns
Another great benefit of having a referral program is that you can easily track and monitor its performance. Along with the data you can get from the social media platforms you'll be using for your program, you can also obtain data-driven reports from referral marketing software if you're using one.
So, you're not just utilizing the software to get referral program ideas, but you can also optimize your campaigns through its data and analytics tools. Whatever your referral messaging is, your effectiveness could vary from time to time. Your customers' pain points will change, as well as the movements in the market and the technological line it follows.
Like other marketing strategies, your referral program ideas will always go through numerous trial-and-error stages. Some brands even do A/B Testing, where you simultaneously deploy different campaign versions to test which components will work effectively. You can vary some words and headlines in your referral messaging or tinker a bit with different iterations of your referral program page.
You must pay attention to the details, track the performance of your campaign, and optimize its attributes if necessary. Digital marketing is a race of relevance and timeliness, so you should be willing to adapt to the changing times immediately.
Helps in developing your product
Upon launching one of the referral program examples that you think fits your brand, you'd also want to know that this is a chance to understand your niche audience better. Who are the people who are more willing to shell out resources to avail your product? What are the customer pain points that you need to address immediately?
By discovering more information about your existing and new customers, you get data-driven insights on developing your product in the right direction. Customer loyalty heavily depends on product development, so you cover multiple bases in one objective.
Best Customer Referral Programs in the Digital Age
Following in the footsteps of PayPal, many other startups launched epic referral programs to drive growth. Some other successful referral program examples include Airbnb, Starbucks, Tesla, and Evernote.
You can find (and copy) the exact referral strategies of these startups by using their templates to create your own. Take a look at these referral program examples:
Fast forward a decade, and the referral marketing trend has grown even more. Startups led the way, but now we're seeing all kinds of businesses launching referral programs to generate more high-quality leads.
Solar companies, plumbers, yoga studios, insurance companies, education platforms, and other niche industries are joining the trend. Some even launch customer loyalty tiers, although this type of referral program idea's success depends on the particular product or service.
When is the Right Time To Launch a Referral Program?
There is no perfect time to launch a referral program, but the right time to start asking for referrals is when you have at least 100 people in your network to ask. This could be 100 customers, 100 fans, or 100 supporters of your business.
If you're starting out and you don't have any customers or fans yet, it will be hard for you to see a lift in your customer acquisition by asking 0 people to refer. This is why we suggest launching a referral program as a secondary marketing tactic. First, launch your business, wait for your product to mature in the market, and then strategize your referral program once you've gotten at least a bit of traction.
How long should I wait before launching my referral program?
Waiting for your product to gain traction is crucial, but you don't want to wait too long. It will become difficult to integrate your referral program into the marketing stack you've built.
But, if you have a referral program integrated into your business as your product is rising up the ranks, you can build your marketing stack around it so that everything can remain integrated and automated. Basically, all your leads (including your referrals) can flow into the same workflows.
This is yet another reason that we suggest using plug-and-play referral program software over building your own referral system from scratch. This software offers built-in integrations that come with an out-of-the-box solution.
By using automation software for your referral campaign, you'll be able to connect your referral program directly to your CRM without writing a line of code. What a win!
How Many Referrals Can I Expect To Generate?
Every industry is different, so it's hard to say exactly how many referrals you could generate by launching a referral program. However, there are some benchmarks that you can use to forecast how many new customers you could potentially acquire by adding referral marketing to your overall growth strategy in 2023.
FREE REFERRAL CALCULATOR
See how many referrals you could generate using our calculator
We've pulled data from our top-performing 1000 referral programs. Upon gathering the needed information, we then averaged the results to create this graph. Below, you can see how many referrals were generated on average, based on the number of customers that were asked to refer friends.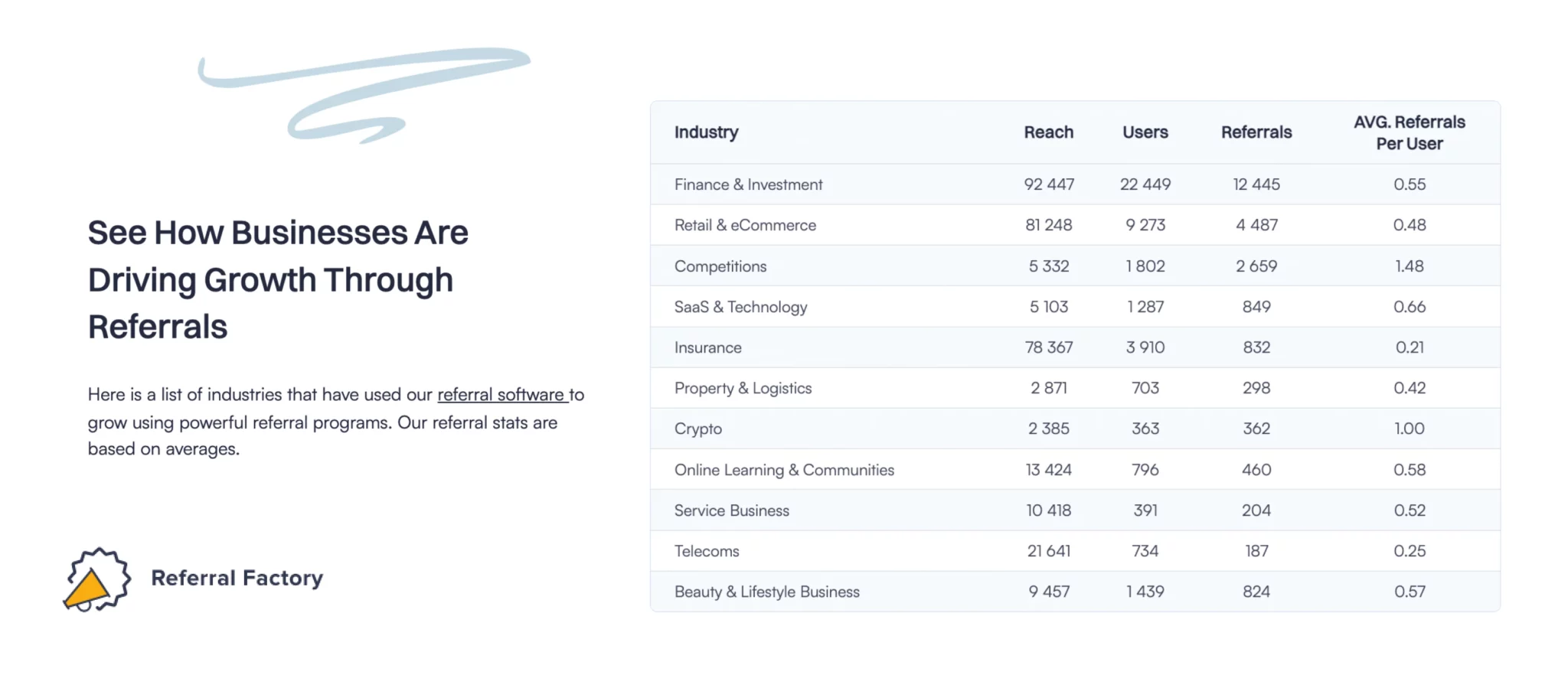 The three biggest factors that influence how many referrals you can generate are quite simple. Take a look below:
1. How many people can you ask for referrals?
The more loyal customers you have to ask for referrals, the higher your success rate will be. For this reason, you need to establish an excellent reputation for both your business and your product.
2. How good is your reward structure?
A great incentive means people feel comfortable promoting your business to their friends. They can say, "Hey, use my link and you'll get 20% off on your first order on this wonderful product."
Essentially, the person referring is getting an ego stroke because they are helping their friend, along with the fact that they will get a reward (like a store credit) if their friend makes a purchase. This kind of motivation is sure to make your referral program work.
3. How much do people trust your brand?
If you have a great business and you look after your customers, they usually will be more than happy to spread the word about your business. Basically, it's like this: happy customers = more referrals.
On the flip side of that argument, though, is a harsh reality. If your business has a bad reputation and gets lots of complaints and negative reviews, then you probably will find out that most people won't be comfortable referring you to their friends.
Challenges in Managing a Referral Program
Managing a referral program requires effort, but it doesn't have to be overwhelming. With the right tools and strategy in place, you can streamline the process and make it a relatively painless task.
The amount of work required will depend on the size of your program, the complexity of your reward structure, and the level of automation you have in place. For example, if you're manually tracking referrals and sending out rewards, it will be more time-consuming than if you have an automated system that handles everything for you.
Here are some of the critical tasks involved in managing a referral program:
1. Tracking referrals
You'll need to keep track of who referred whom, and whether or not they completed the desired action (such as making a purchase or subscribing). This can be done manually or through automated referral program software.
Moreover, you'll also need to track who your top referrers are, along with the reach of each of your customers' unique referral code. This will help you know which of your customers are pushing to promote your business the most.
2. Sending out rewards
Once a referral is confirmed, you'll need to send out a reward to the referrer. This could be a discount code, free product, or cash reward. Again, this can be done manually or through automated referral software.
If you have a large base of customers that you're launching your referral program to, we don't suggest doing this manually as it will take a lot of time.
3. Monitoring program performance
You'll want to keep tabs on how your program is performing, including how many referrals are coming in, what the conversion rate is, and how much revenue each referral is generating. If you choose the right referral software, you should get referral analytics out of the box and your tracking process should be automatically set up.
4. Promoting your referral program
If you want to keep people referring over time, you'll need to continuously promote your referral program to your customers. You can do this by installing widgets on your website so that your customers get reminded every time they log in.
If you have a business with physical stores, you can promote your referral program using posters on the wall. You do this by creating referral landing pages where people can register to join your referral program, then you create posters to print and hang up in your stores that say "Scan this QR code to refer friends!"
Also, you can consider sending once-off emails to your customer base at least every two months, re-issuing their referral links, and reminding them of the various incentives that come with the program.
How Much Does a Referral Software Cost?
The cost of referral software can vary depending on the provider and the features included in the package. Some providers offer a free plan with limited features (free trial), while others charge a monthly fee that can range from $50 to $1000 or more.
Below, we've listed a breakdown of the top referral program software on the market right now, along with the range of pricing in their various plans. This comparison shows the review scores of real reviews from real people, across trusted review sites like G2 and Capterra.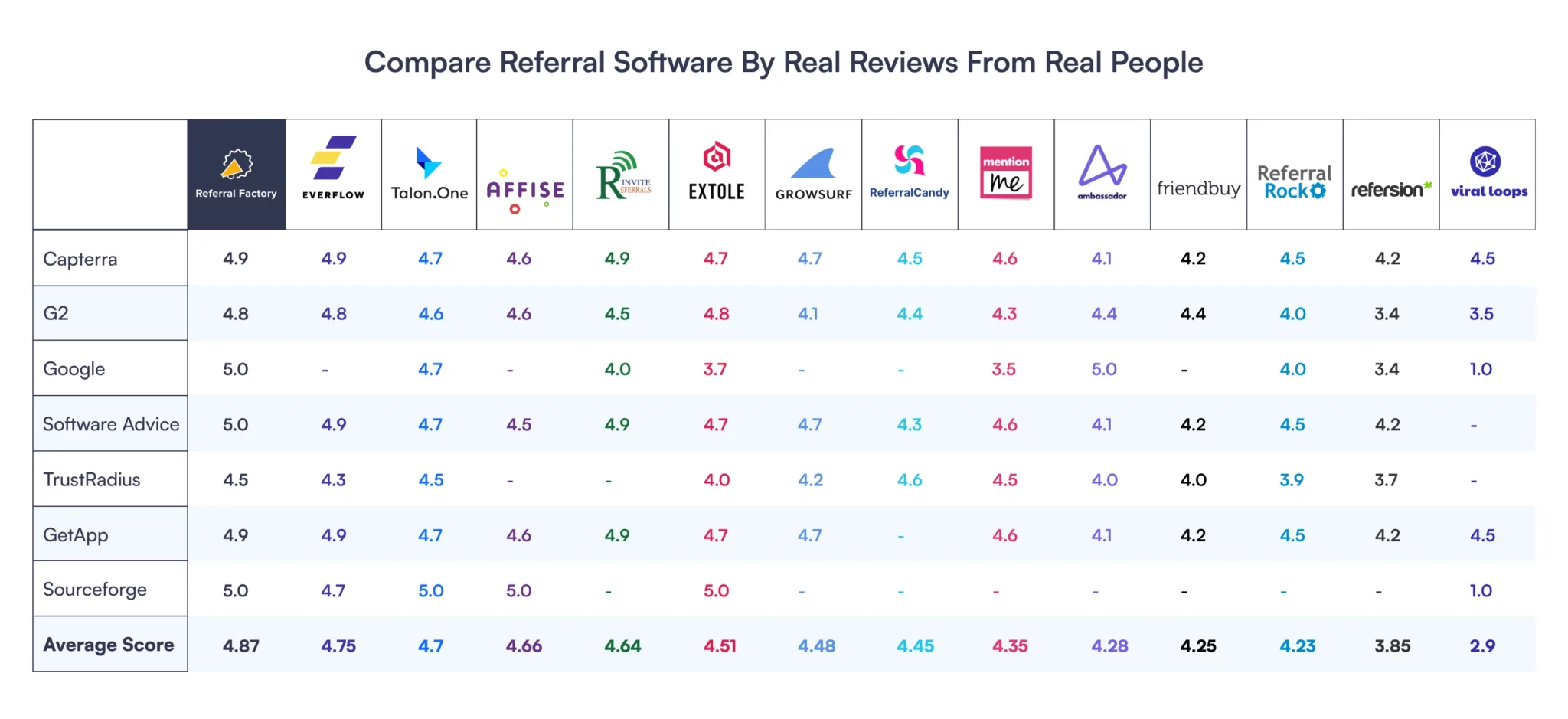 When choosing a referral software provider, it's important to consider the features you need and the budget you have available. Some providers offer a pay-as-you-go model based on the number of referrals or rewards issued, while others offer a flat monthly rate.
It's also important to consider the potential ROI of your referral program. A well-executed referral program can bring in high-quality leads and increase customer loyalty, resulting in a higher ROI than the cost of the software.
Keep in mind that if you're new to referral marketing, you need to choose software that offers great support. Chat and video support are recommended as you'll probably have lots of questions as you get started.
Below is a feature comparison of the most popular referral software being used right now. The features being compared are those on the entry-level plan for each of these referral program software providers.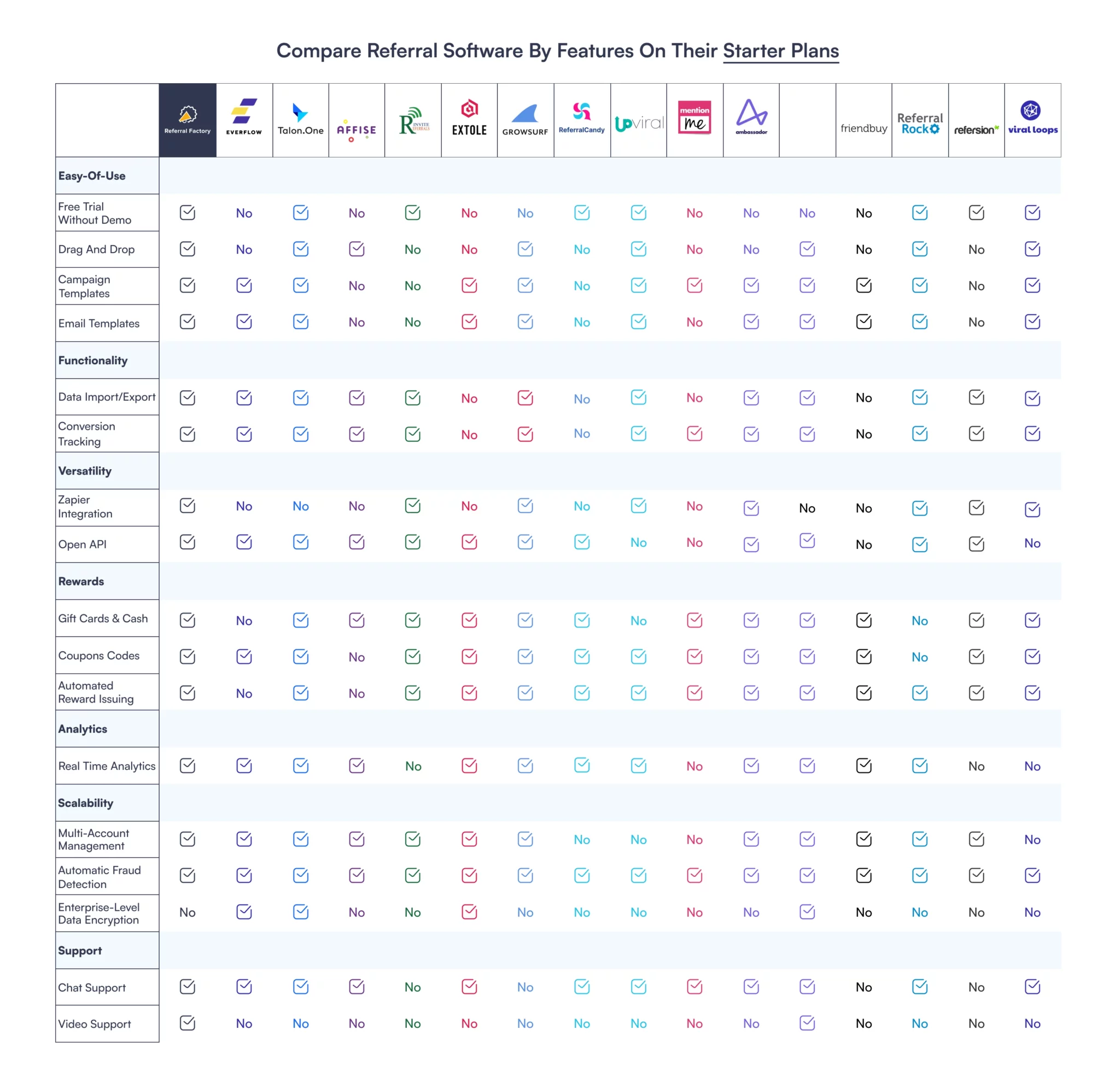 Examples of Referral Programs Built Using Referral Factory
Finfuture referral program (finance industry)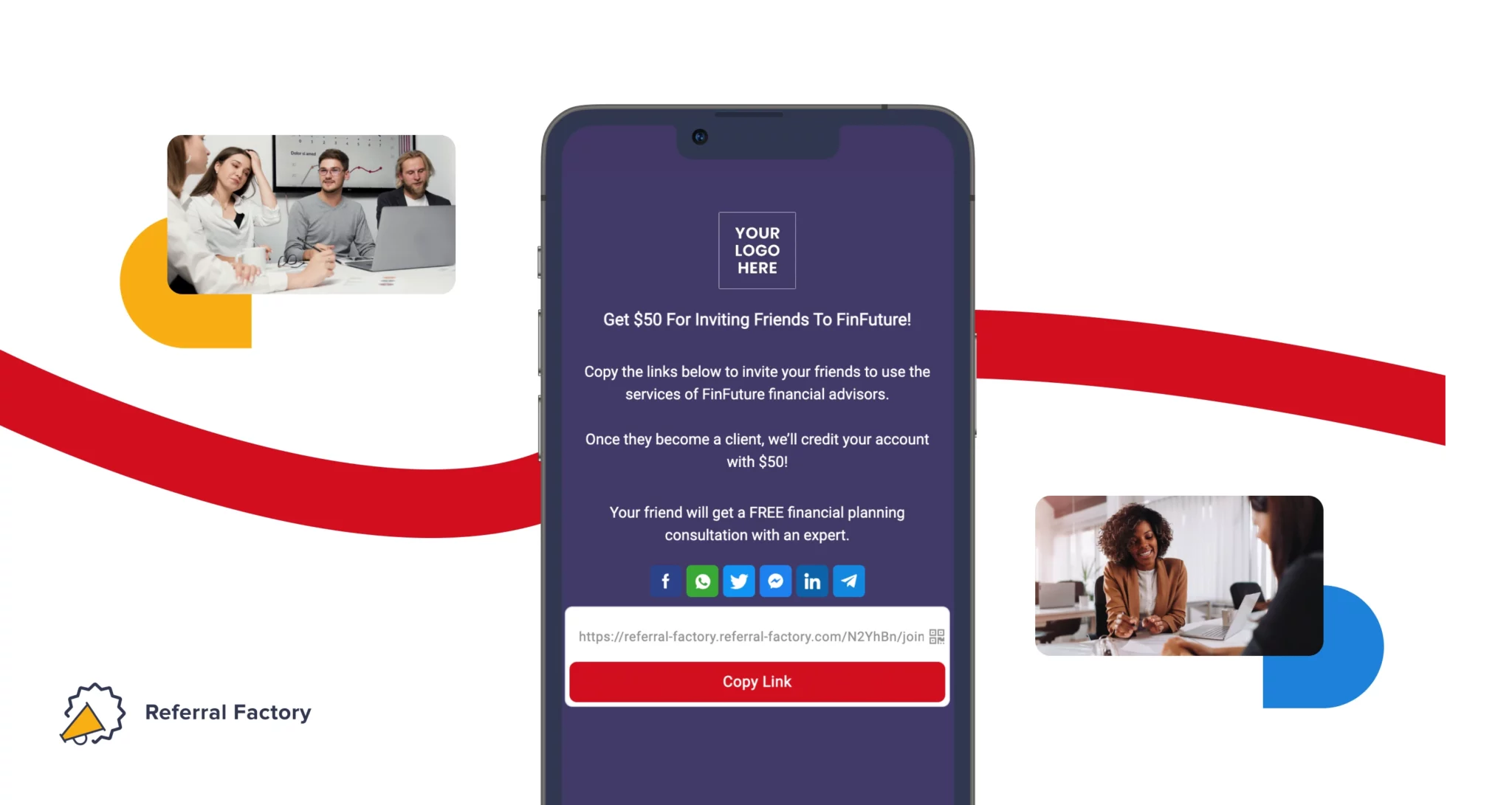 Share your referral link with friends, inviting them to get a free financial consultation. Referrals are a great way to grow your business if it's in the finance industry, as people are far more likely to trust a financial advisor who they know handles their friends' money.
Optimus referral program (education industry)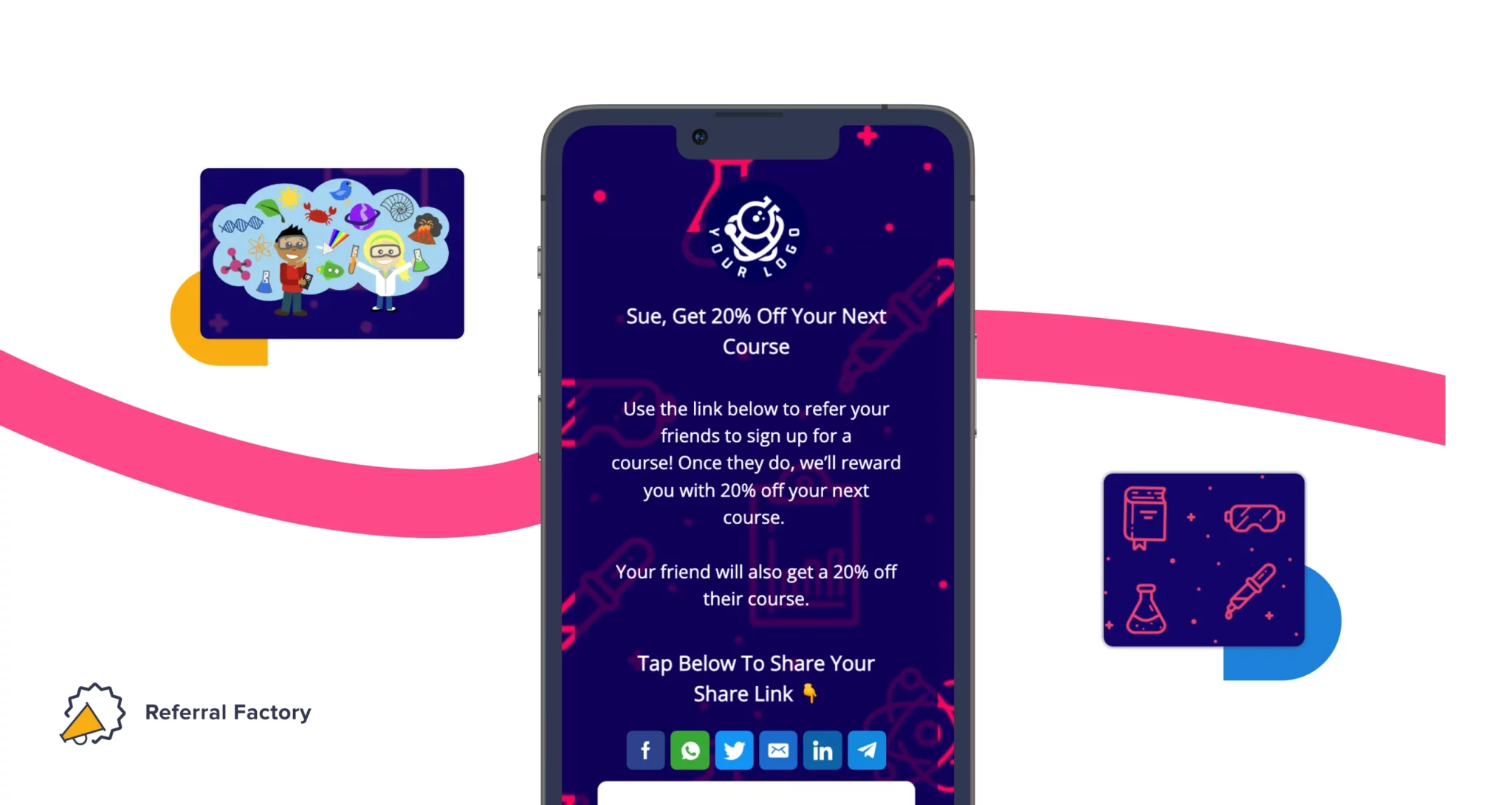 Refer a friend and get a discount on your future courses. Your referred friend will get a discount too, so it's a win-win!
Education is the perfect industry to launch a referral program because like-minded people stick together. If you're in marketing, you know other marketers right? If you're learning to code, you know other junior developers right?
Angel's Cafe referral program (food and beverage industry)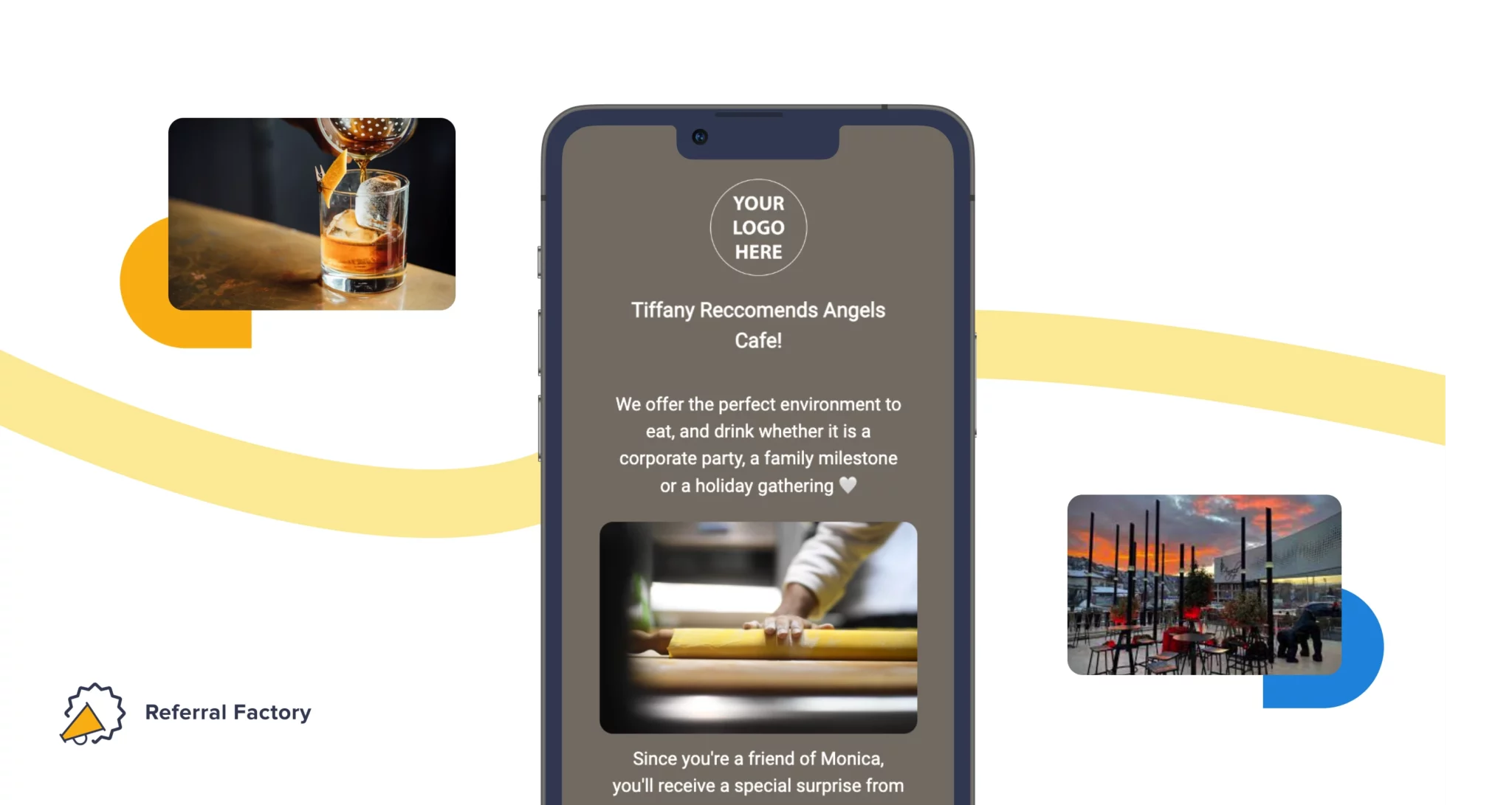 This is a classic referral strategy: you offer a coupon to your friend if they try the service. This campaign performed extremely well because people love to offer free food to their friends! Having a great incentive was key to their winning referral strategy.
Ourbus referral program (travel industry)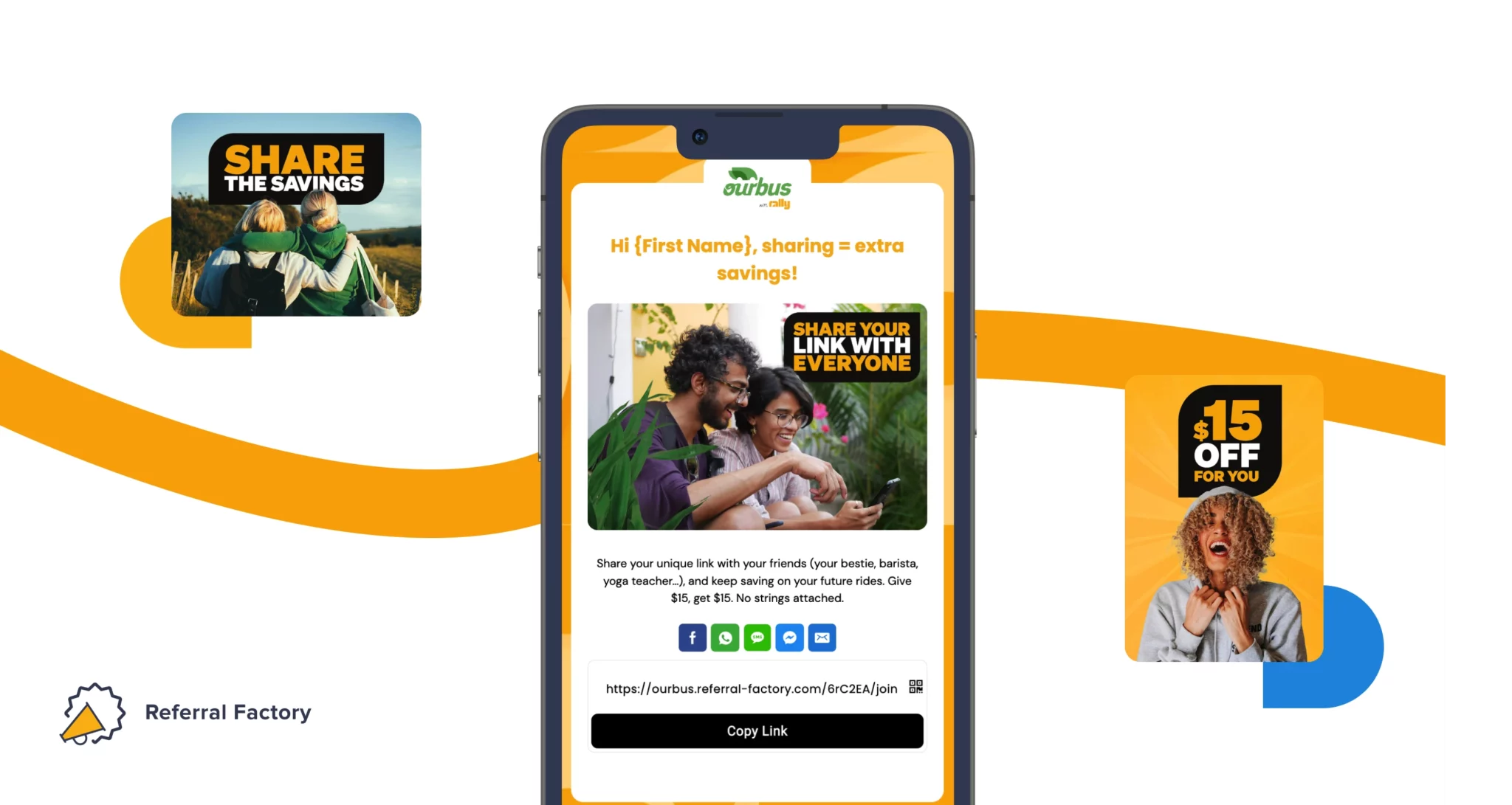 This is a classic give-and-get strategy. Share your referral link with a friend and you'll each earn $15! We all know that people are addicted to sharing their love of travel, and this referral program leveraged that fact to its fullest.
Radius referral program (insurance industry)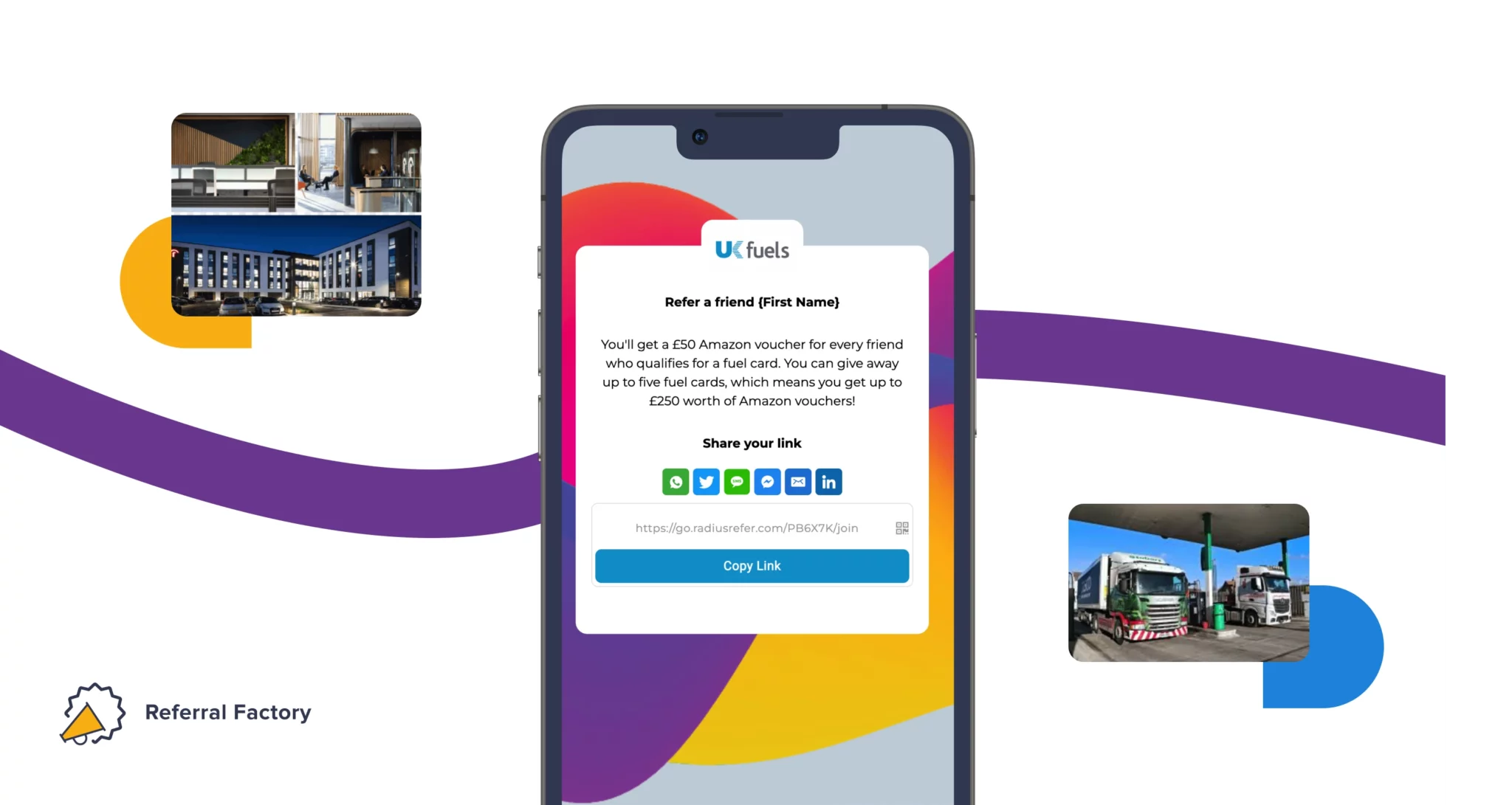 Now, this is another give-and-get campaign that took the UK by storm. In times of economic recession, people need basics more than luxuries. This is why Radius used a reward and an incentive that would encourage their customers to get involved with fuel. Give £50 of fuel and get £50 of fuel.
iKhokha (online industry)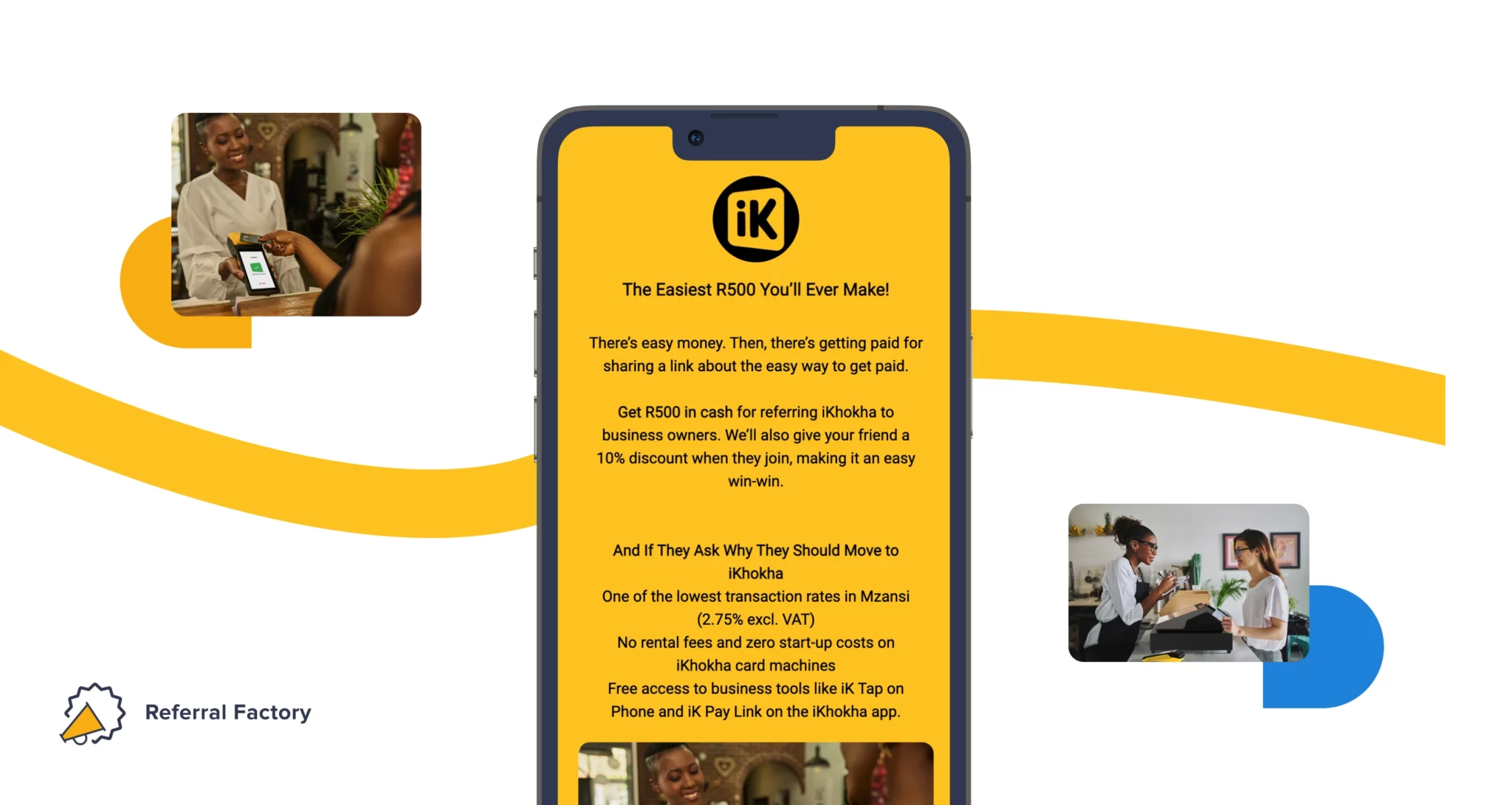 This is a  B2B referral program where businesses have the opportunity to help other business owners succeed. Business owners received a cashback reward for referring other entrepreneurs to switch to iKhoKha for all their payment processing needs. On top of that, the business they referred received a 10% discount on their card machine, plus a chance to apply for funding after three months.
The reason this was so successful is that entrepreneurs have a tight community and are very driven by helping other businesses overcome similar struggles that they have faced. This brilliant campaign gave business owners a chance to help others just like them.
Auspac Solar referral program (solar industry)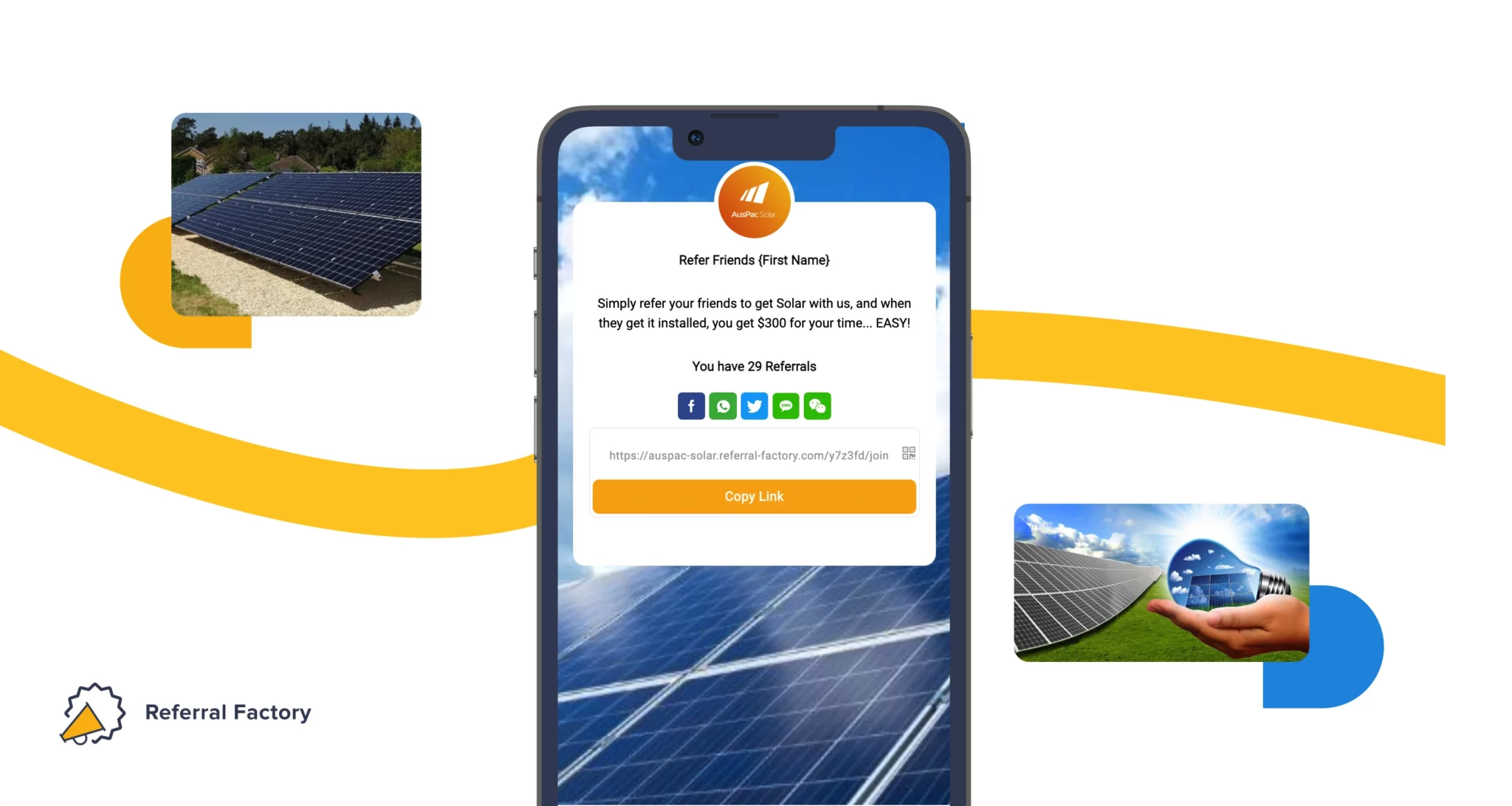 This is a big reward for a big referral. Get $250 for every friend you refer who installs solar panels. If you're going green to save the planet, it makes sense that you'd want your friends to join the party too.
This is why the solar energy niche is such a great industry to launch a referral program. People are naturally motivated to spread the word, and they just need to be promoted to do so.
Referral Factory referral program (B2B industry)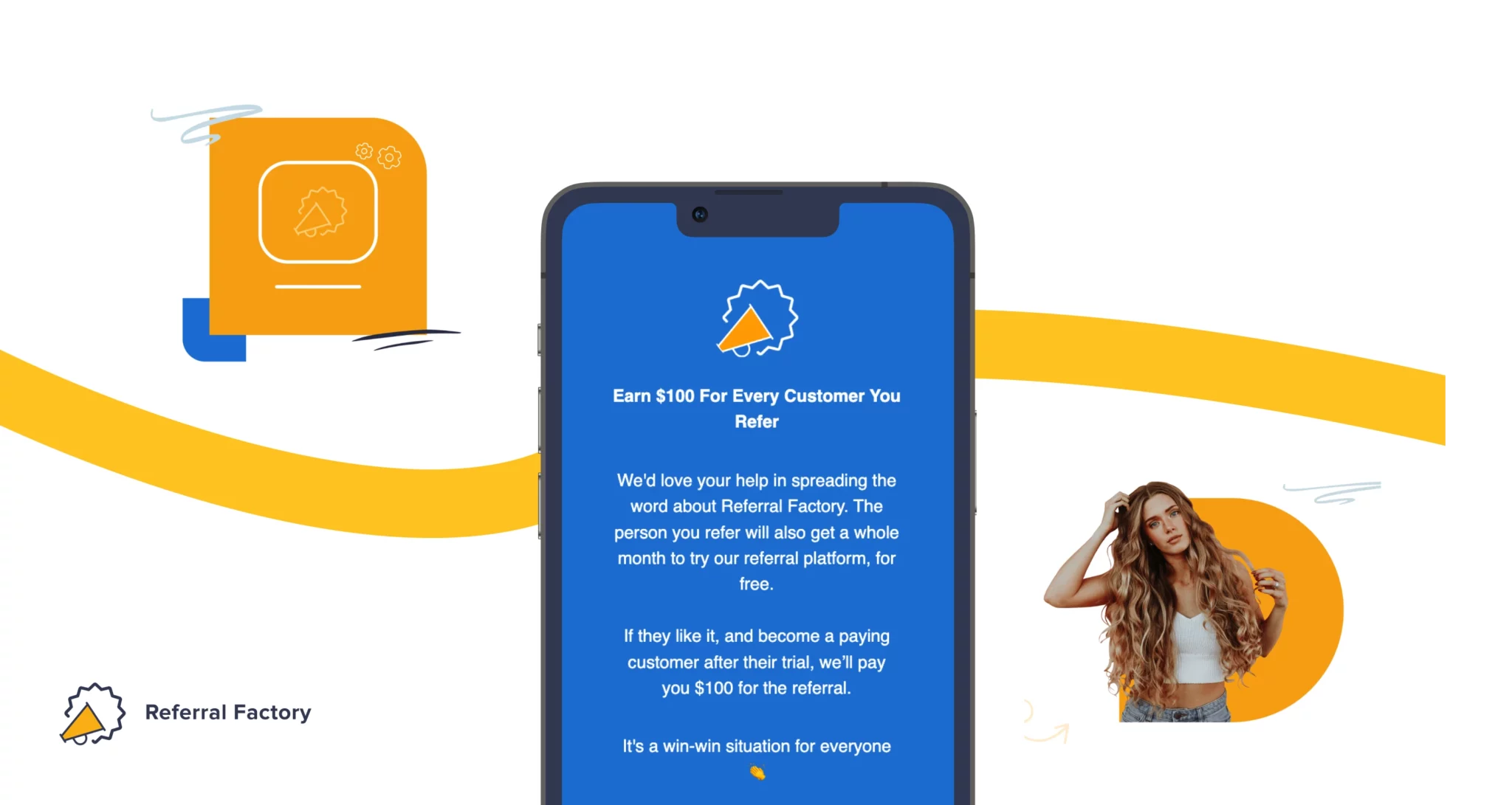 This is another classic B2B referral program where you can earn $100 for referring another business. This referral program leveraged cash as the reward and an extended free trial as the incentive. These are the most popular rewards and incentives being used in B2B referral programs.
Here you have it – we covered not only the step-by-step guide on how to create a referral program but also shared specific examples and best practices. Decide on what works best for you and implement it in your business.