If you're reading this, you probably already know how powerful generating referrals can be for your business. "With a data for more than 28,000 Internet respondents in 56 countries, it has been seen that 92% of consumers trust recommendations from friends and family above all other forms of advertising." – source : Going Viral : Sayantari Ghosha, 2018.
Dropbox is a great example of how companies have harnessed the power of referrals to grow and increase loyalty with their customers. They were originally spending $233 – $388 to acquire a new user, but thanks to a successful referral program launched back in 2012, Dropbox was able to accelerate user growth by 3900%, and drastically reduce their cost to acquire a customer at the same time.
The reward for referring a friend to Dropbox was more space in your Dropbox account, which everybody at the time needed. So the reward had a high monetary value to every dropbox client, but a low monetary value to Dropbox. It was a total win win!
If you're looking to follow in the footsteps of Dropbox, and leverage your engaged customers to help you grow your business, then you're in the right place. This post will give you a series of tips, from referral marketing experts, on what you can do to get more referrals.
If you want to first estimate how much impact this this marketing strategy, then have a look at this calculator which shows you how many referrals you can get by launching a referral program.
If you at least 1000 customers, fans, or followers to start asking for referrals. You could generate around 227 referrals according this calculator. Which doesn't seem like much but its essentially launching a referral program can help you grow by 27% in one year. Thats a great return on a new marketing channel!
This is why it's more important than ever to start thinking about how you can get more referrals for your business. To do that you'll need to:
Step 1: Build a referral program (so that you can generate referral links for all your customers and fans)
Step 2: Promote your referral program so that you can start getting referrals!
IMPORTANT: If you haven't done step one yet, we suggest reading our article 'How To Create A Referral Program – 8 Steps You Can Follow'.
Once you've created your referral program, it's time to onboard referrers so that they can spread the word about your business. If you don't ask, you won't get, it's that simple! Actively promoting your referral program should be a key part of your marketing strategy this year, so to help you get that right we've compiled a list of effective and automated ways you can ask your customers and fans to refer their friends and family to your business.
Let's get started!
1. Promote your program inside your product or website
You can turn your product or website into the star asset of your referral program by using these digital channels to prompt people to join your program while they interact with your brand. Promoting your referral program on your website is one of the most proven tactics you can use to get more people to join your referral program and. Be strategic about where you advertise your referral program, so that you can use all your assets and web materials to their fullest potential. Here are some tactics for you to try on your website…
Build a dedicated referral page inside your website or product, and link to it from your main website menu 👇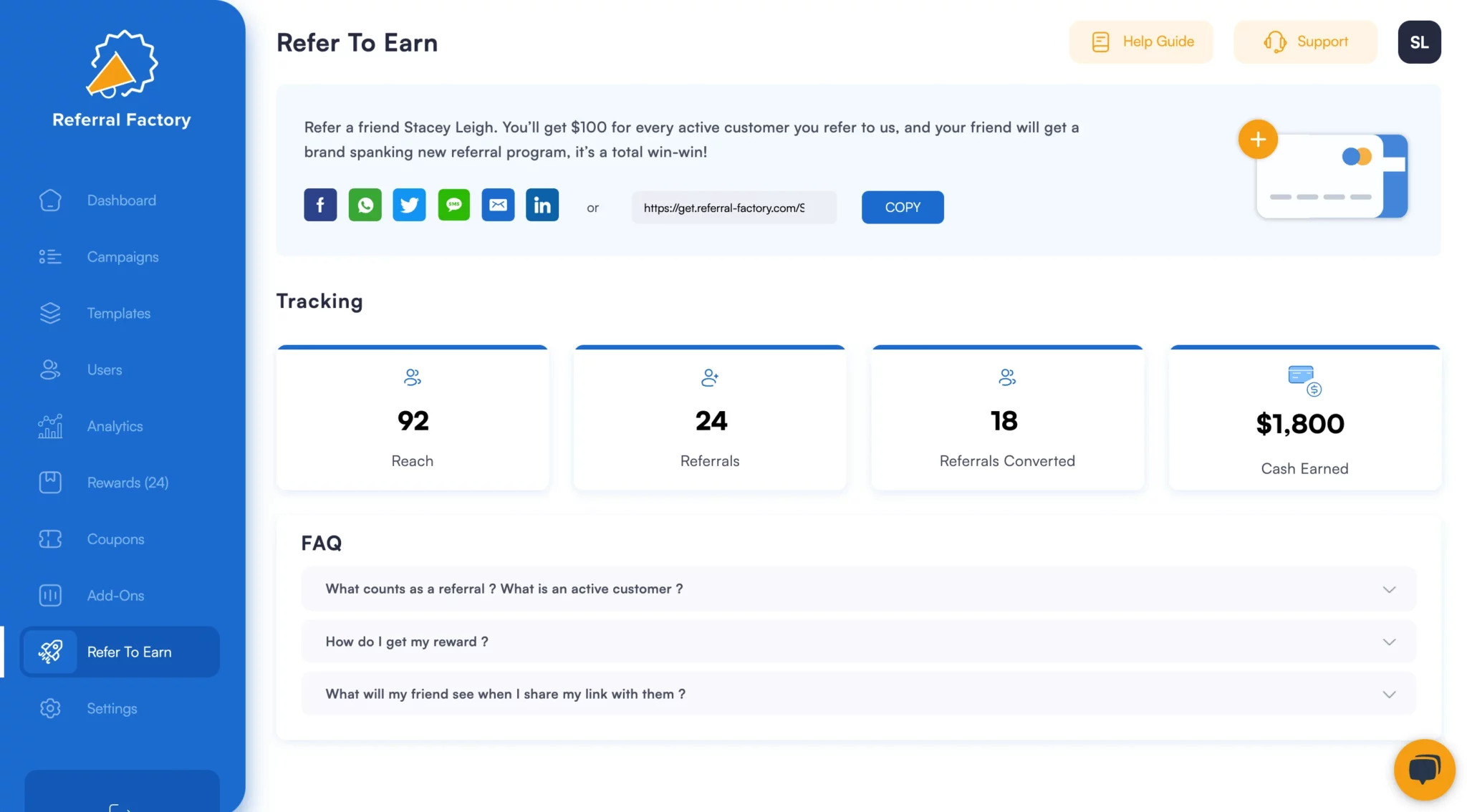 Use the Referral Factory widget on your website 👇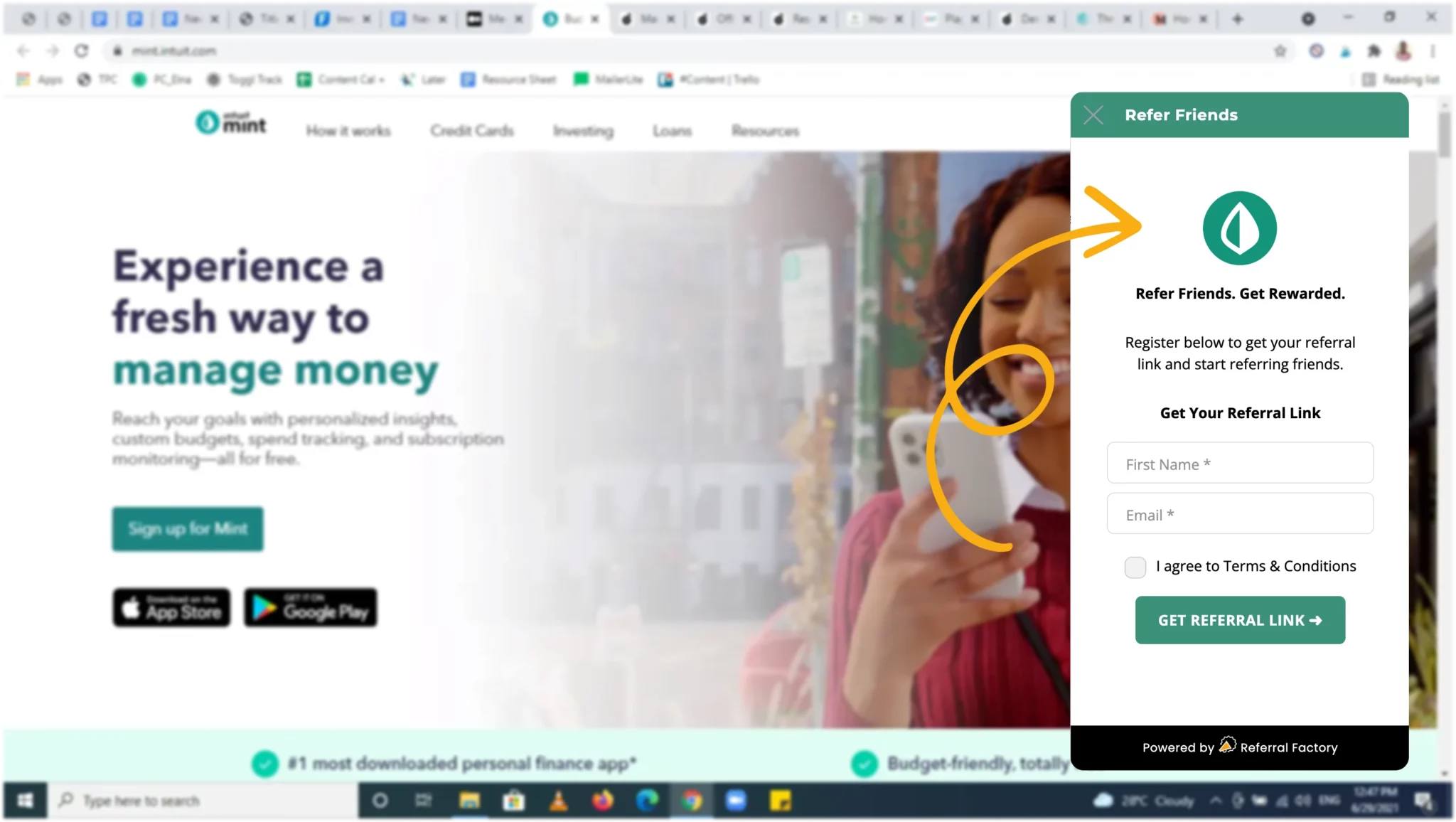 Make a sticky bar promoting your referral program 👇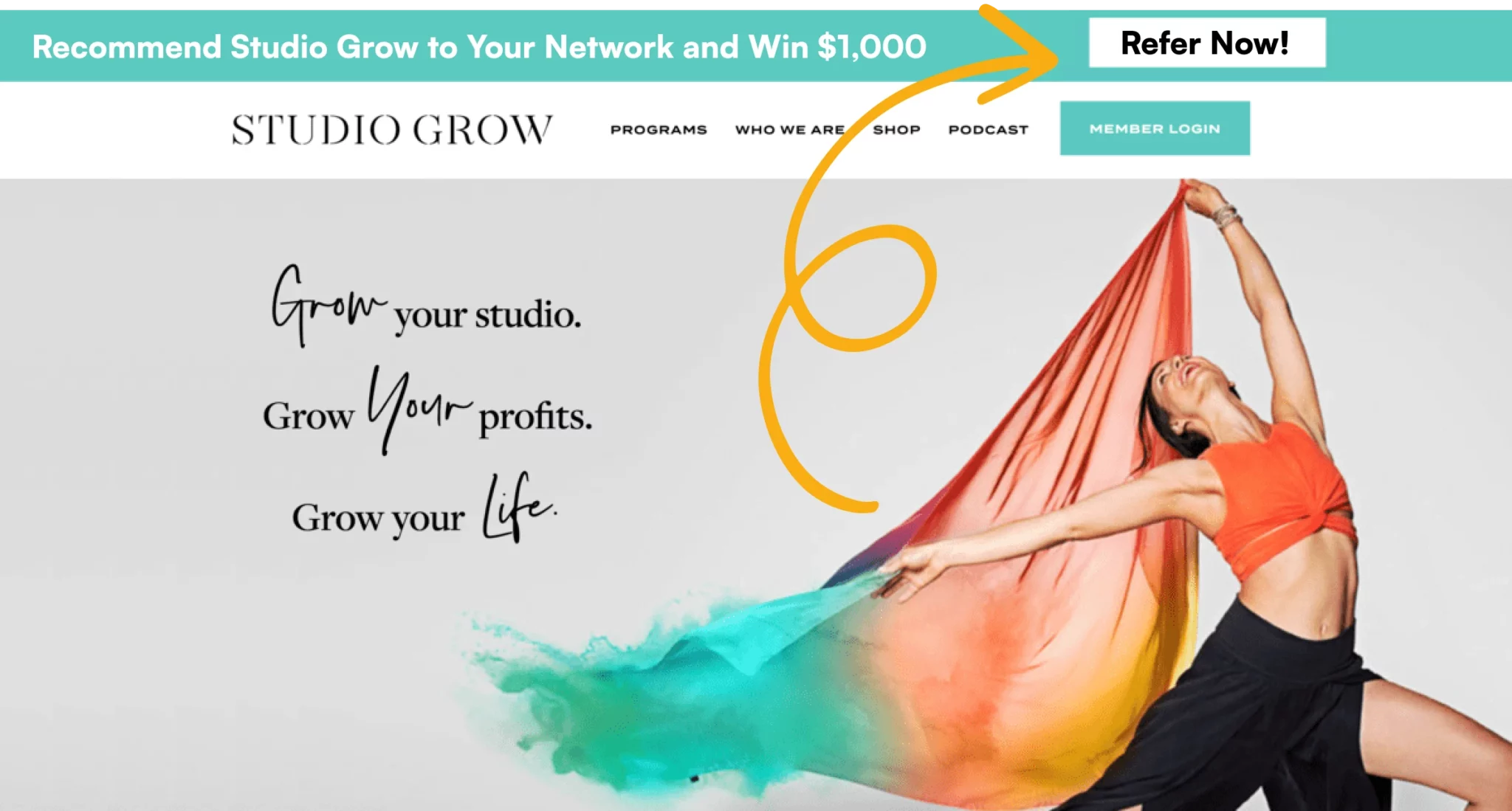 Create a banner inside your platform 👇
2. Just ask!
A simple way to get clients to refer friends is to just ask them – use the channels you already use to communicate with your customers to ask them to join your referral program. We also advise training your customer service team and sales reps so they can include asking for referrals as part of their processes. In the point below we'll talk about generating referral links for your CRM contacts, if your staff can access a customers referral link easily, then every conversation they have with customers could be a possibility to ask for a referral!
We also advise creating an email and sending it to your customers, announcing your referral program and asking them to join.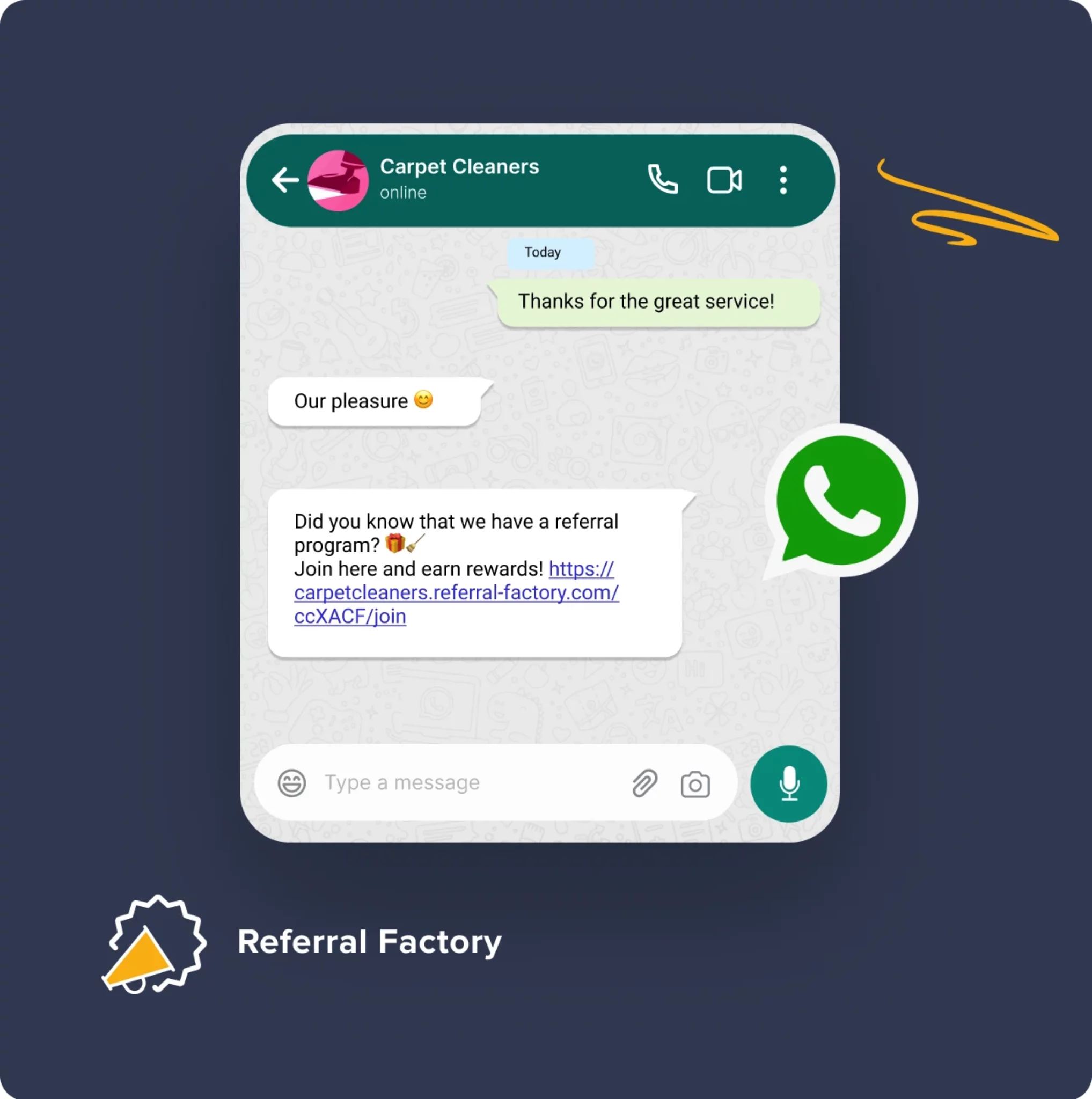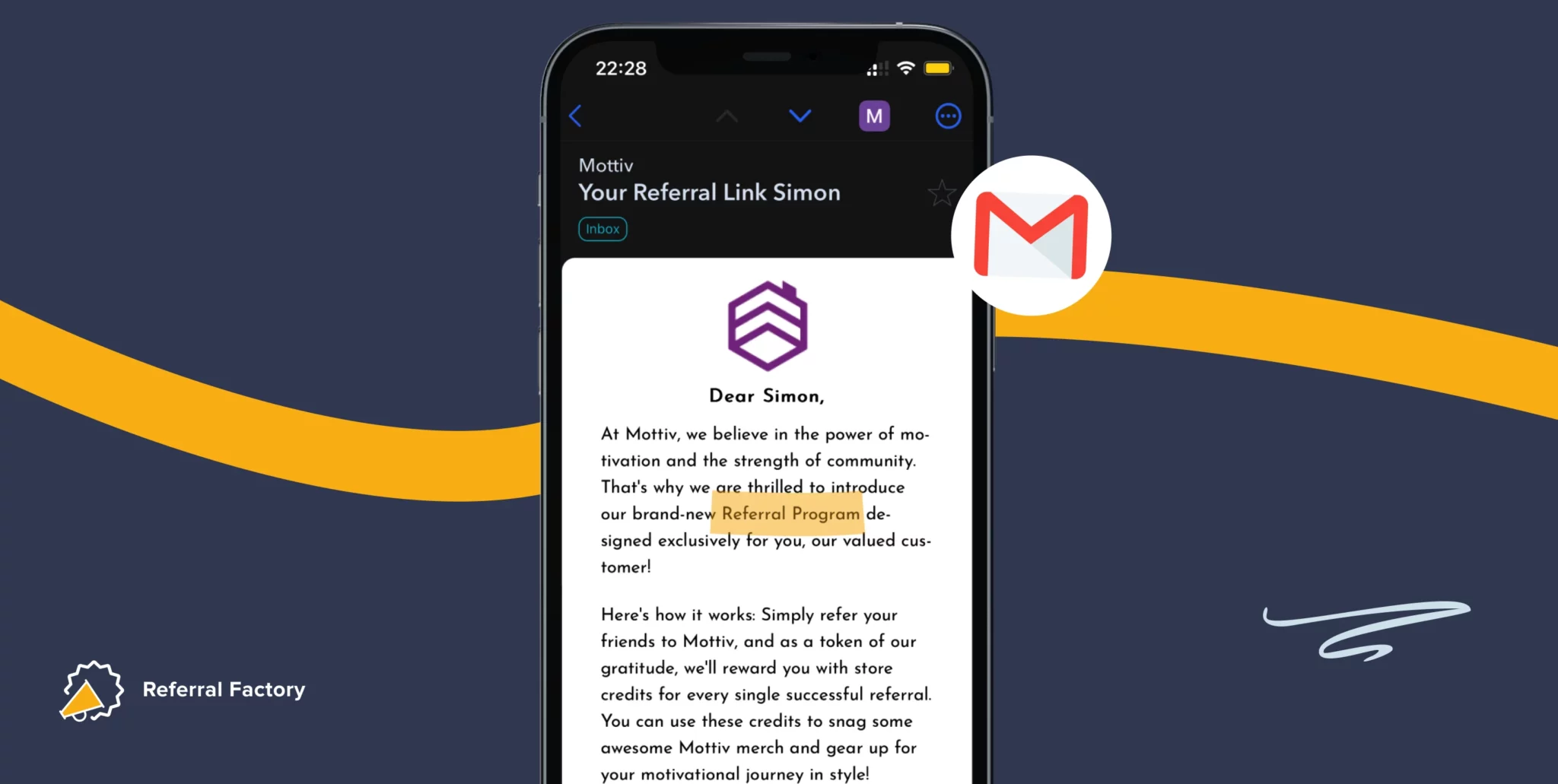 You can also send a text message or whats app message to all your customers, use whatever communication channels your customers are comfortable with. You'll definitely get more engagement of your referral program if you reach out to customers directly, so get in touch with them and let them know what incentives they have to spread the word about your business.
3. Generate referral links for all your CRM contacts
If you use referral software (like Referral Factory), you can generate referral links for all your CRM contacts, and sync their links back into your CRM. This means every customer touch point in future, is an opportunity to ask for a referral. HubSpot is the most popular CRM on the market right now, because you can generate referral links for your contacts, store them in your CRM, then include each contact's referral link in all their comms and automated newsletters going forward.
4. Spread the word on social media
Find out which platforms your customers spend the most time and use your social media channels to reach them there. You can leverage your social relationships to attract new referrers to join your referral program. If people are already interacting with your brand online, then it's the perfect place to advertise your referral program.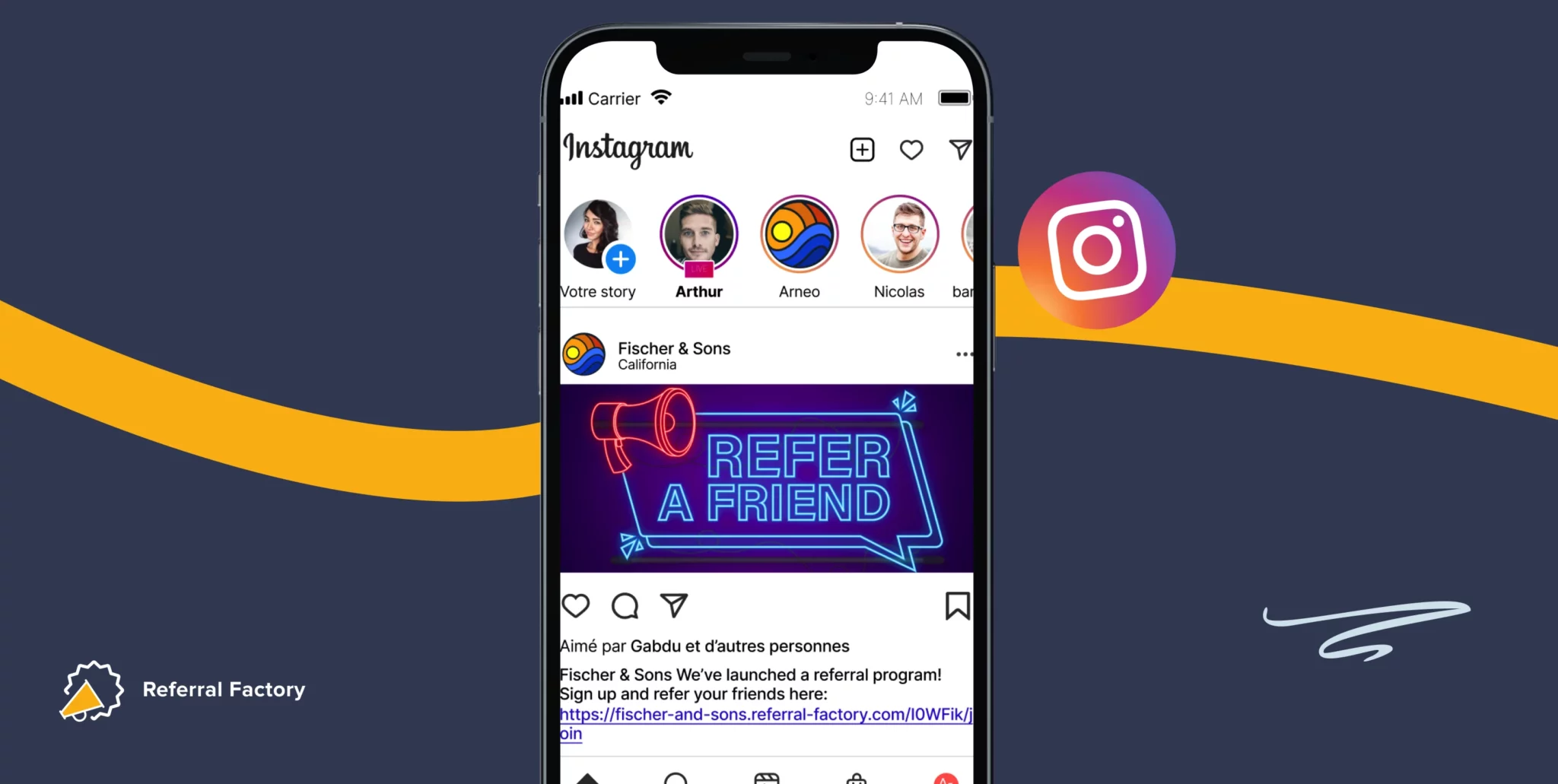 4. Utilise your company's physical assets
Your company has many real-world assets that you can use to create awareness for your referral program. You can include information about your referral program with a strong call to action in the following ways:
Hand out fliers, brochures, and business cards that have a QR code on promoting your referral program.
Add a QR code or link to your your menus or price lists.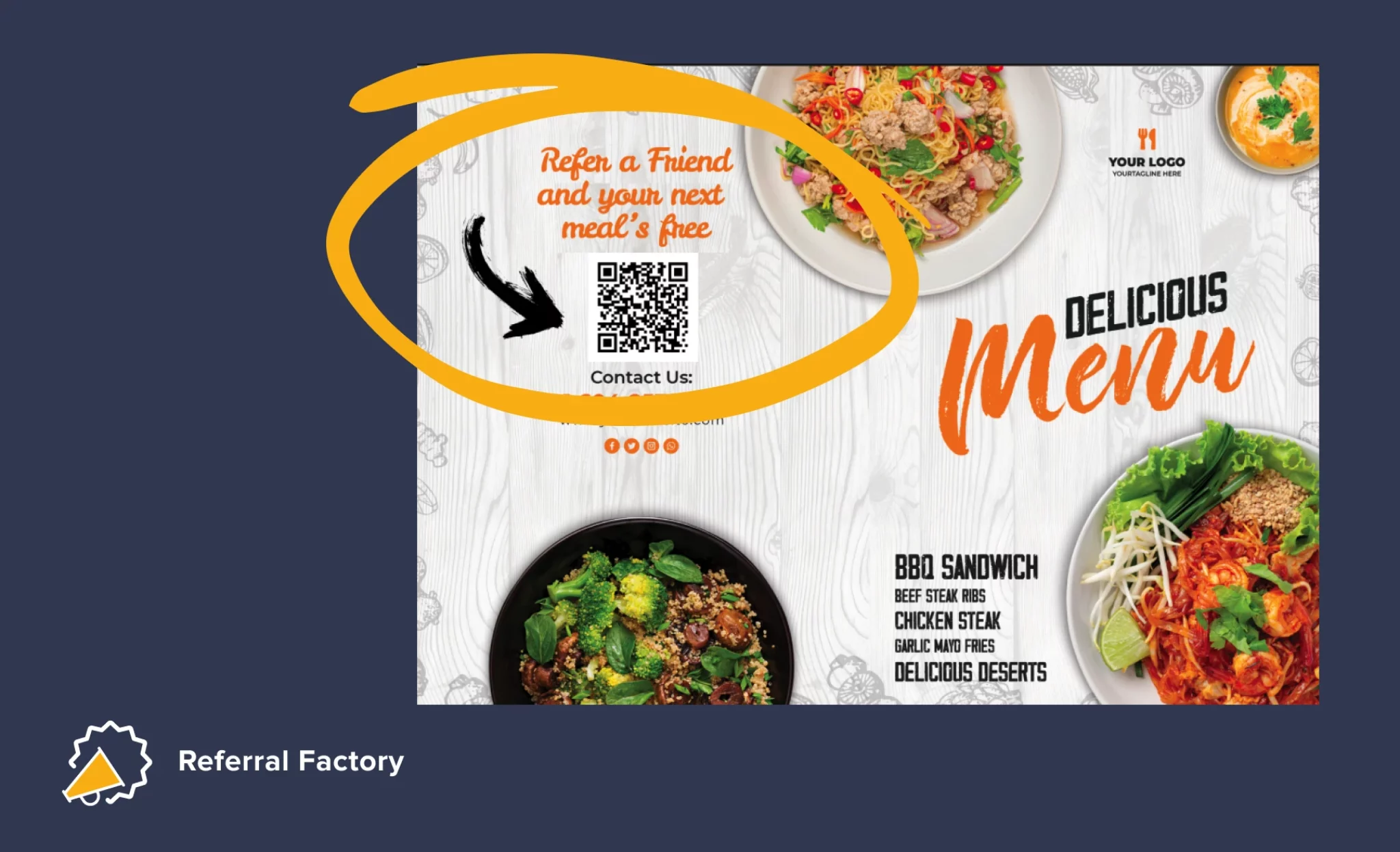 5. Integrate your referral program with your digital assets
In addition to your physical assets, your business has a lot of digital real estate that you can use to promote your referral programs. Insert the details of your referral program into the following:
Your invoices
Your employee email signatures

6. Expand your audience
Widen your net and find people who aren't existing customers to invite them to join your referral program. This could be your business network, your business suppliers, your employees, or even a business you have partnerships with.
7. Hire an influencer to market your program
Influencer marketing has been around for years, and the reason brands use it is to create hype and talk-ability around a product or new offering. Why not create the same hype around your referral program! Influencers are a great way to give your referral program the social proof it deserves, and show people that this is the real deal!
8. Embed your referral program in your blog posts
If your marketing team is already publishing great content that aligns with your target markets interests, then you could prompt the readers of your register to refer friends too. Here's an example of how we're promoting you for a referral right now 😉
Those are eight ways you can promote your referral program to get more referrals. But remember, the number one reason people will refer you to their friends is because they trust your brand and feel comfortable recommending you to their friends. If you want to get more referrals, you have to run a business that people want to refer, so makes sure you maintain the basics to create that environment.
If you follow the steps above to promote your referral program, and you ensure you run a great business that people trust, you'll have an excellent foundation to start growing the number in incoming referrals you get every month. Brands that have followed this guide and implemented the strategies covered have seen an increase of up to 32% in the amount of leads being generated every month, we hope you have the same success in your business!
WANT TO GET MORE REFERRALS?
Auto-generate a referral program
for your business using AI
How can I increase the likelihood of referrals?
Referrals are a great way to increase your client base and grow your business. Word-of-mouth marketing is one of the most powerful tools available, and satisfied customers are often happy to recommend your business to others. But how can you increase the likelihood of referrals? The answer lies in providing excellent customer service.
Here are some tips to help you provide outstanding customer service and increase your chances of receiving referrals:
Offer excellent customer service: make sure your customers feel heard and valued. Listen to their needs and concerns, and work to exceed their expectations.
Make sure you communicate the benefits and expectations of your referral program clearly. If you design your referral program in a simple way this should be easy, please don't offer complicated tiered rewards, that generally just creates confusion!
If you already have a reward program or a loyalty program, make sure you tie your referral program into those to keep things simple for your customers to understand.
Offer a great reward to the customers that refer, so they feel values and their interested are met too (not only yours).
Ask for referrals: on't be afraid to ask your satisfied customers for referrals. Let them know that you appreciate their business and would be honoured to serve their friends and colleagues.
By providing excellent customer service and clearly communicating to your customers how your referral program works, you'll increase your chances of receiving referrals. Remember, happy customers are your best ambassadors, so make sure you give them a reason to recommend your business to others.
How can I build a referral program that works?
As a business owner or marketer, you know that one of the most effective ways to grow your business is through word-of-mouth referrals. Referral programs can help encourage your current customers to spread the word about your business, but it's important to build a program that actually works. If you're new to this, we advise using template, you can access over 100 of them here.
Here are some tips for creating a referral program that will help you acquire new customers and increase sales.
1. Define your goals: Before you start building your referral program, it's important to define your goals. What do you want to achieve with the program? Are you trying to increase the number of new customers, increase the number of demos booked, or increase the leads flowing into your sales pipeline? Once you have defined your goals, you'll have a very clear idea what the call to action in your referral program should be.
2. Choose the right rewards: The rewards you offer for referrals can make or break your program. It's important to choose rewards that are valuable enough to motivate your customers to refer their friends and family, but not so expensive that they eat into your profits. Consider offering discounts, vouchers, free products, or even cash rewards. In some cases you can also offer access to exclusive events or content.
3. Make sure you have a GREAT reason for the person invited to convert. This is the secret sauce that most marketers miss 🤫 Choosing the right 'incentive' in your referral program is actually more important than choosing the right reward. The incentive is what you offer the person being invited and a good incentive is crucial. It motivates the referrer to share and gives the impression of generosity rather than salesmanship. It also helps convert the invitee into a customer. A killer offer should be given to the person invited, such as a free trial, consultation, an upgrade, a bottle of wine – anything you can offer to increase the likelihood of sharing and conversion.
4. Make it easy to refer: Your referral program should be easy to understand and easy to use. Provide your customers with clear instructions on how to refer their friends and family, and make it easy for them to do so. Consider using a referral platform or tool to streamline the process, and ensure your customers have sharable referral links so they can easily spread the word.
4. Promote your program: Your referral program won't be effective if your customers don't know about it. Promote your program through all the methods we've highlighted above in this post.
5. Track your results in detail: Once your program is up and running, it's important to track and analyze the results of its performance. Use referral analytics tools to track the number of referrals, conversion rates, and other key metrics like what channels your customers share their referral links on. Use this data to optimize your program and improve its effectiveness over time.
Referral marketing can be a powerful tool for growing your business, but only if you build a great referral program and actively work to promote it. By defining your goals, choosing the right rewards, making it easy to refer, promoting your program, and tracking your results, you can create a referral program that will help you acquire new customers, increase sales, and help you grow brand awareness with the friends and family of your customers.