A Deep Dive Into Top Performing Examples
We've found some of the best referral programs to learn from that will help you build a top-performing referral campaign of your own. Referral programs have become the number one way that marketers are finding new customers and generating highly qualified leads. Whether you are just starting or looking for inspiration to launch a new referral program, learn how different brands are using word-of-mouth referrals to grow their business.
WANT TO GET MORE REFERRALS?
Auto-generate a referral program
for your business using AI

What Makes A Good Referral Program Great?
The best referral programs are driven by both a reward and an incentive. People feel good about getting a reward when they know they are giving something to their friends too. Double-sided referral programs that reward the referrer and their friends are often more effective in gaining mass adoption than single-sided referrals.

Reward your customers in a currency that also rewards your company. Coupons, credits, or discounts that are spent back into your business are the best at getting customers to make repeat purchases, improving customer retention, and increasing the lifetime value of your customer.

Clear, simple, easy to understand, and straightforward to join, uncomplicated referral programs are almost always certain to attract the most users. The easier it is for users to understand how your referral program works, and how they get and give a reward will result in the maximum number of users signing up.

Personalizing your referral program and following through with this personalization at each step of the referral journey go a long way in increasing credibility and user adoption. When new users are invited to a referral program by a name they know they are more likely to join than if they received a referral link with no reference of where it comes from and why.

Referral programs that are easy to share and track without needing to log in to a dashboard view are most effective in motivating users to keep referring to their friends. With a single view of how many people they have referred and the option to forward their referral link to even more friends is the pure jam. Similarly, a program that easily integrates with other CRMs such as HubSpot, Zapier, Shopify, and much more.

Great content matters. From the message and call to action to the way your referral program looks, the more effort you put into content the better the result. Referral programs that use catchy copy, and communicate clearly and in the same tone as your brand makes a world of difference in encouraging more users to refer their friends.

The best deals are built off the principle of "give and take". Understand the art of negotiation and the idea that to "get" you must be willing to "give". Asking your customers to spread the word about your business is not to be taken lightly and rewarding them for doing so should be as valuable as possible.

Your referral program is not going to market itself. While most happy customers are more than willing to refer their friends if they don't know about your referral program they won't know to spread the word. Make your referral program visible by telling as many people about it at every opportunity you get. Find 30 ways to market your referral program and get users referring fast
Now that we have discussed what makes a referral program great, here is a list of the best referral programs to learn from with a deep dive into a few top-performing examples.

The Loom Referral Program
Loom has done a great job at creating a straightforward, single-sided referral program that drives more users to sign up for their video recording and screen-sharing solution.
How It Works
Loom asks its existing users to invite teammates to join their Loom workspace. For every invite that gets accepted, Loom will give the referring user additional storage space to record another 25 videos. Following this, if the referred friend goes on to record their own Loom video after signing up, the original referrer will get even more storage, for another 25 videos. So if a user invites 5 people and they sign up to Loom the referrer will get an extra 125 videos and up to 250 additional videos if each of those friends records a video.

Why Does It Work?
A straightforward single-sided referral that drives growth through user word of mouth, the Loom referral program not only aims to get more users to join but also drives to get those people actually using their product. Increasing brand awareness, credibility, and customer loyalty, Loom has got a winning formula that can be easily recreated by other brands with similar objectives.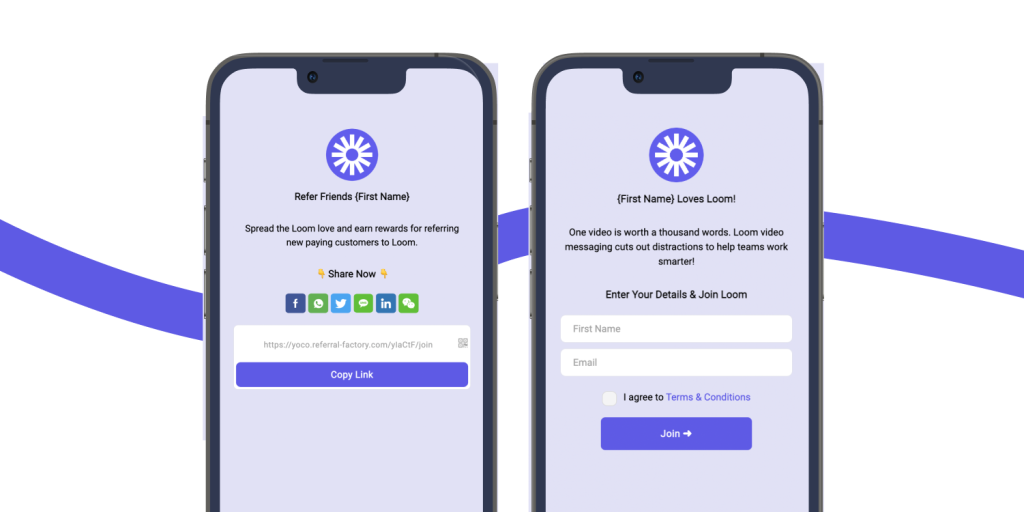 Sixt Car Rental Referral Program
The referral program to get customers coming back again and again and again. The Sixt referral program shows us how word-of-mouth referrals can decrease the cost of customer acquisition and increase lifetime value all at the same time.
How It Works
A double-sided reward and incentive to drive customer acquisition and loyalty, Sixt offered a referral program that existing and new customers both benefit from. For every new referral, Sixt customers and the friends that they referred receive Sixt car rental vouchers. The referrer and the person they refer to both receive vouchers valued at 60 Euros in total. The vouchers can only be used in 20 Euro increments which means that to redeem all three vouchers users need to hire a Sixt rental three times to unlock the full value.

Why Does It Work?
Driving customer acquisition for a car rental business is not always the easiest thing to get right. But using a double-sided reward to grow their customer base and at the same time increase, customer loyalty and customer lifetime value is a perfect example of how to use referral programs to the fullest.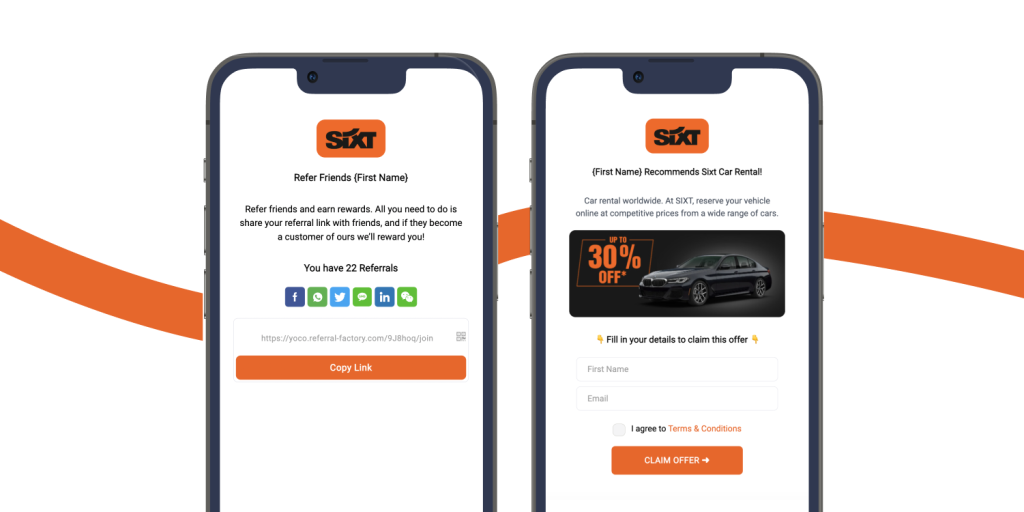 Dual Yoco Referral Programs
Using two different referral approaches to drive maximum growth, Yoco, a card machine, and online payments solution aims to reach as many new customers as possible by incentivizing new and existing customers with rewards that work for them.
The first Yoco referral program calls on existing Yoco customers to refer fellow entrepreneurs and when doing so successfully are rewarded with cash in the bank.
How it Works
A double-sided reward where existing Yoco merchants earn R500 cash in the bank for referred friends that go on to buy a Yoco card machine and transact over the value of R1000.

Why Does It Work?
While existing merchants are not limited by the number of friends they can refer and the rewards that they can earn, this means that the more successful referrals, the more cash they can earn. Plus new merchants that sign up will get R100 off their card machine if they buy it through a referral link.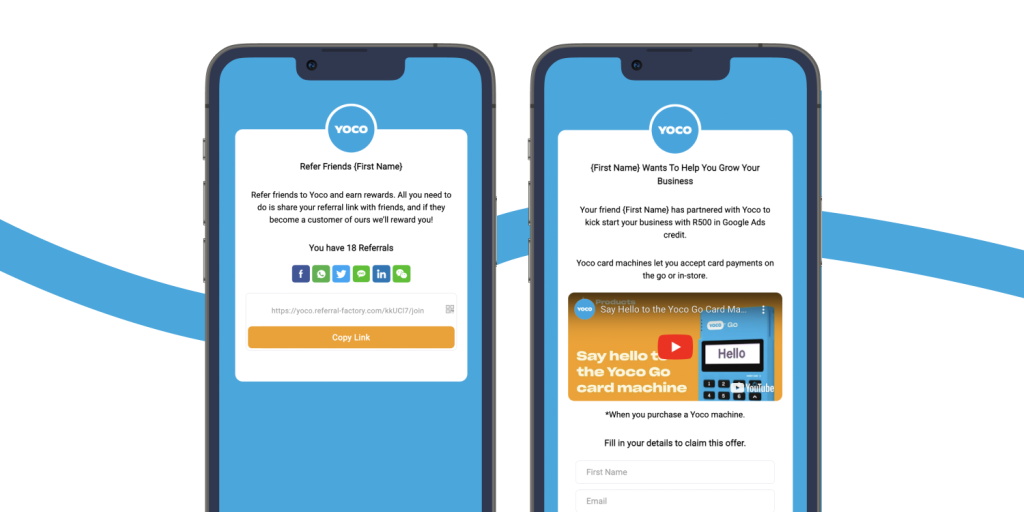 The second Yoco referral program works as a tired competition where existing Yoco merchants can stand a chance to win tiered voucher prizes for referring a friend that converts.
How It Works
Yoco calls on their card machine merchants to refer their friends to Yoco. If a friend signs up and purchases a Yoco card machine the referring merchant will be entered into a lucky draw to stand a chance to win one of the three-tiered value vouchers for a popular online store.

Why Does It Work?
With no limit on the number of people that a merchant can refer, means that the more people an existing merchant refers to, the more entries they get into the draw, increasing their chances of winning.
Evernote Points Referral Program
To drive mass adoption of their note-capturing and personal organizational tool, the Evernote referral program does exactly this by offering redeemable points that allow users to access premium Evernote products.
How It Works
A single-sided referral program that rewards existing Evernote users. In return for every person an Evernote customer successfully refers, the refer receives stackable points allocated to their Evernote profile. As these grow, Evernote users can redeem these points to unlock premium Evernote features.

Why Does It Work?
What makes this referral program great is that users are not just rewarded once but a second time, if their friend upgrades a standard account to a premium package. This referral program drives customer acquisition, customer loyalty, product upgrades, and a greater lifetime value. Plus if existing users are already premium account owners, and don't need to unlock additional features, referral points can be put towards subscription fees.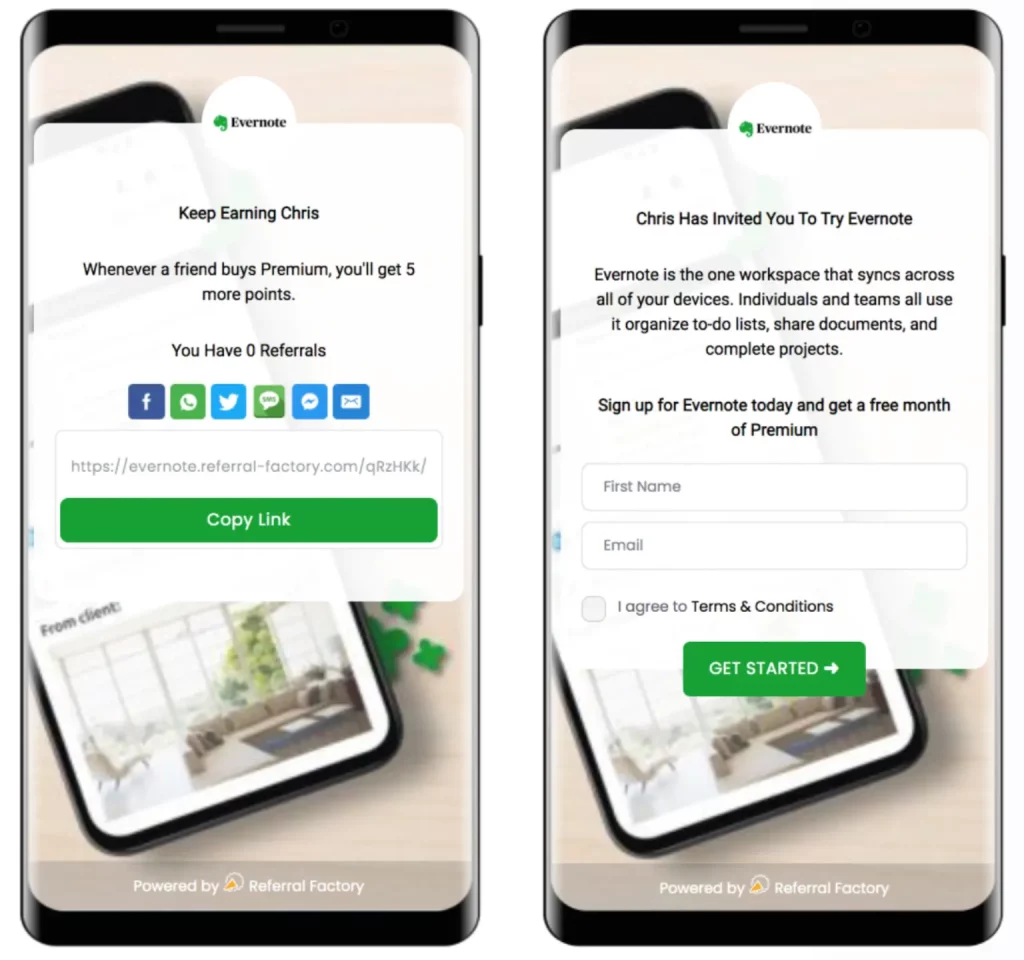 Harry's Tiered Referral Program
To help launch Harry's men's personal care brand, a tiered referral program was used to increase brand awareness and get more people to try their products.
How It Works
Harry's men's care brand successfully ran a double-sided referral program offering incremental rewards for referring a growing number of users. The more friends referred the more enticing the reward would become. Plus friends that were invited to join were also incentivized to try the brand with a 10% discount on their first purchase.

Why Does It Work?
What started as a way to get people talking about and buying this new men's grooming brand resulted in more than 100 000 signups to the referral program in just one week, simply by offering incremental rewards for different referral milestones.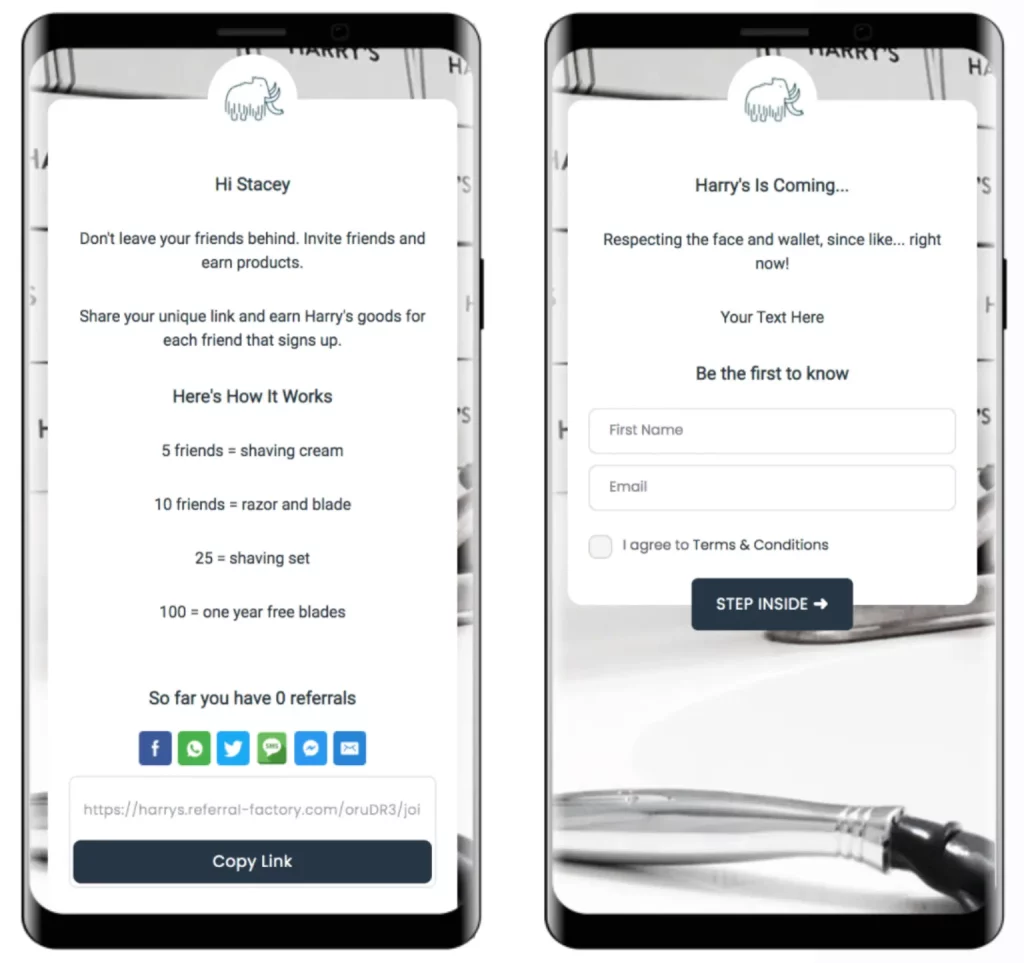 Customer referrals are one of the fastest and most reliable ways to market and grow a business. And with loads of examples that prove this success, it's easy to see how any type of business can get more customer referrals.

Just start by asking!