The beauty of a referral program is that, when done correctly, it's virtually risk-free! If you're in marketing this must be music to your ears, finally a marketing channel that lets you pay only for conversions 🎉
In an ideal world, a business would only pay out a reward once the referred user (or lead) is qualified… meaning they actually convert because they took a desired action like paying, subscribing, signing a contract, or attending a demo.

Example of qualifying your referrals when they convert
John refers Mary to use 123 Accounting. He offers her 5% off her monthly fee if she signs up using his link.
Mary accepts this offer using John's link and becomes a customer of 123 Accounting.
Once Mary pays her first invoice, the referred user has now qualified and 123 Accounting can now issue John his reward for having a converted referral.
You'll notice that in the scenario above, 123 Accounting had almost no risk as the reward was only issued once Mary became a paying customer. By qualifying your referrals when they convert, you de-risk your program because you only issue rewards after certain actions (predetermined by you) are met. This could be a lead converting to a sale, a meeting converting into a contract, or a referred trial user converting into a paying customer.
Why you should qualify your referrals when they convert
De-risk your referral program – because you only pay out rewards for conversions, not just leads.
Motivates your referrers to behave the right way – only referring people who are likely to convert.
Gets your referral program ready to scale – meaning you can automate getting referrals, qualifying them, and in time even issuing the rewards.
Allows you to notify users when their referrals have converted.
Makes it easy for you to identify who needs rewards and when they need to be issued.
It allows you to automatically issue rewards once a referral has been qualified. Read more about how rewards work here.
Helps you find your biggest fans, ambassadors, and referrers so you can build stronger relationships with them over time.
How to qualify your referrals when they convert
With Referral Factory there are five ways to qualify a converted referral:
Qualify referrals manually: Select the user you wish to qualify in your Users tab. Click on the drop-down menu in the Action column and follow the steps below:
Click "Qualify".
You will then be asked to confirm if you want to qualify a user.
Click the Qualify button.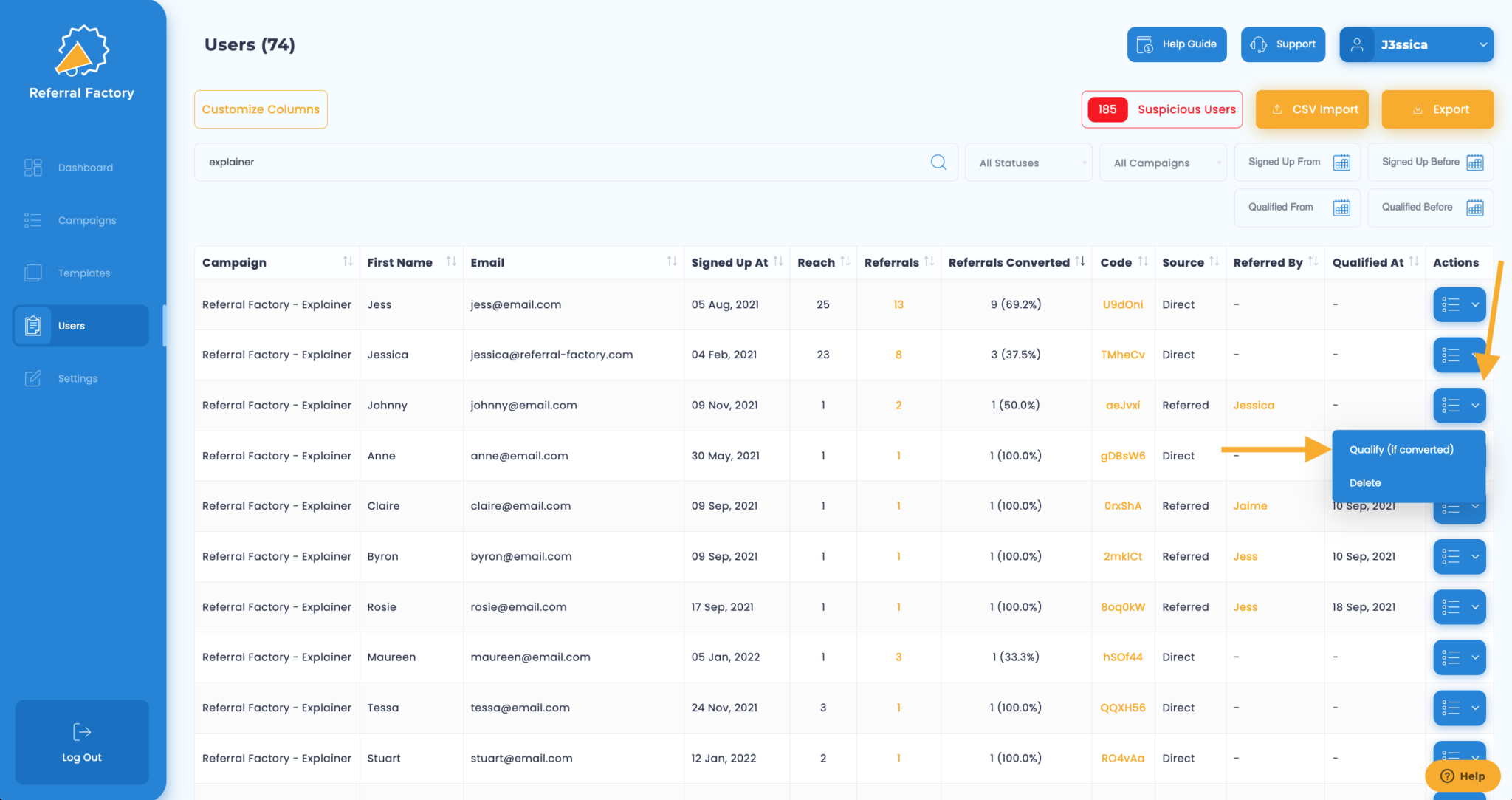 2. Qualify referrals using our integrations: You can connect your referral program with your CRM to send newly referred users directly to your CRM (HubSpot, Pipedrive, Intercom, Zoho, Salesforce, Stripe, Service Titan, and more). From there you can qualify these users when they convert by syncing your contacts data back to Referral Factory. Here is an example of how to do this using HubSpot referrals. Once the referred user has been qualified in your CRM, the status of the user (person referring) in your Referral Factory dashboard will automatically update with the time they qualified and assign that conversion to the user (person referring) who referred them. You can view a list of our integrations here.
3. Using our API: If you have a custom-built CRM or you are using one that we currently do not have an integration with, you can use our API to send referred users directly into your system as well as qualify them automatically when they perform an action on your website or platform that would count as a converted referral.
4. Using our Javascript solution: You can install a piece of script on your 'Thank You' or 'Success' page. This page will be what the referred user sees after they successfully convert (it could be completing a sign-up, creating an account, making a purchase, etc). Once a referred user lands on the page with the script on, it will notify our system that they have converted and the referral will automatically be qualified in your Referral Factory dashboard. Here is a guide to using the Javascript solution.
5. Using an inbound webhook: You can send user data back into Referral Factory from any endpoint. This means you can automatically update the status of a referred user outside of Referral Factory and it will ping back to our platform and "qualify" that referred user and assign the converted referral to the user who referred them.
5. Using Zapier: If we don't have an integration for your CRM, you can use Zapier. Zapier lets you connect Referral Factory with thousands of the most popular apps. You can learn more about qualifying referrals your referrals with Zapier here.
See which users have converted referrals (in most cases, this means they would need a reward)
If you've qualified your referred users when they convert, you can easily see how many converted referrals each direct user has made.
For example, in the screenshot below you can see that the direct user Jess has made 13 referrals. Of those 13 referrals, nine have converted – that means, Jess needs to be issued nine rewards (if your referral program offers rewards).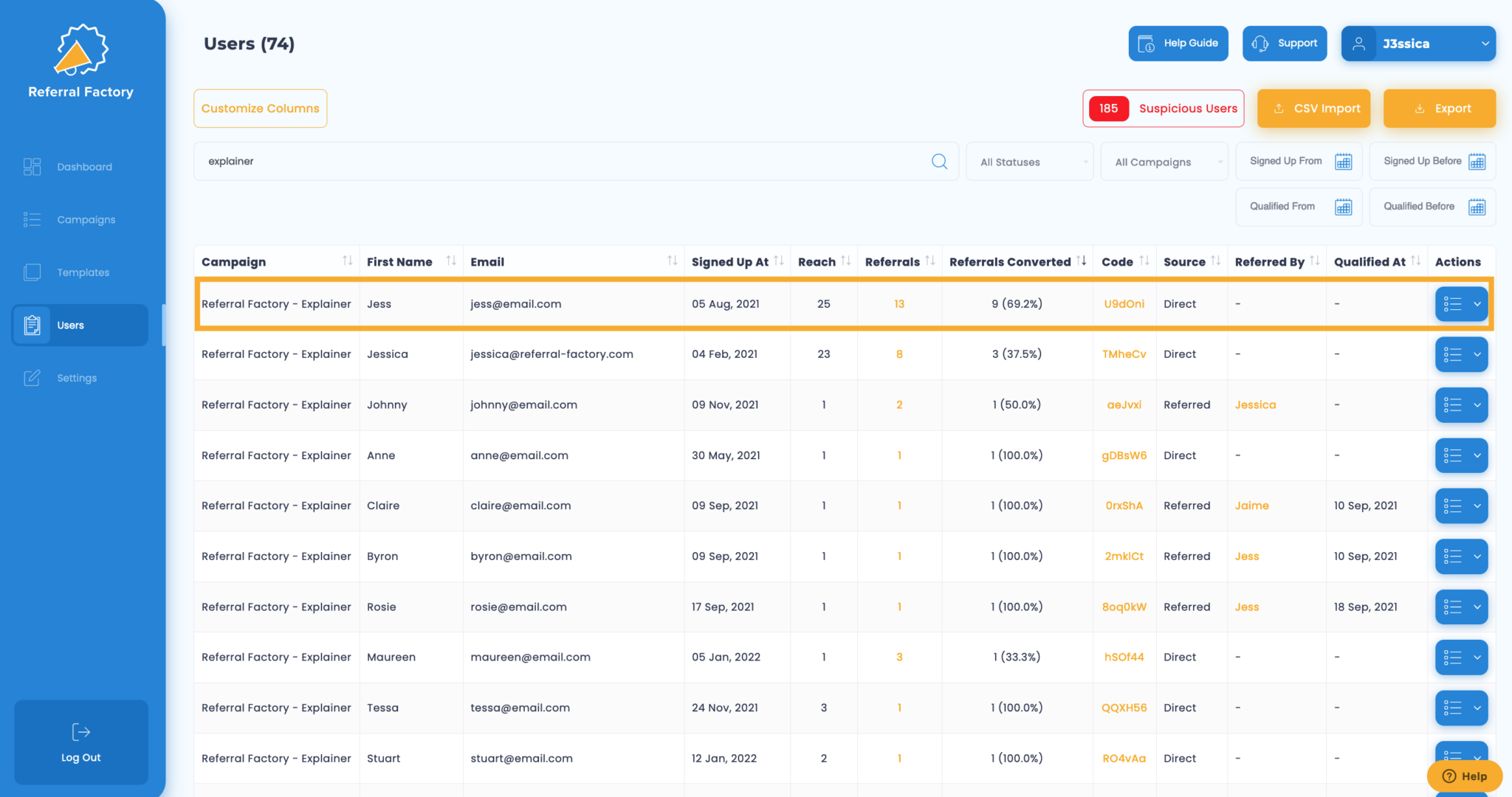 You can also filter your referred users by the date that they were qualified. This makes it easy for you to see if any of your referred users have converted during a specific time period. You can even export this list to run specific marketing campaigns for these new users!
From the example below we can see that there was only one user who converted in this date range. That user is Kat. We can also see that Kat was referred by Stuart which means that Stuart needs to be issued with a reward.