Most people researching referral programs are new to referral marketing, with over 76% of our readers indicating this is their first time creating a referral program. To make it easier than ever for businesses to get their referral programs up and running quickly, we worked with the team at Referral Factory to provide a database of over 100 pre-built referral program templates that you can copy and use as your own.
We built this platform because we genuinely believe that referral marketing should be something every business does. Referred customers buy sooner, spend more, and refer other friends… there is no better customer to acquire than one who is referred by a friend! But, building and launching a referral program can take a bit of time. This is why our team of referral experts has built over 100 referral program templates to help you launch a referral program, safer, faster, and designed to grow.
Below is a screenshot of the referral program templates tab inside a Referral Factory account, where you can search for the best referral program template for your business.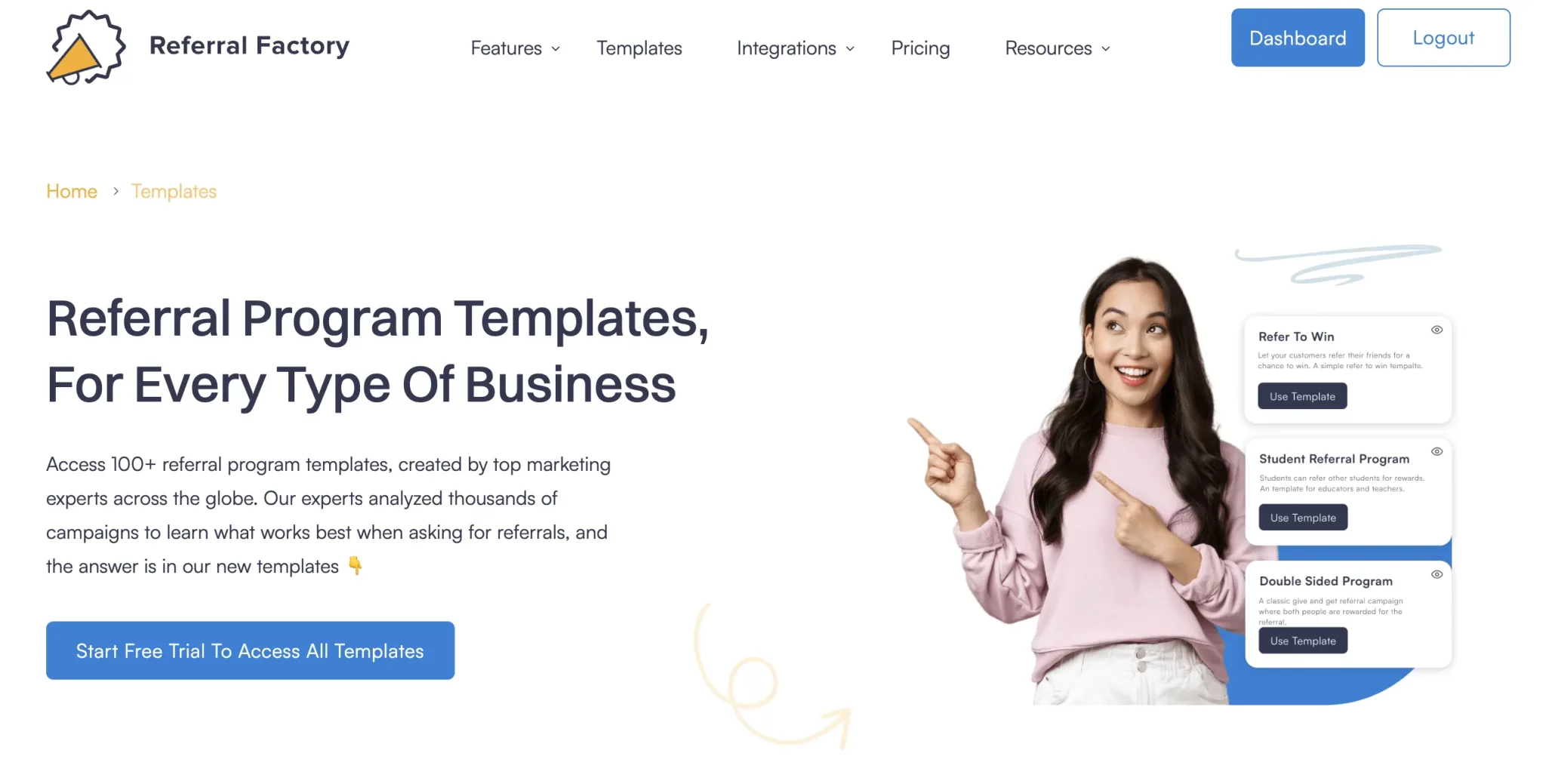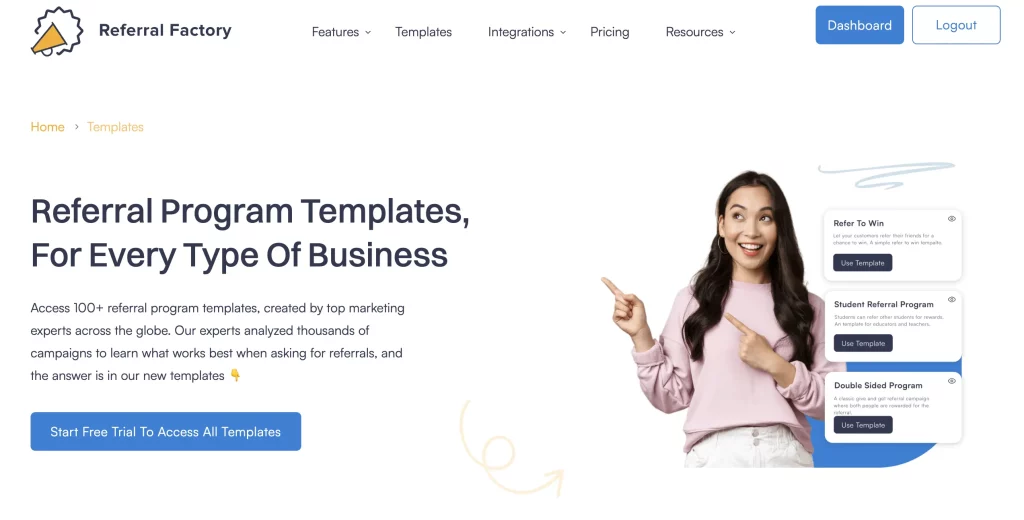 Below is a list of the top 16 referral program templates used on Referral Factory in 2022. These templates have been leveraged by businesses of all shapes and sizes, and can also be translated into 23 different languages from German to Hindi to Spanish to Chinese to Norwegian and more! Whether it's a program for you, or a client referral program, there is a template for you.
16 Referral Program Templates You Can Copy
#1 Dropbox
You can take advantage of the referral program template used by Dropbox if you want to grow by 3900%. With more than 700 million registered users, Dropbox is one of the most prominent file-hosting services in the world.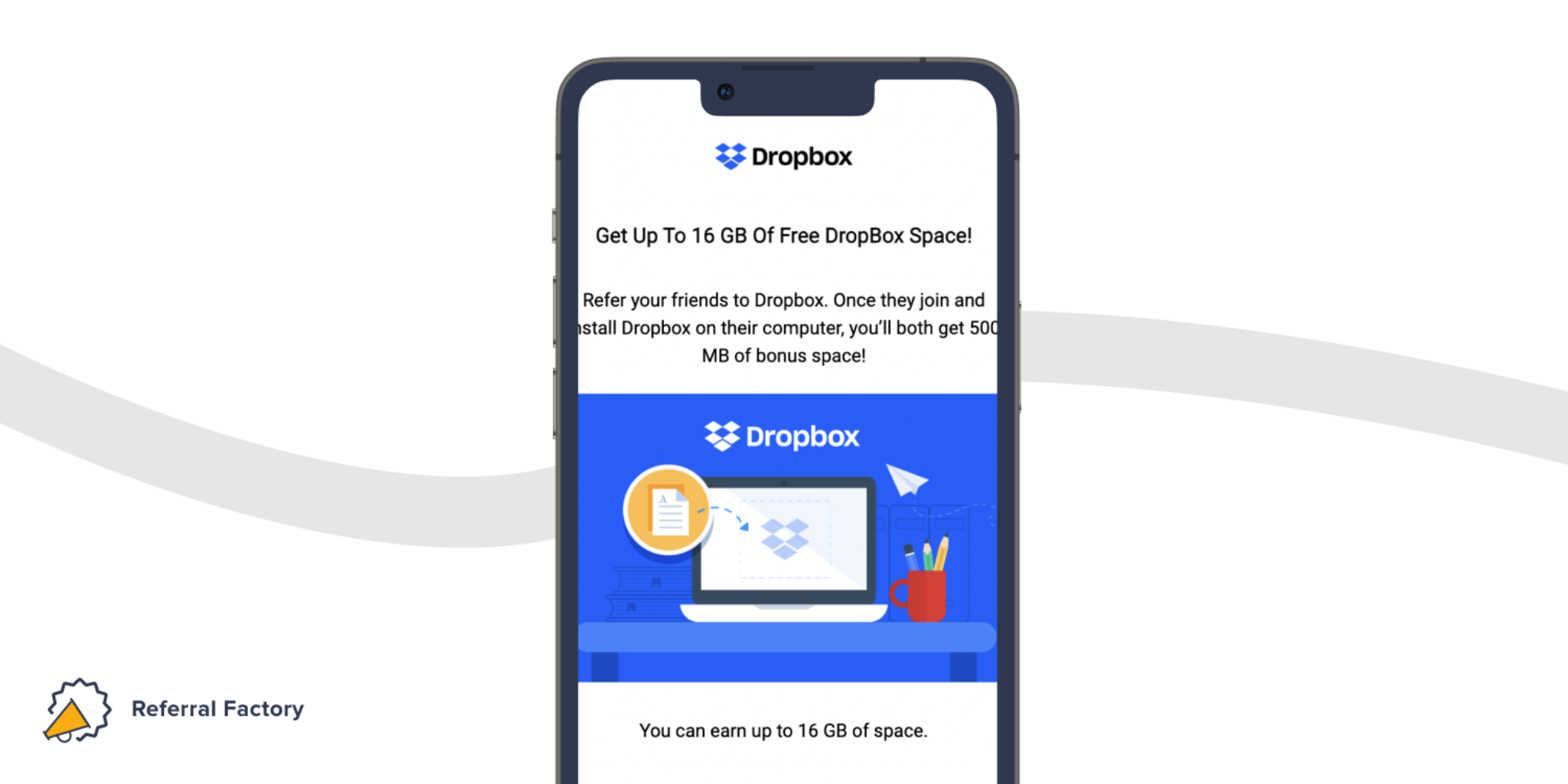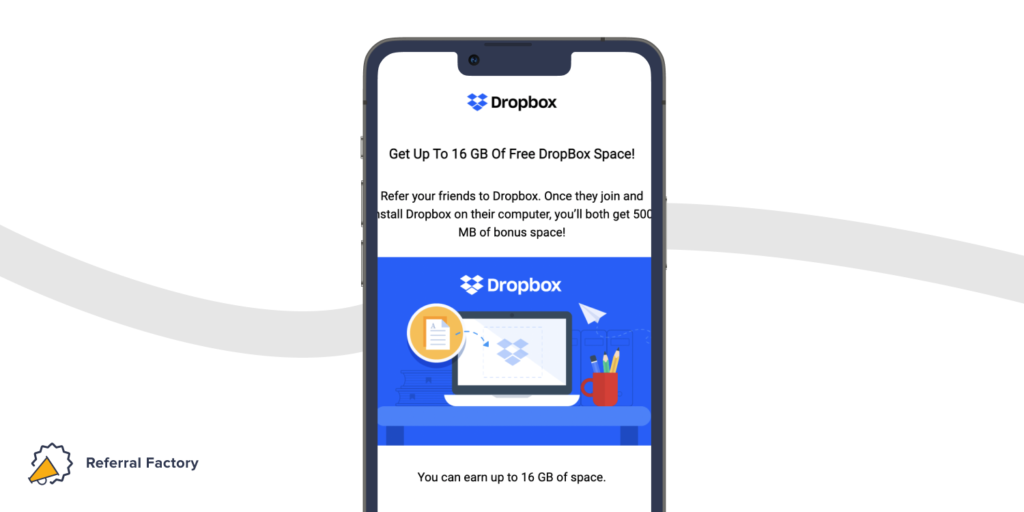 #2 Single-Sided Referral Template
Reward your referrers when the people they invite become customers. Check out this template.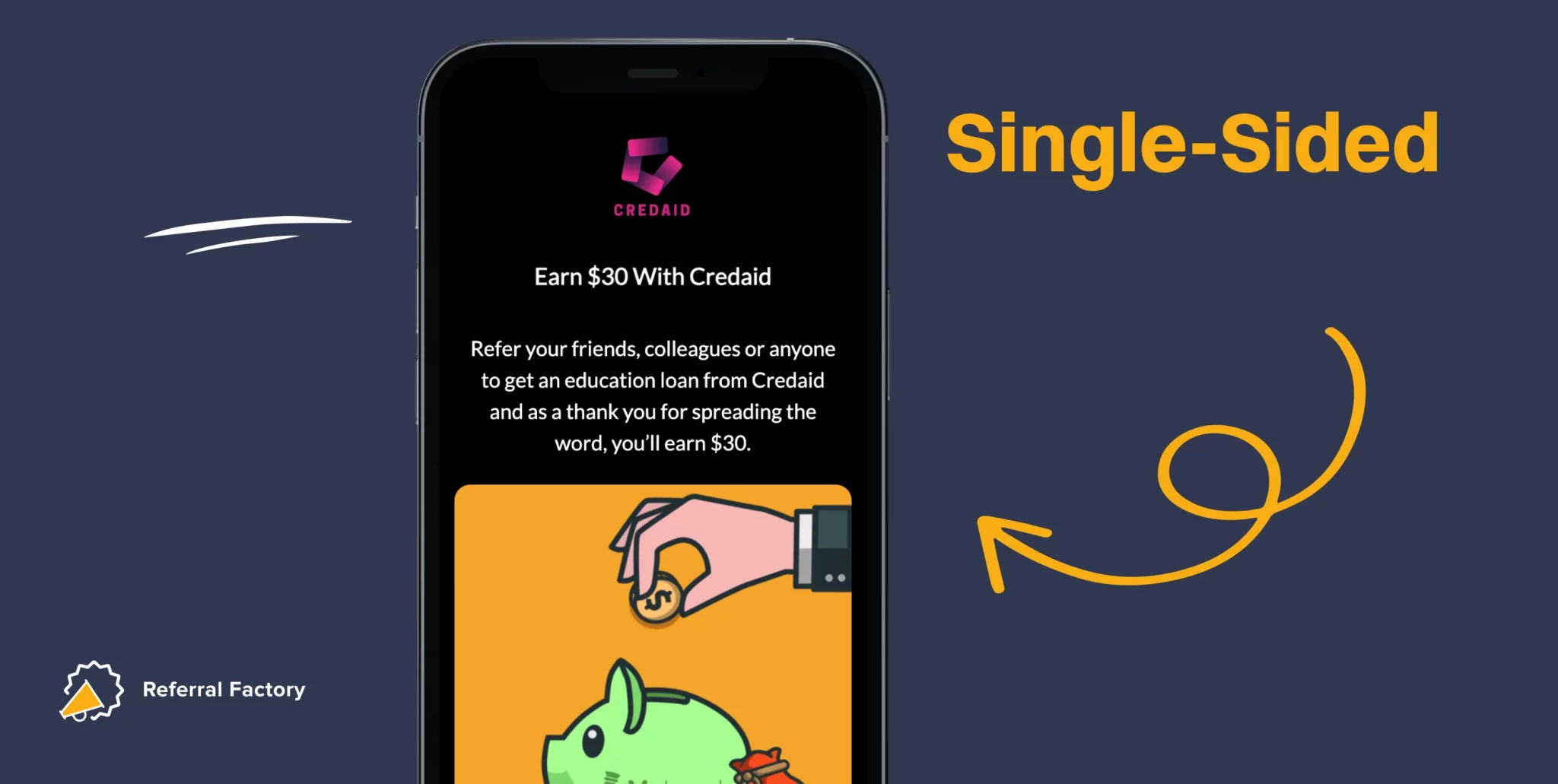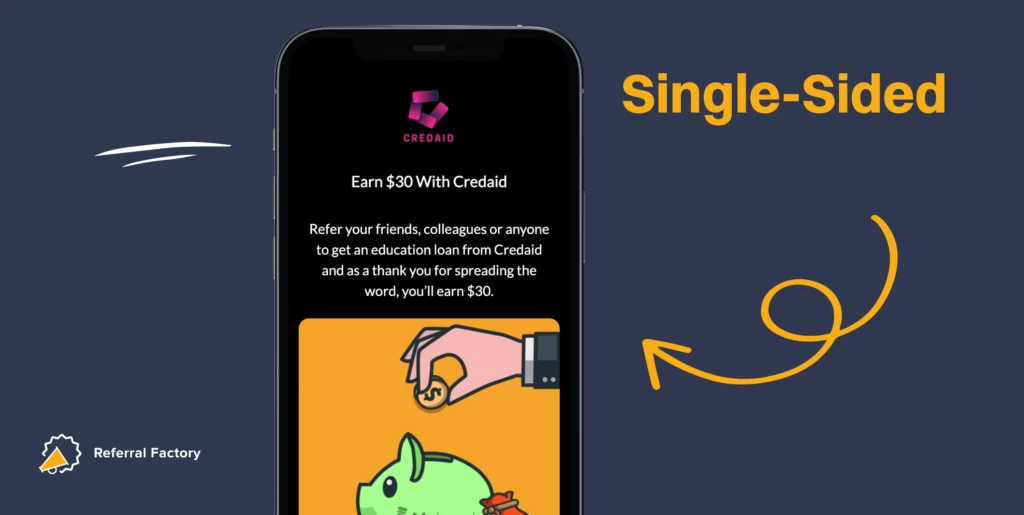 #3 Double-Sided Referral Template
Reward your referrers when the people they invite become customers, plus allow your referrers to give their friends an incentive. This way, both parties reap rewards for their efforts. Check out this template.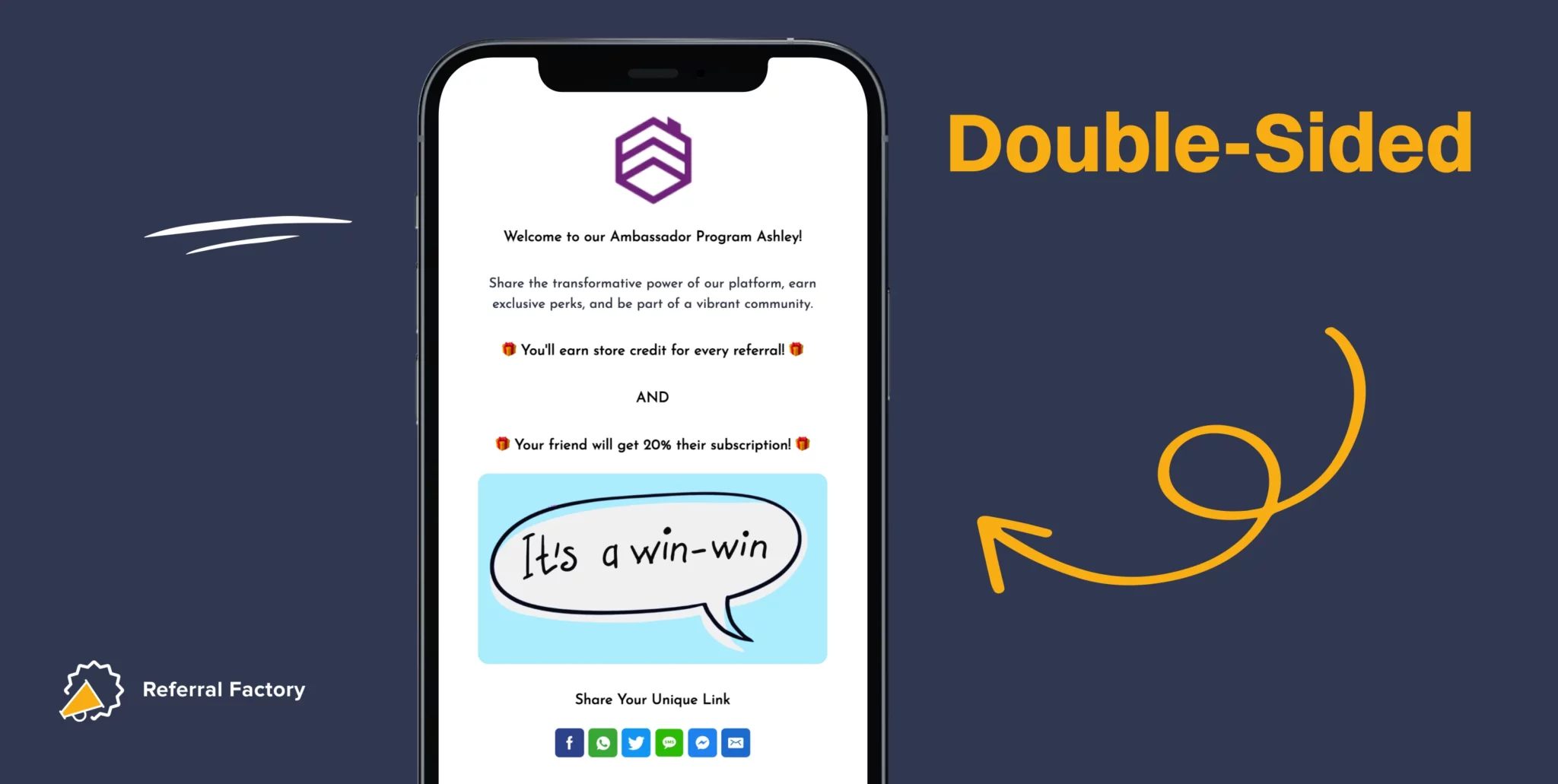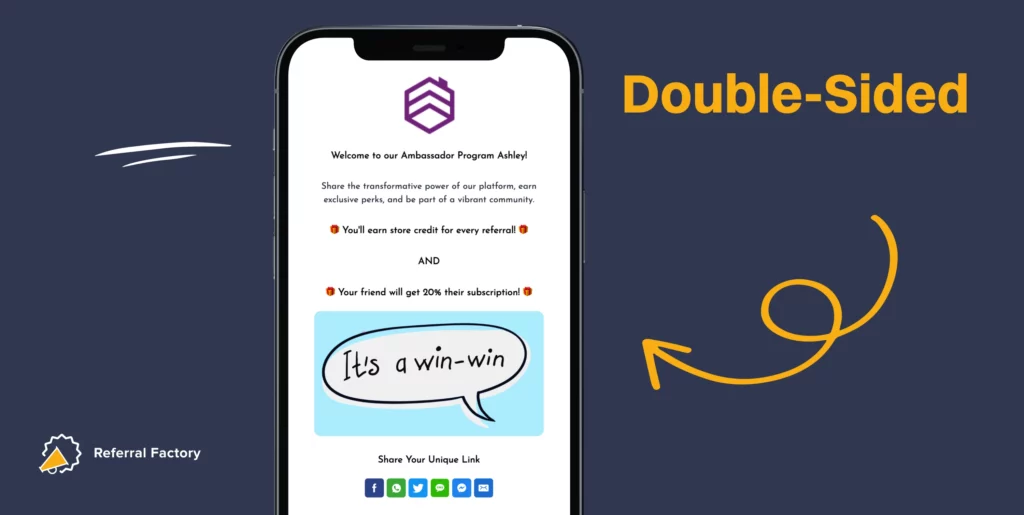 #4 Refer To Win Referral Template
Businesses can launch competitions that include a referral element to get more entries. You can make the most out of your social media reach to get more successful referrals. Check the template.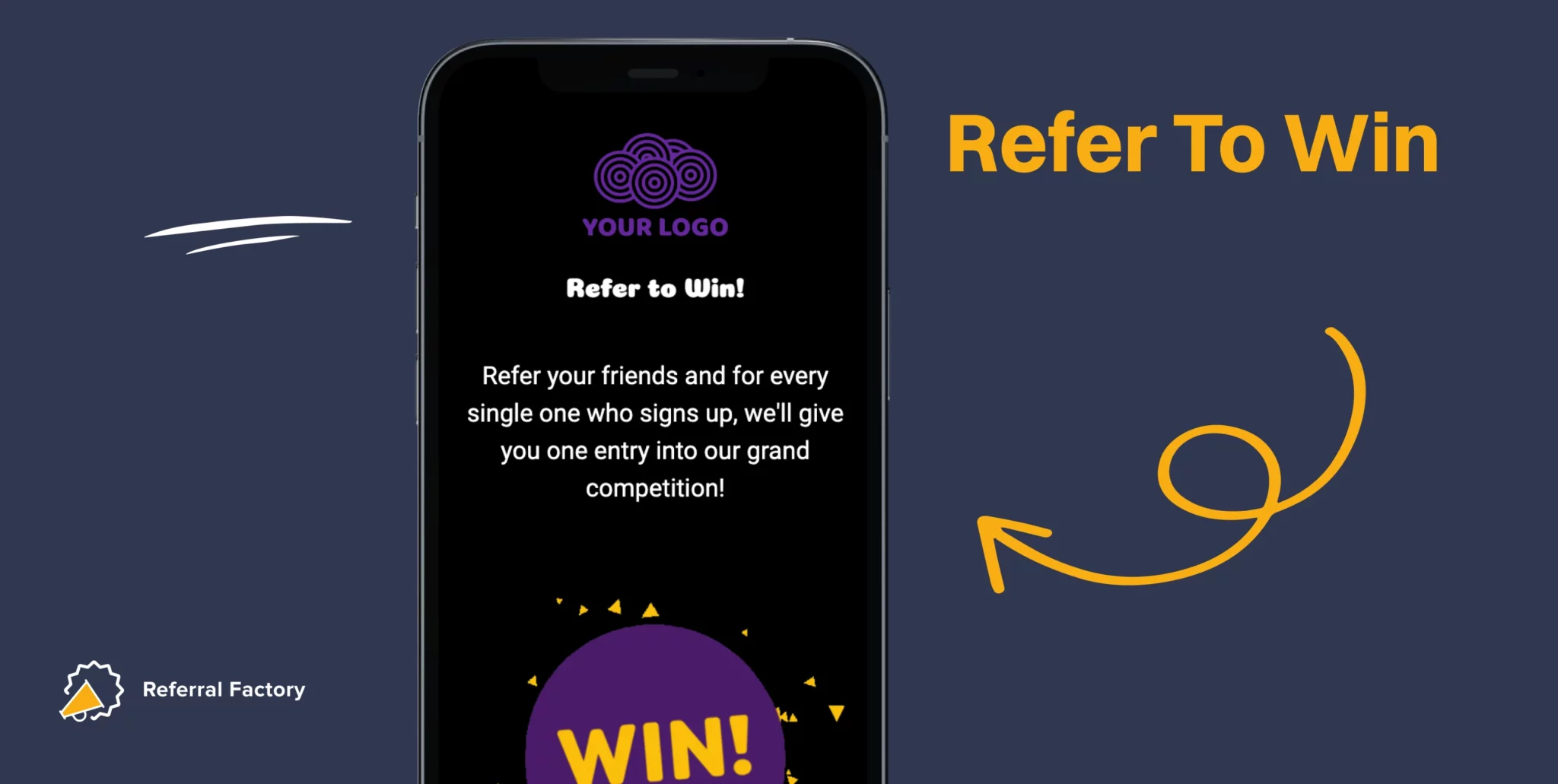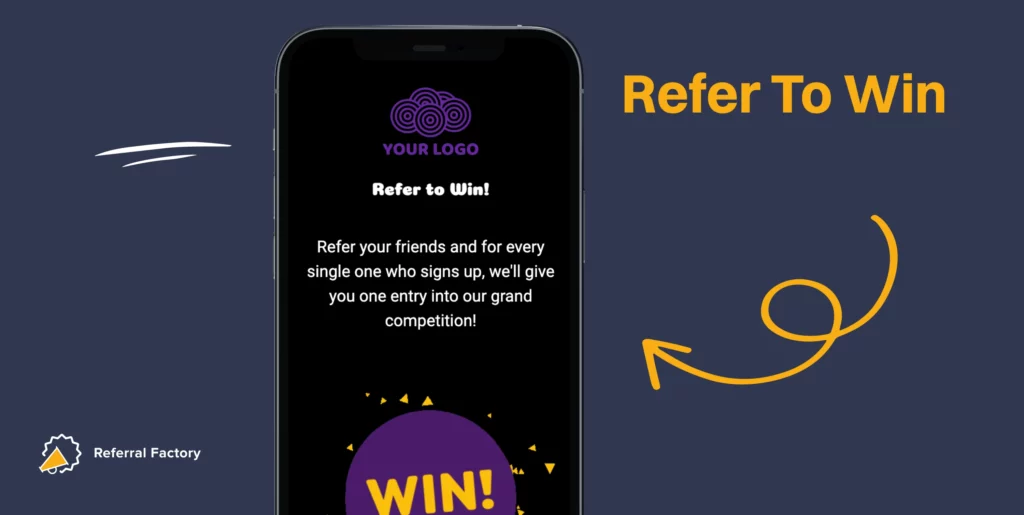 #5 SaaS Referral Template
SaaS platforms can reward their existing users for referring friends. The friends they invite can also get a discount or incentive to use the software. This customer referral program has been a proven marketing approach for SaaS products. Check the template.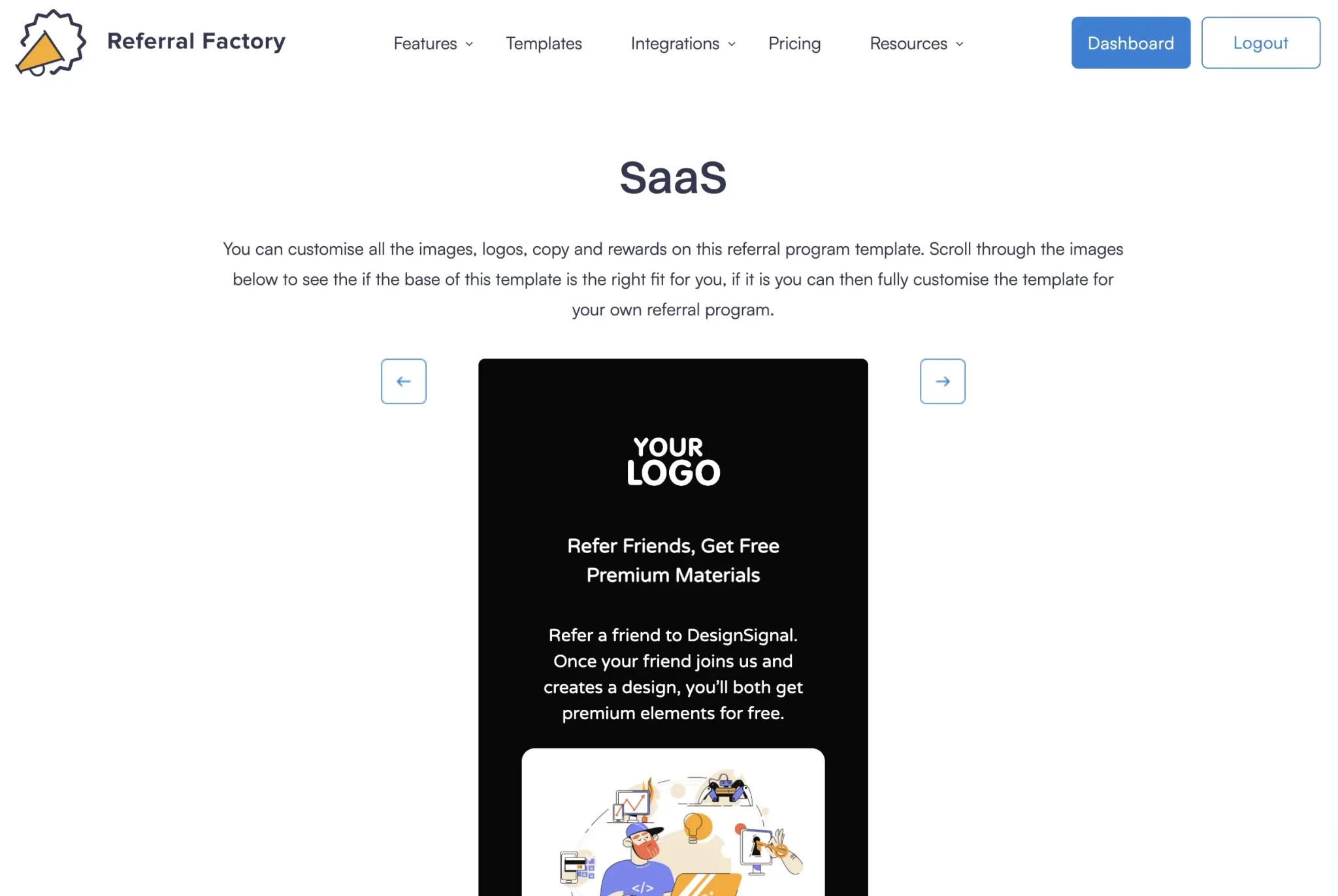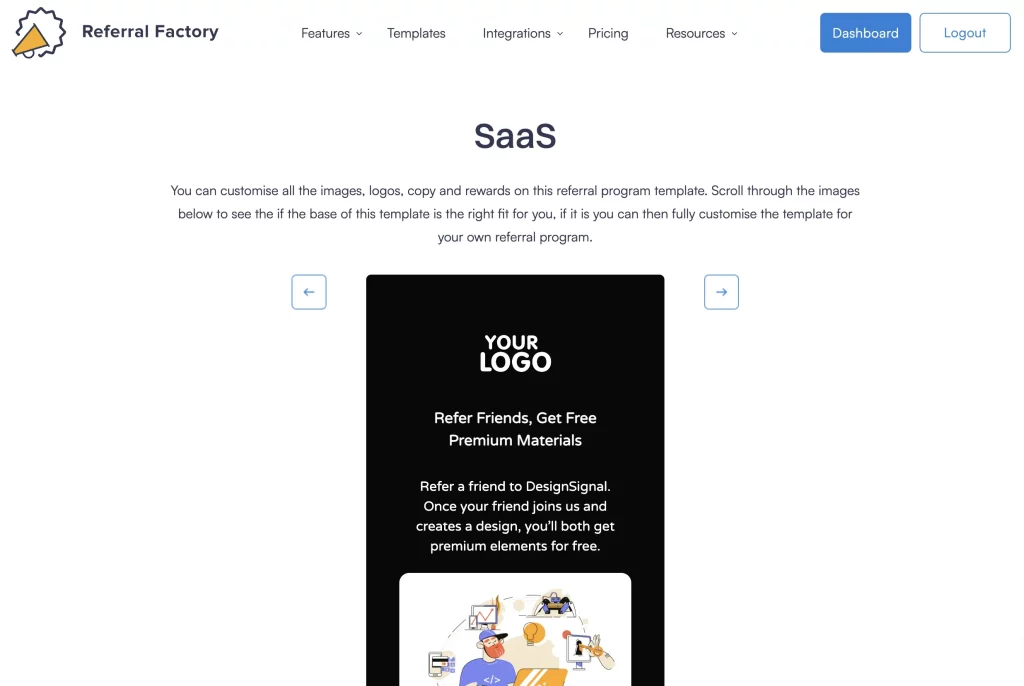 #6 Influencer Referral Template
Businesses can build referral programs for influencers to reward them for referring their followers and give followers a discount. Tap into influencer marketing to get more referral prospects. Check the template.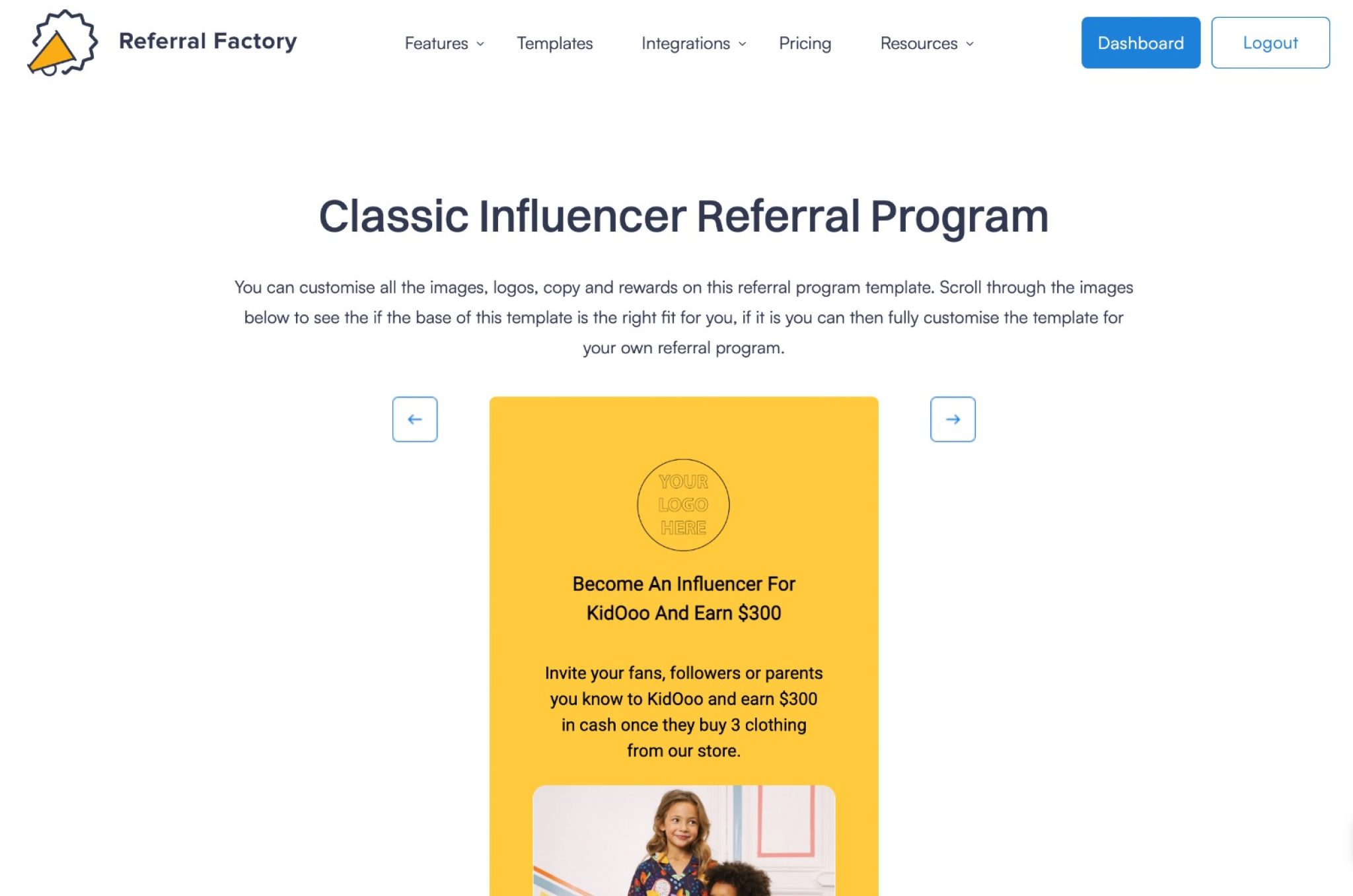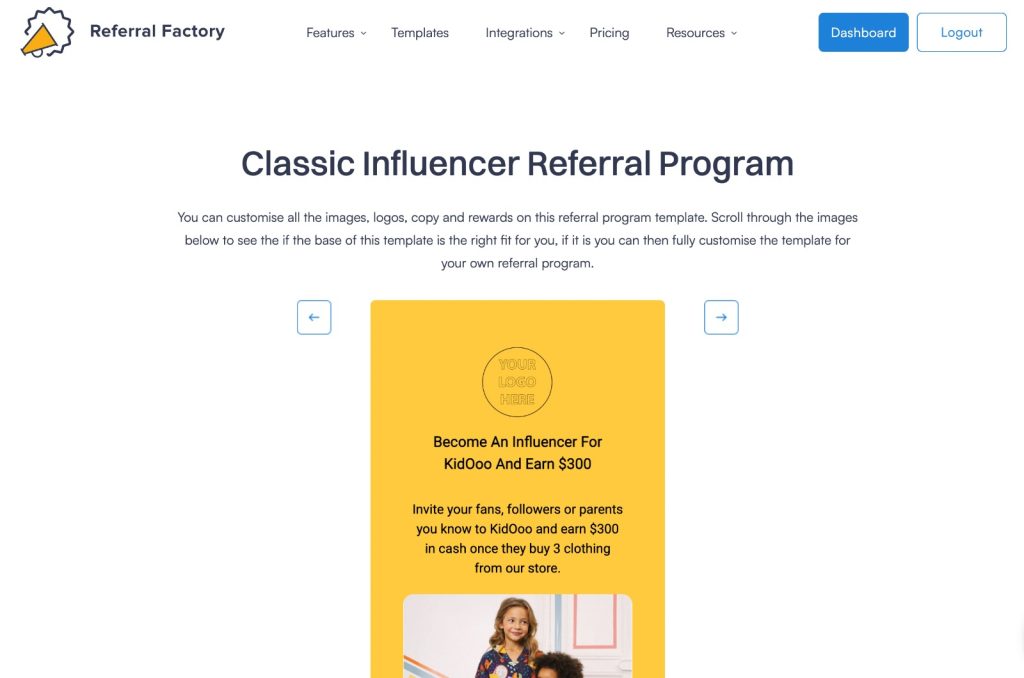 #7 Service Businesses Referral Template
Service-based businesses can reward their customers and partners for referring their services to their network. This customer referral template will help you reach more people who need your services. Check the template.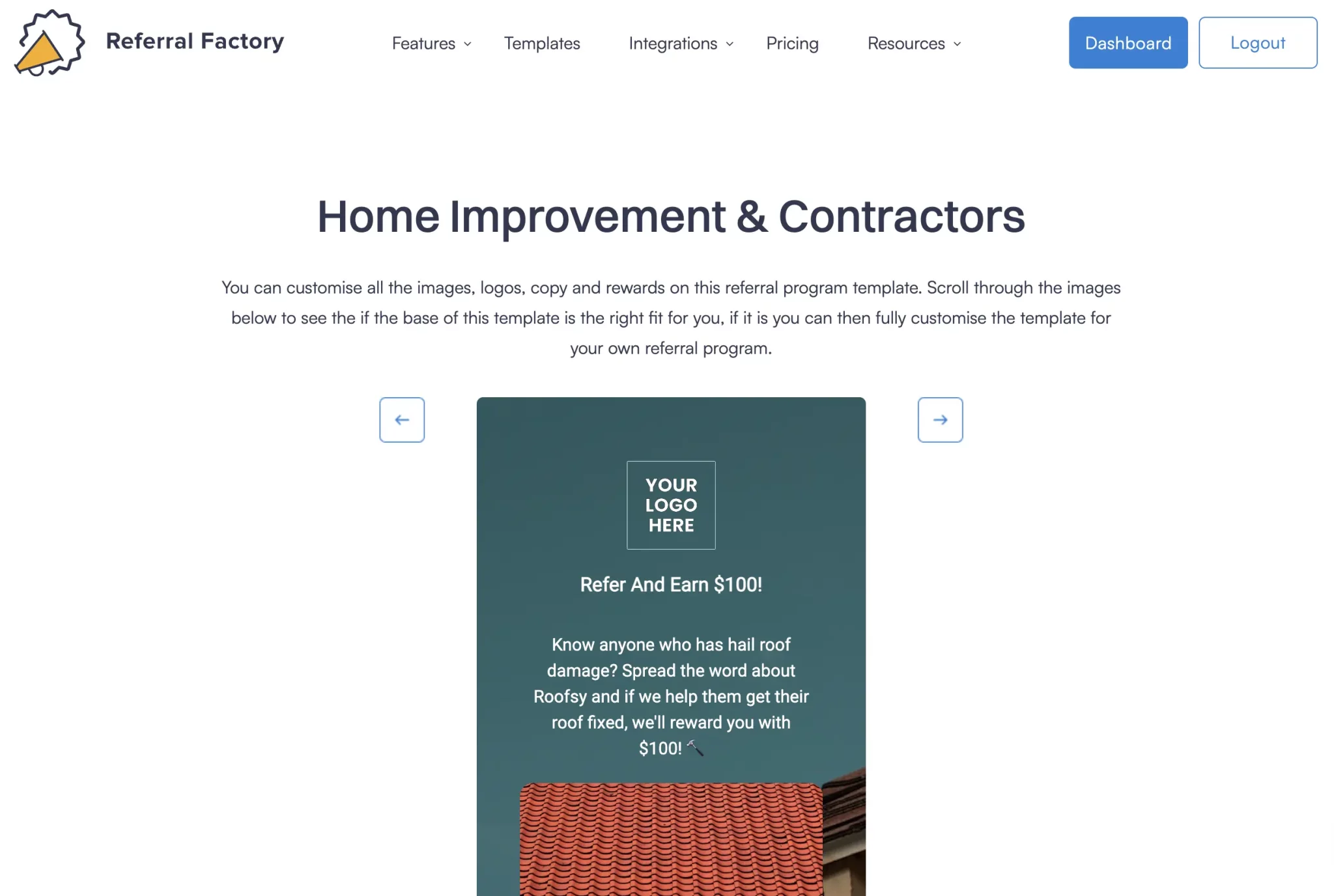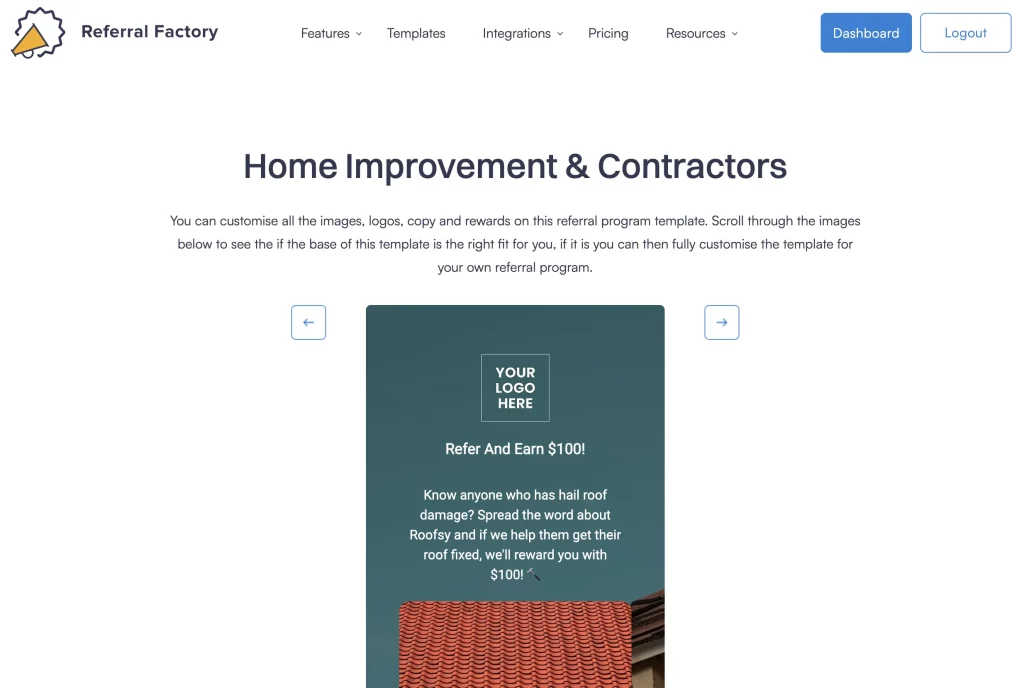 #8 B2B Referral Template
Businesses can build referral programs that reward businesses for referring other businesses in their network. Clients want a brand that they can trust, and a referral invite from one of their acquaintances could do the trick. Check the template.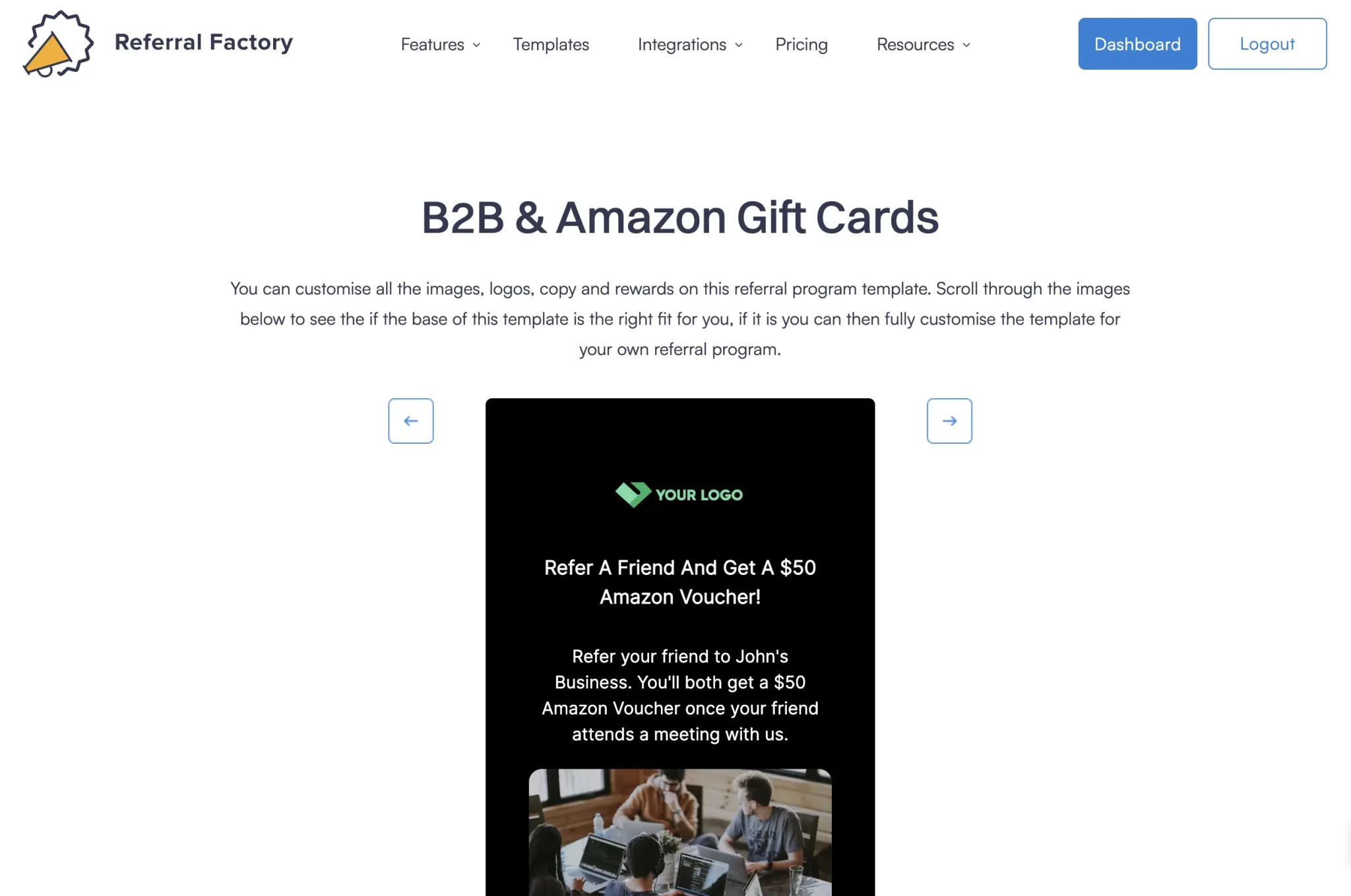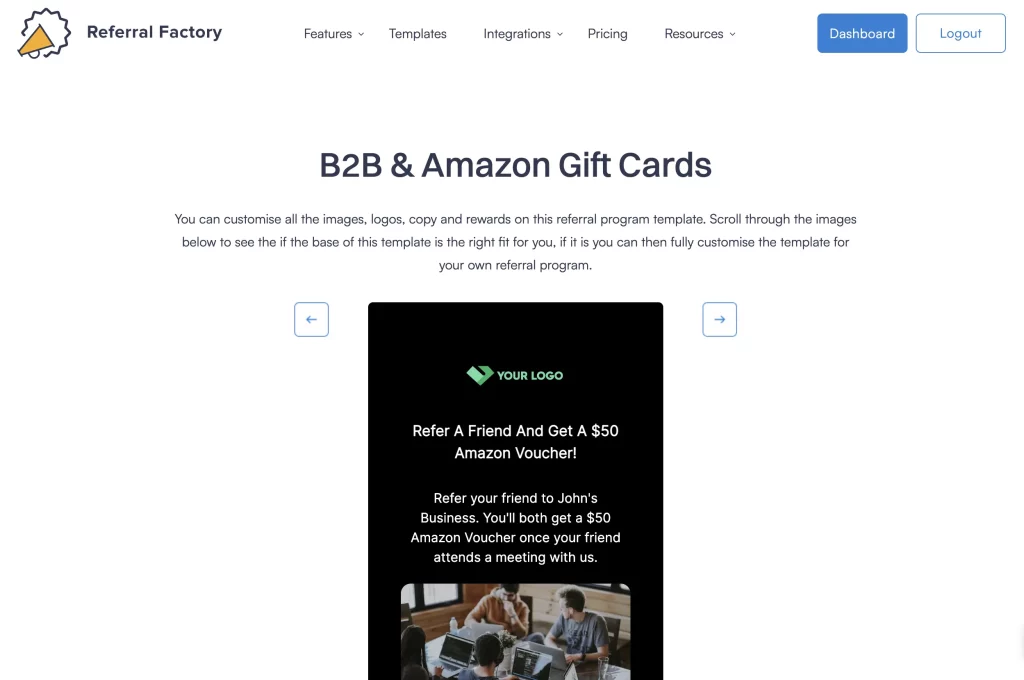 #9 Finance Referral Template
Finance companies can reward their customers for referring friends and colleagues to their business. Money is important in this space, and a referral link from one of your loyal customers could go a long way. Check the template.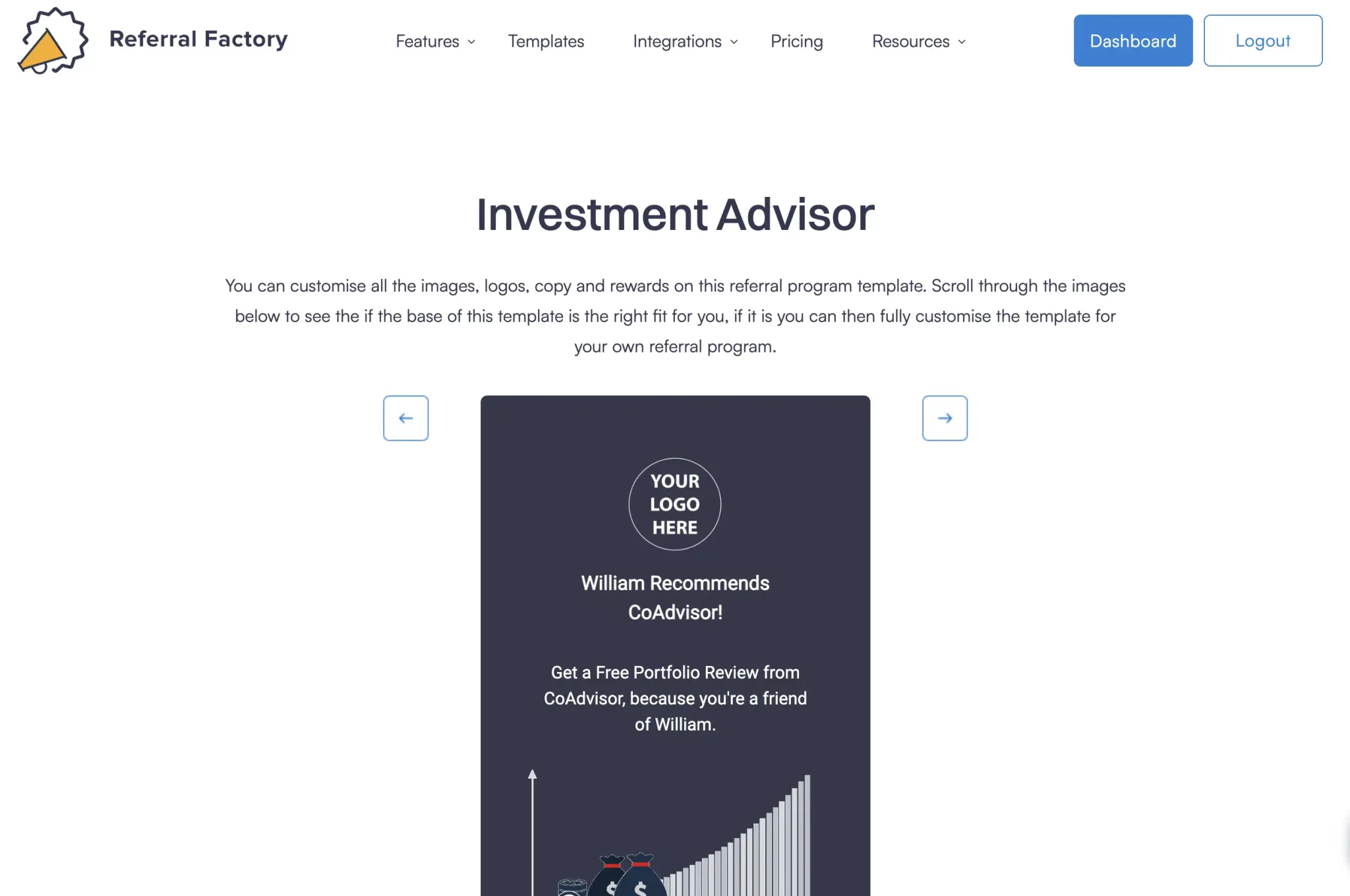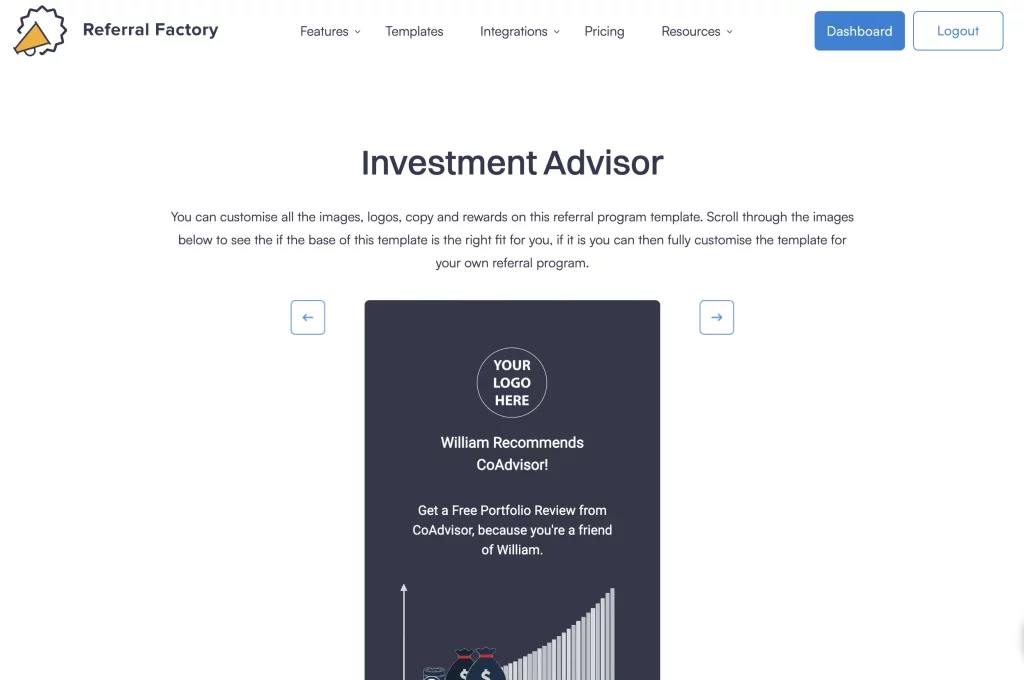 #10 Education & E-learning Referral Template
A popular give-and-get referral program for eLearning – where both parties get 20% off for the referral. E-learning is a rapidly growing market, and a creatively crafted referral process could land you a large customer base. Check the template.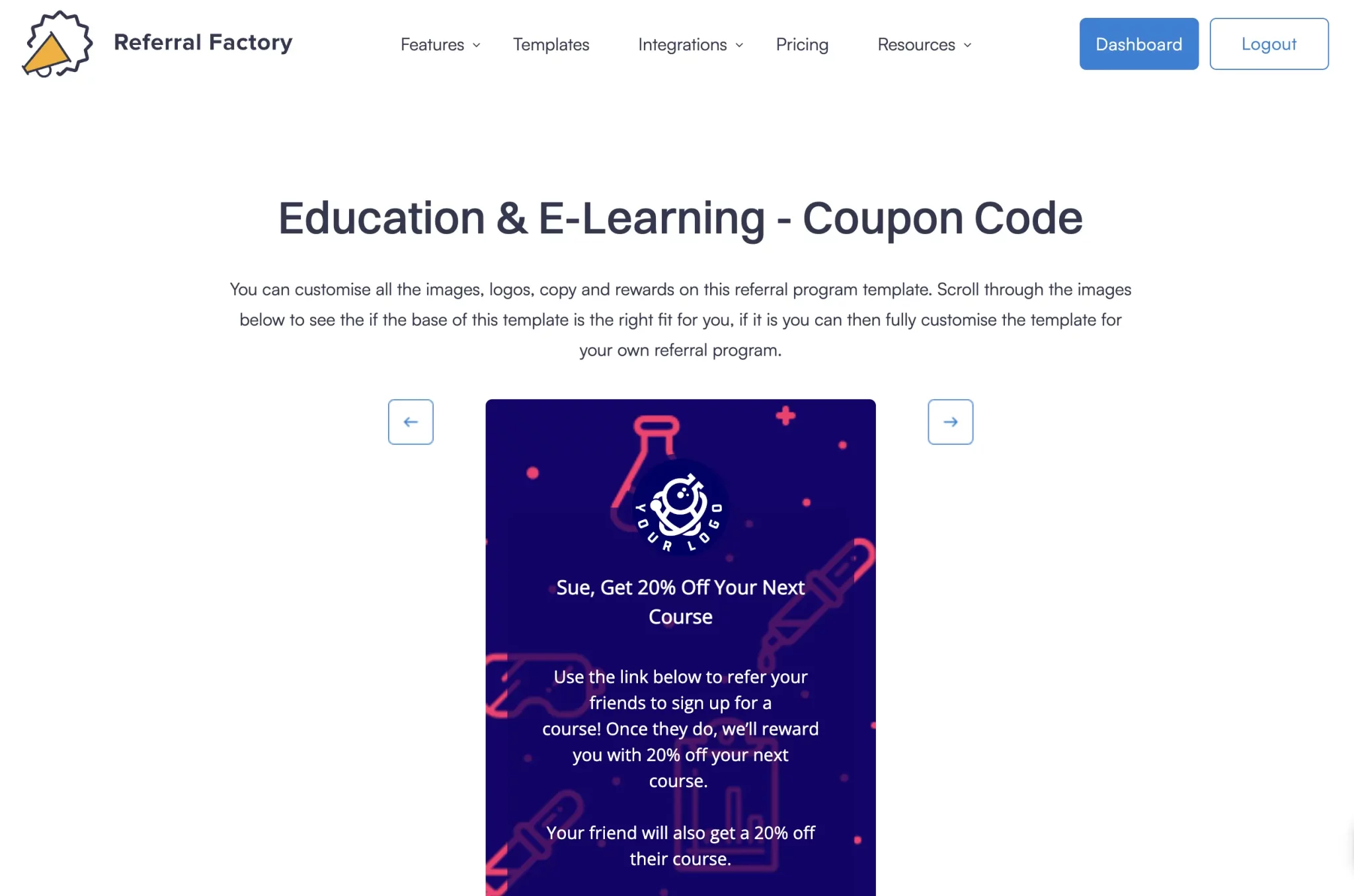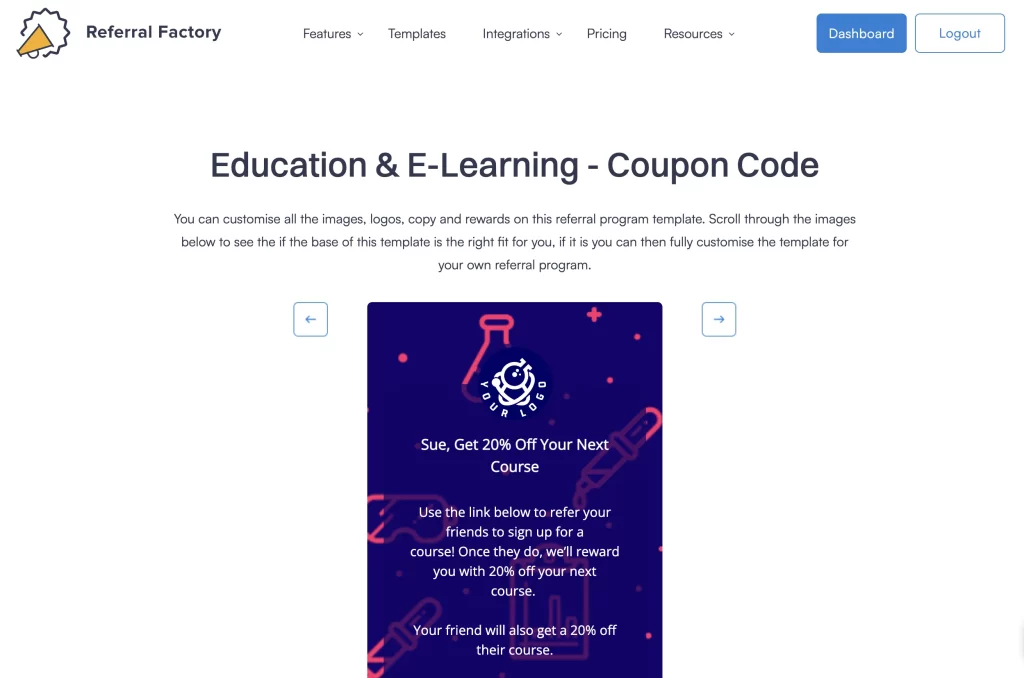 #11 Uber Referral Template
Uber's referral program is one of the most well-known programs in the world. With a $31.8 billion revenue in the market, an Uber-inspired referral program could significantly increase your customer base. Check the template.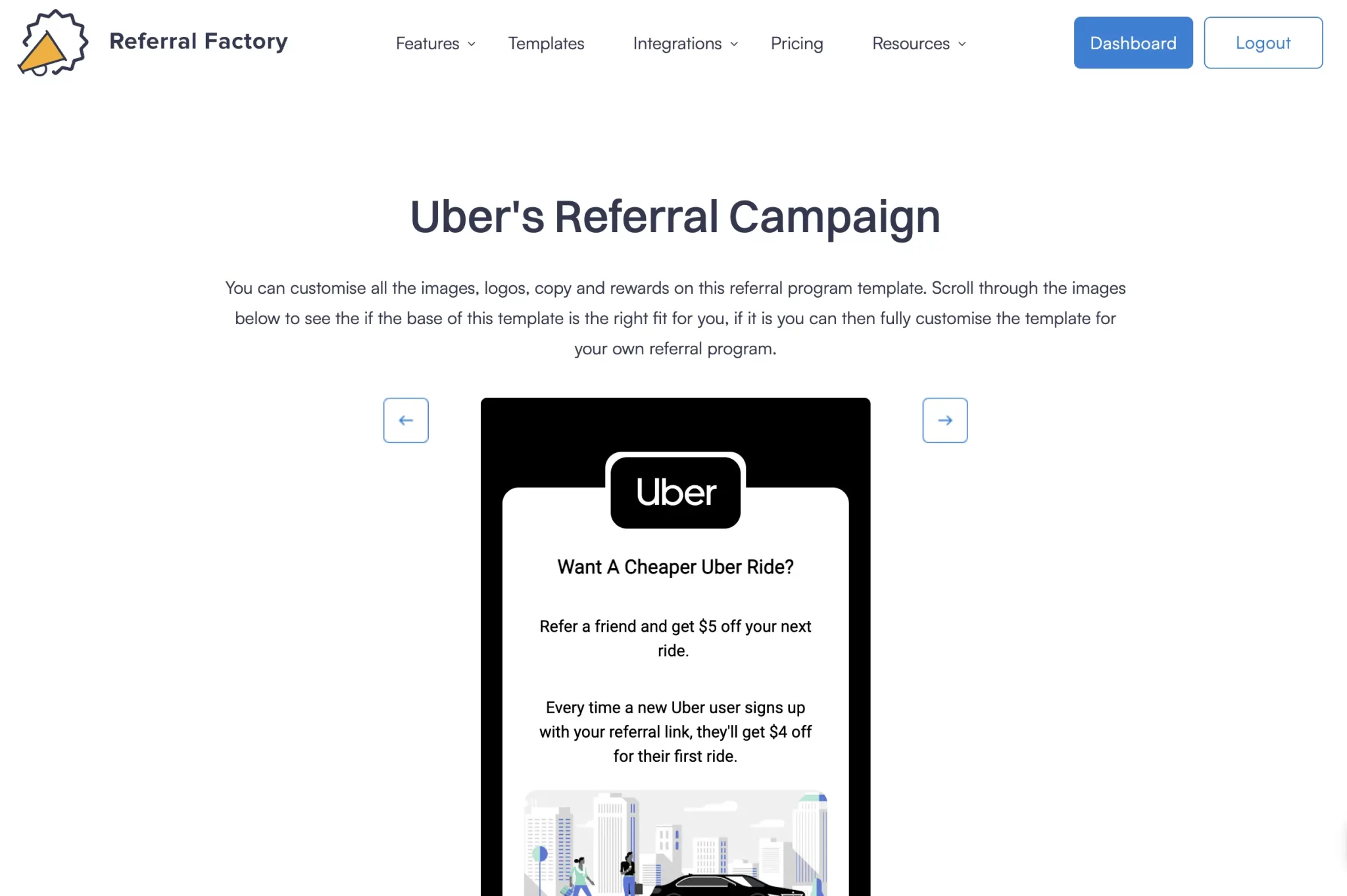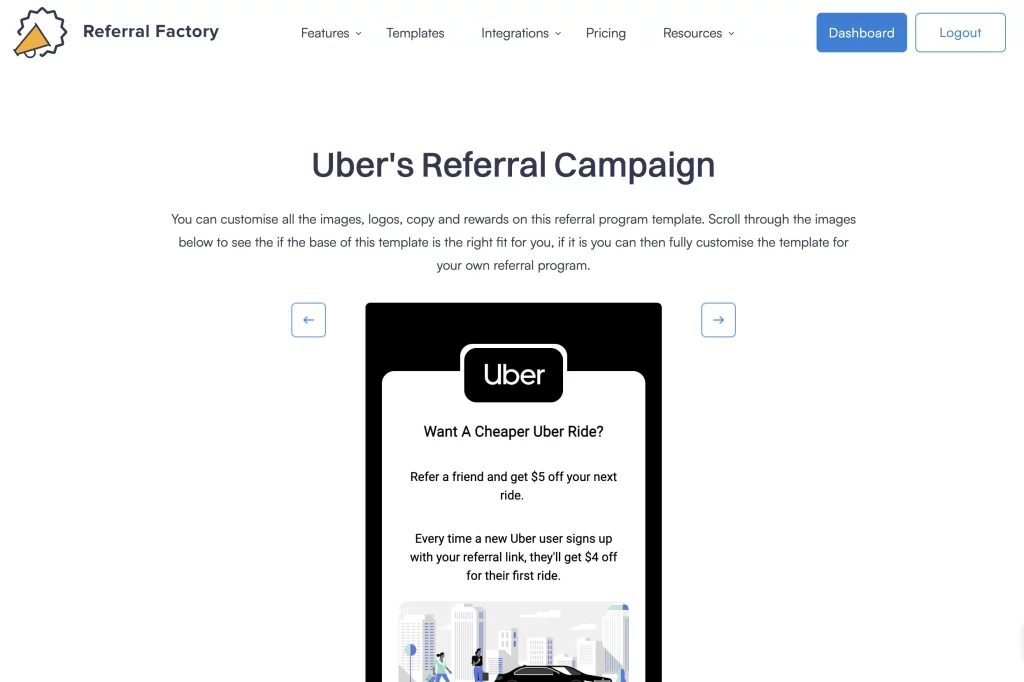 #12 Solar Referral Template
Use the solar referral program to help you generate more leads by asking your current customers to refer. With a catchy referral program headline and a unique referral link, this template could do wonders for you. Check the template.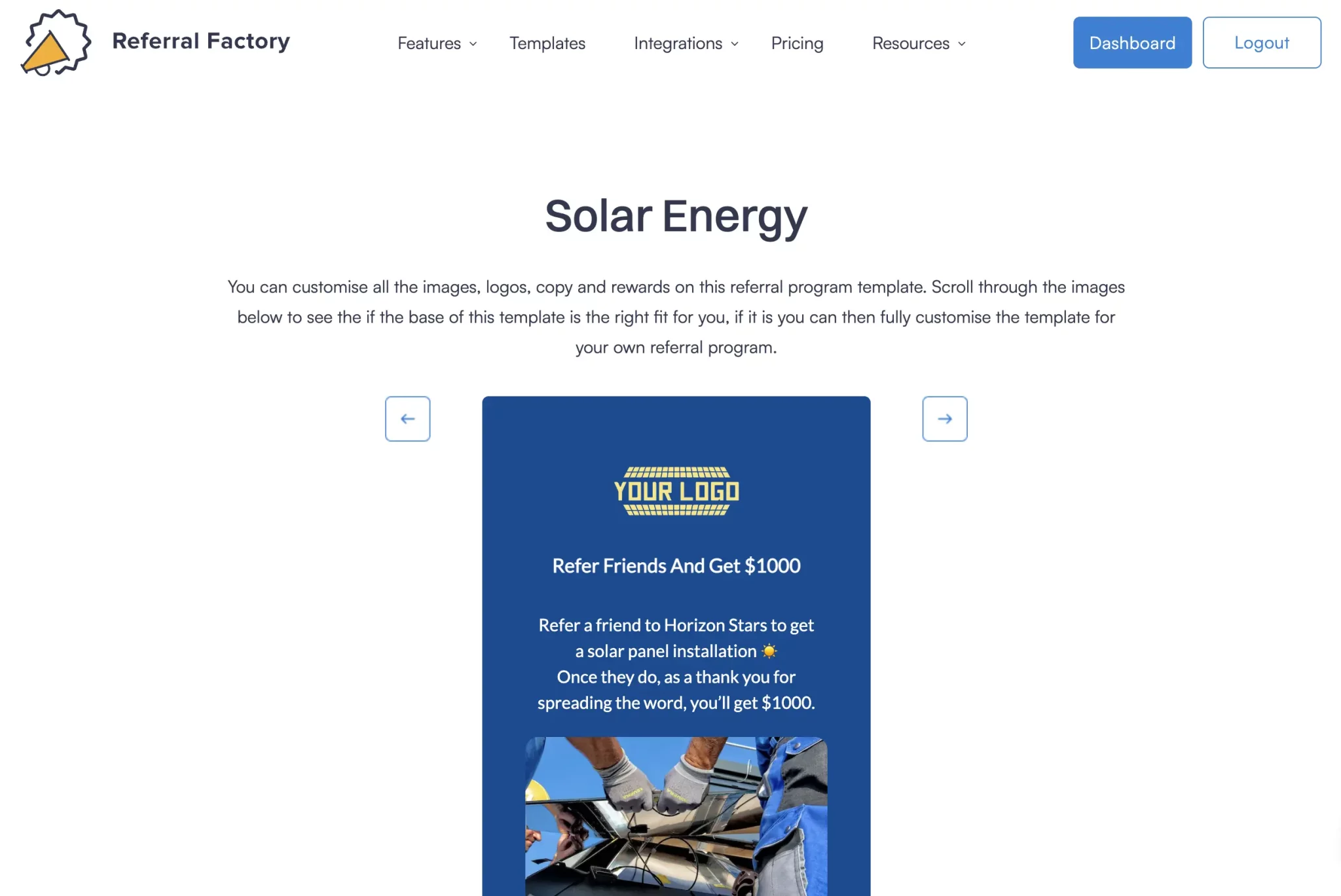 #13 B2C Referral Template
This B2C referral program will help you attract more customers by offering discounts and coupon codes. A tested and proven selling process, a referral program inspired by B2C could diversify your customer base. Check the template.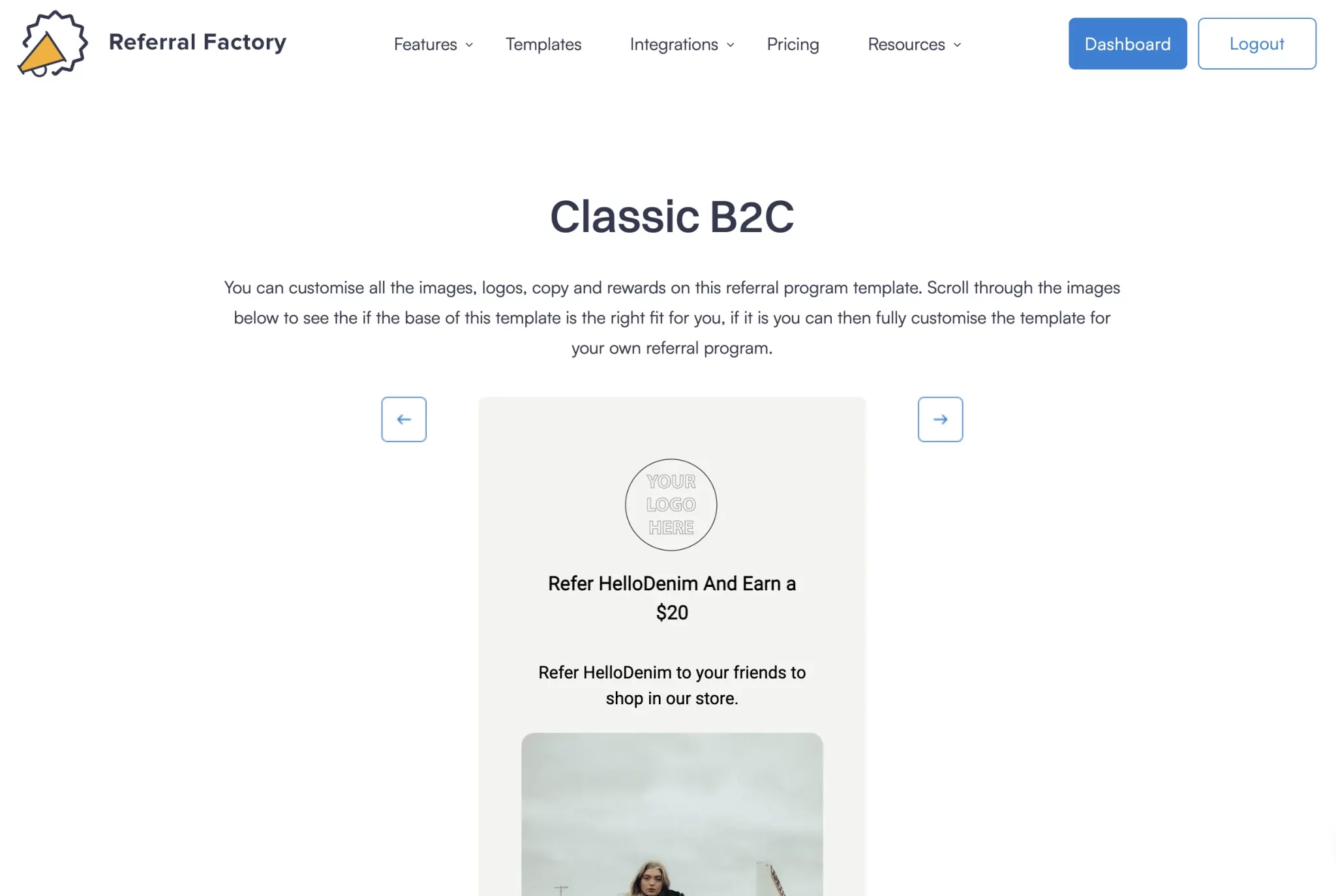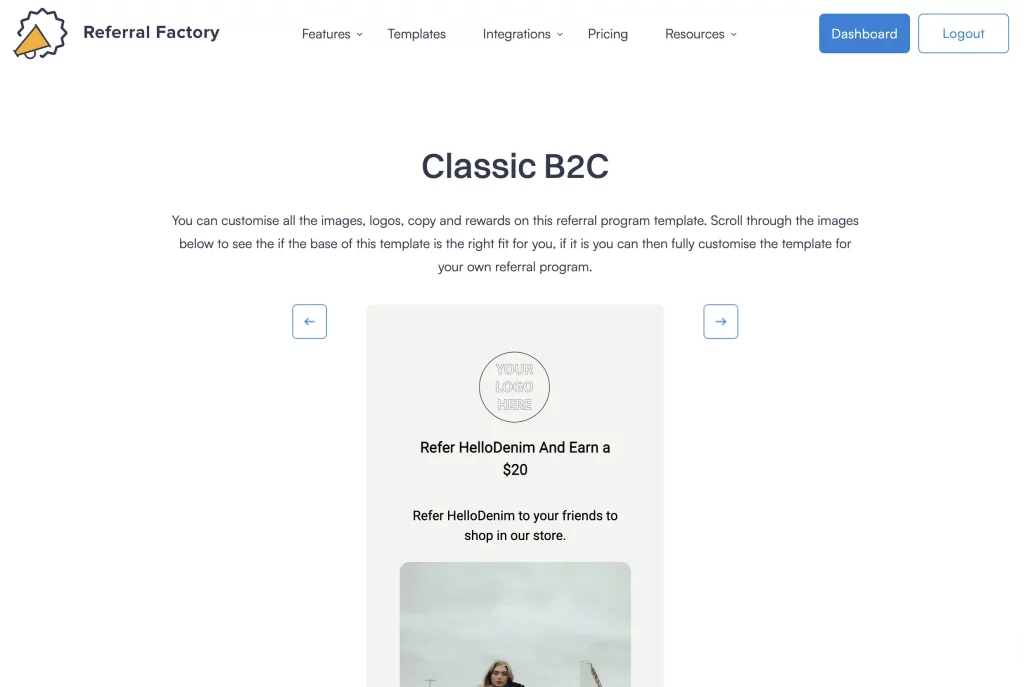 #14 By Invitation Only Referral Template
A referral program template for inviting friends to join a particular community. Since potential customers can only join via their friends' referral links, an invite-only referral program gives off a legitimate vibe. Check the template.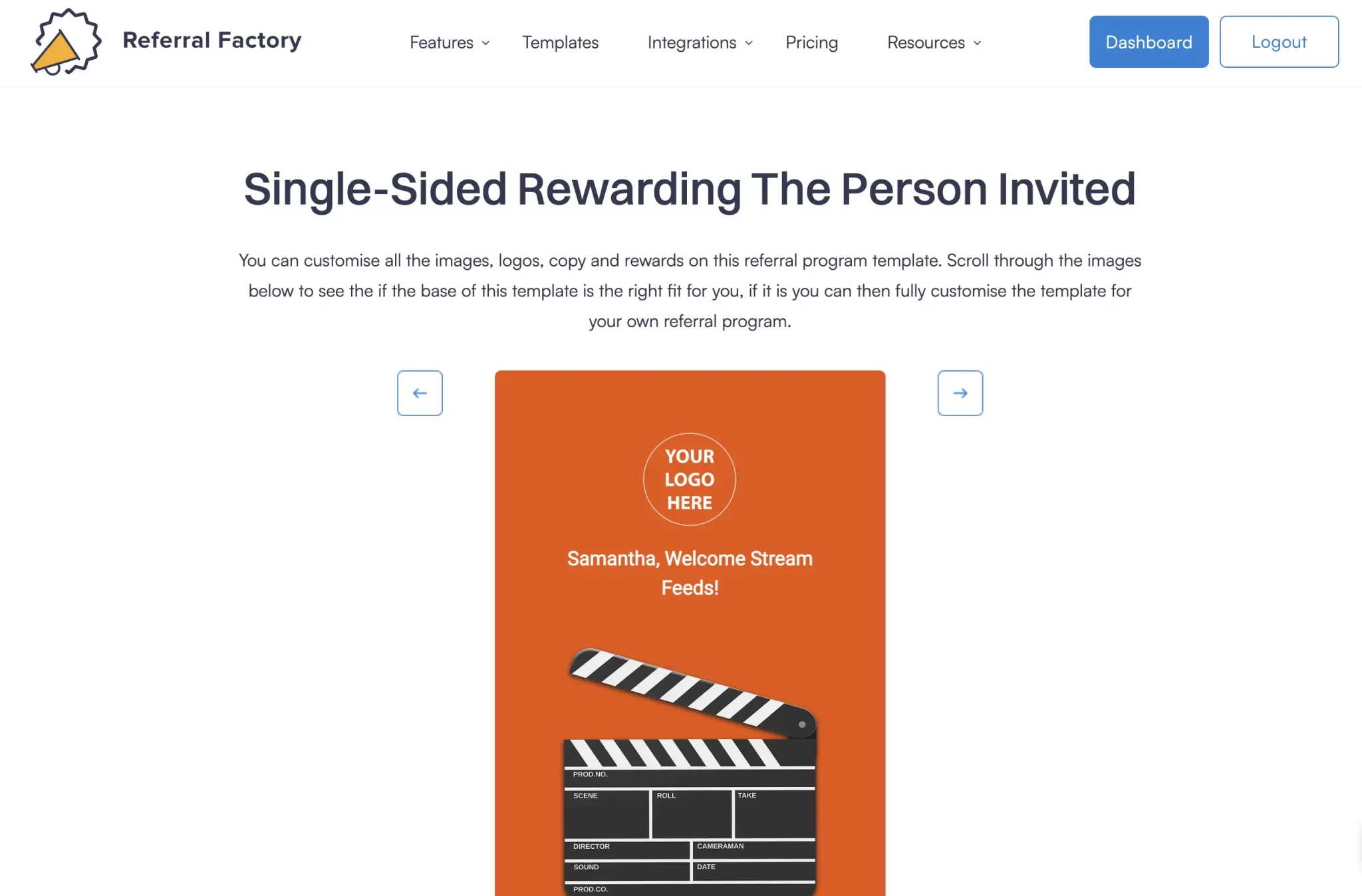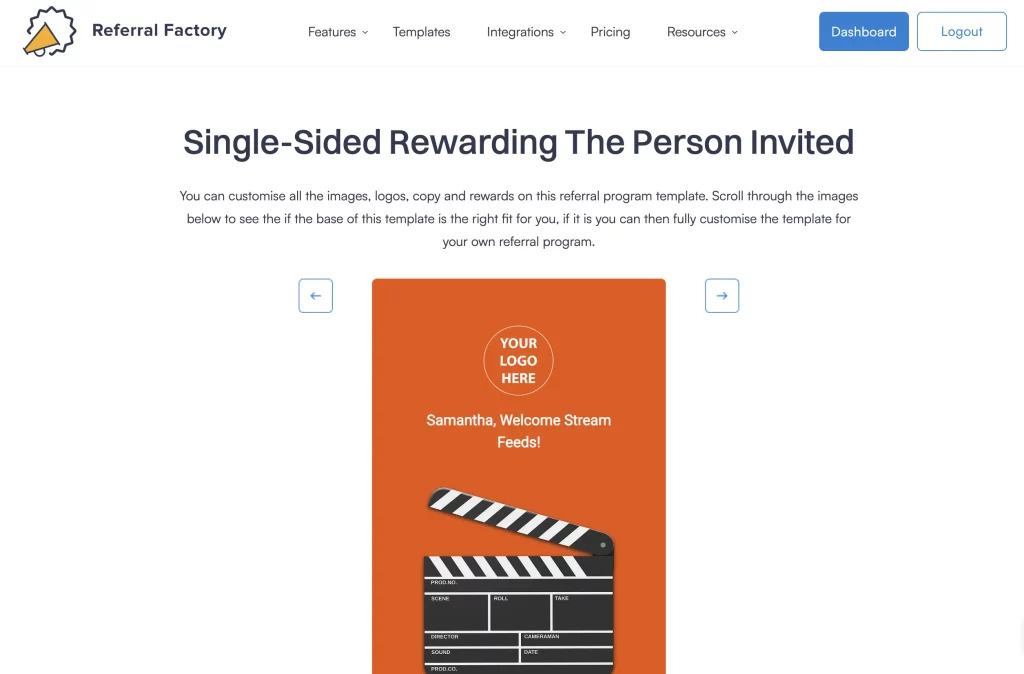 #15 Crypto & NFT Referral Template
Launch Twitter referral campaigns to grow your communities, a simple crypto referral program. A quick social media post to create, this crypto-inspired referral program will land you more customers. Check the template.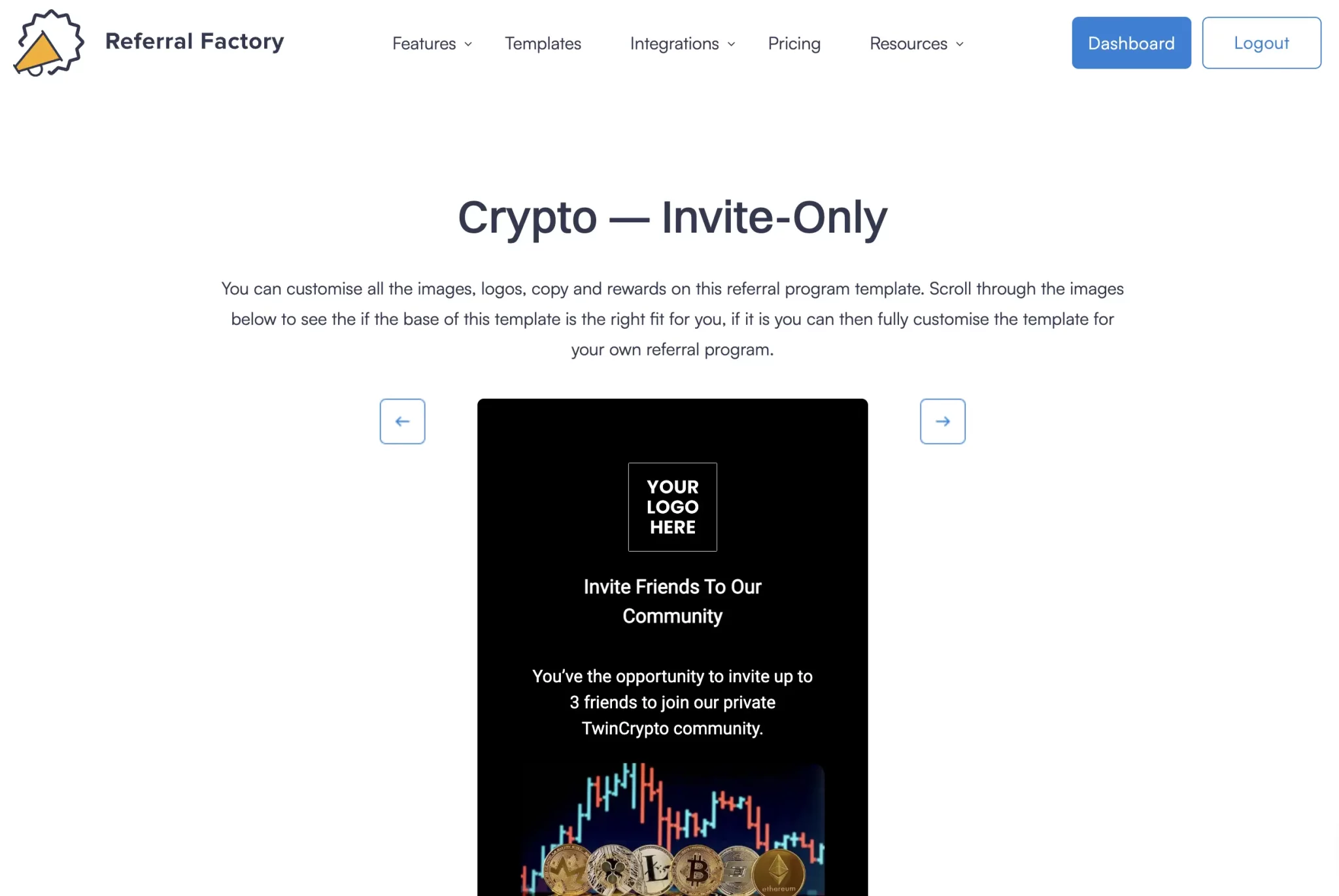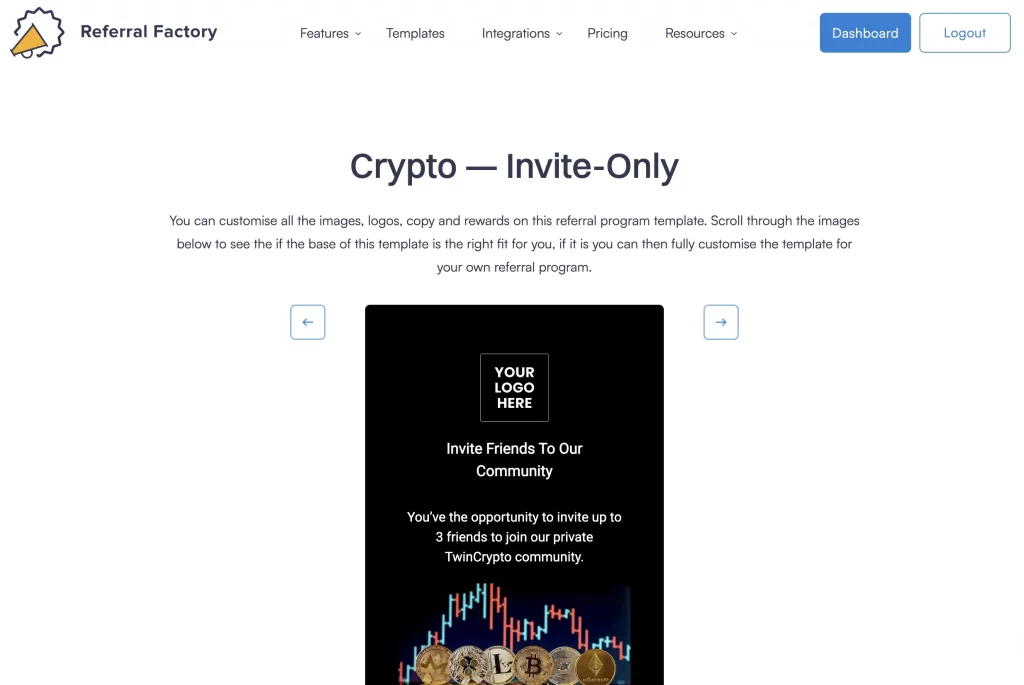 #16 Ecommerce Referral Template
Ecommerce stores can reward their existing customers for referring their friends to make a purchase, plus the potential to give new customers a discount. This is a referral program that offers multiple rewards, a proven way to invite customers to your brand. Check the template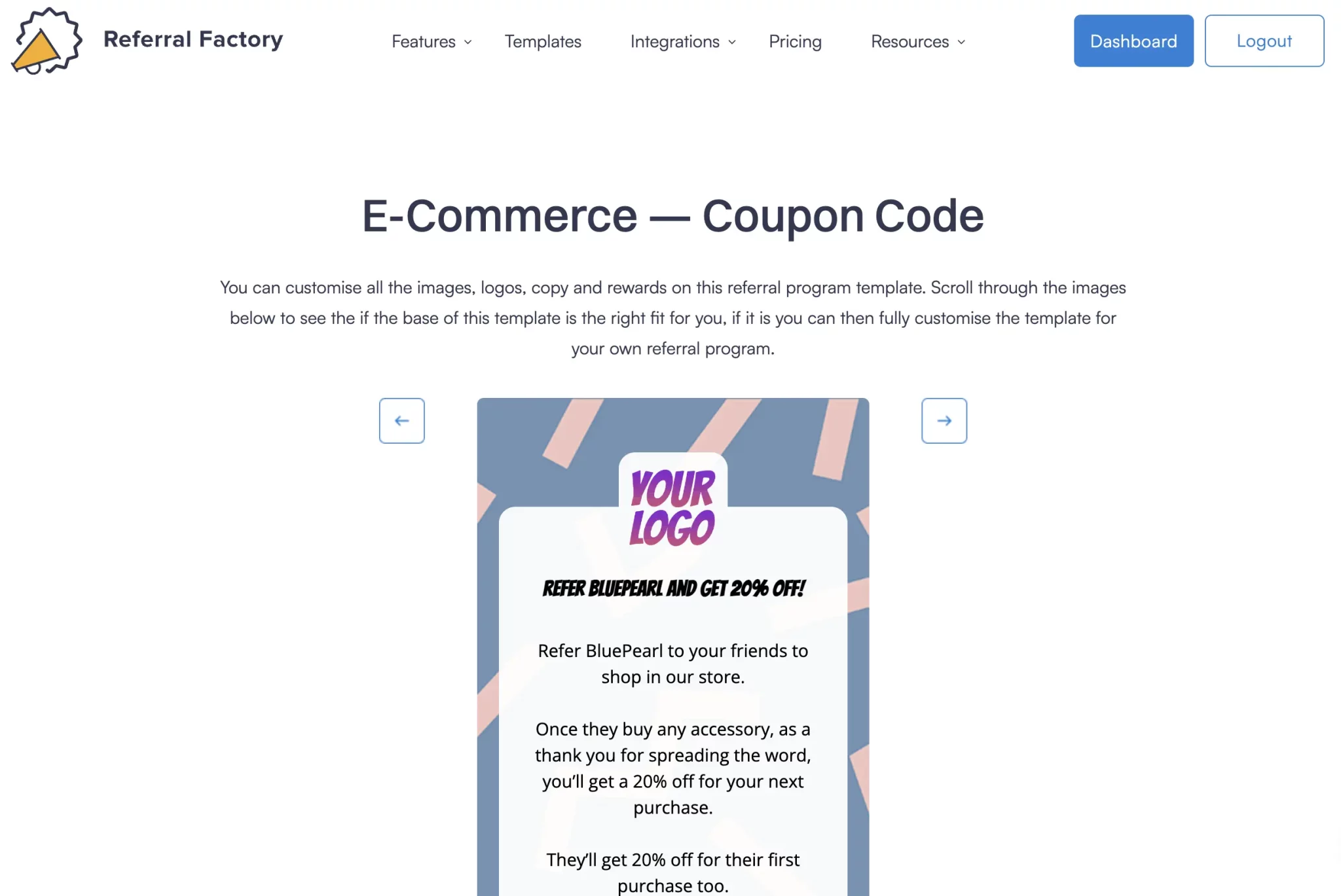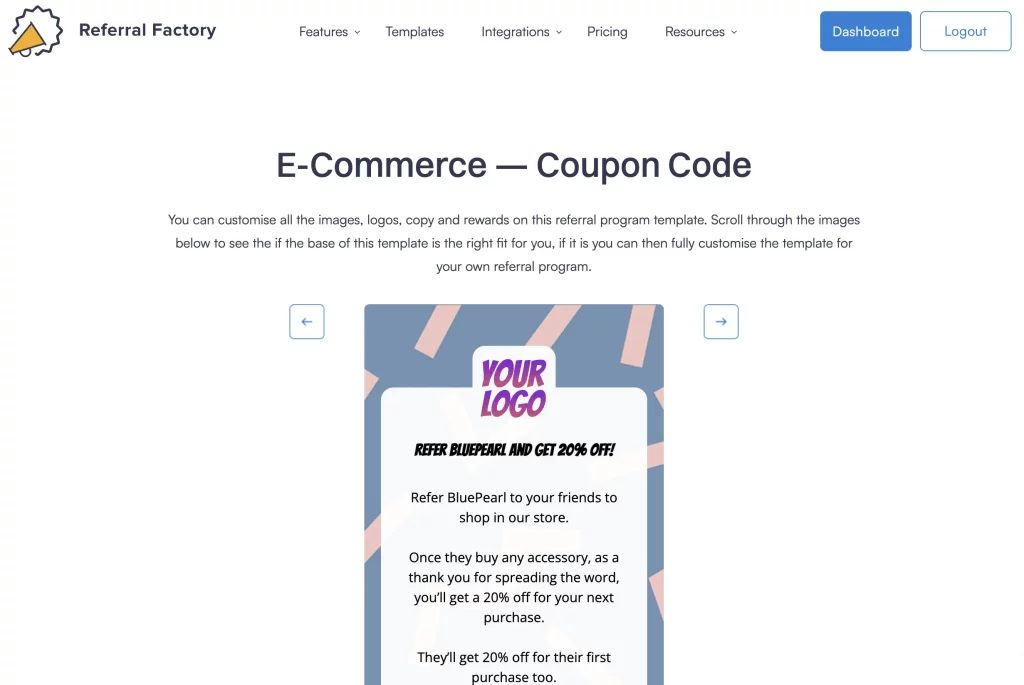 Your referral program checklist
To supercharge your referral program and drive growth, you need a referral program template that provides an excellent customer experience and encourages brand advocacy. It also needs to clearly explain the benefit to both parties participating in your referral program. A well-designed referral program template can help you do this by providing you with the fundamental elements of a successful referral program.
But what makes a great referral program template? Here's a quick checklist!
The most successful templates all have the following:
A great headline
Clearly explained benefits for both parties participating in your referral program
Relevant text and eye-catching imagery
Social proof
A great reward to the person referring and a powerful incentive for the person being invited
A strong Call To Action
The headline of your referral program template is the first thing customers see when they register to refer a friend or accept their invitation. It's essential to make sure your headline is bold and clearly explains how your referral program works and what's in it for them. For example, "Give $50, Get $50" is a great example of a strong headline.
Along with a strong headline, your referral program template should also include engaging visuals and on-brand text that will capture the attention of your customers and the friends that they will refer. The more visually appealing your template is, the more likely it is to be shared, and the more it's shared, the more referrals you'll get.
Social proof is another critical element to include in your referral program template. When customers see that others are participating in your referral program, they're more likely to join in as well. Great referral program templates incorporate social proof to make the referrer more comfortable sharing their referral link and the invitee more likely to accept their offer.
Most successful referral program templates are double-sided, allowing you to reward the referrer and offer an incentive to the invitee for becoming a customer. Customers will be more likely to make a referral if they know that they can give their friend something and get a reward in return, Plus, the invitee will be more likely to become a customer if they can get an incentive for doing so.
Finally, a strong call-to-action (CTA) is essential to encourage customers to take the next step. Instead of generic CTAs like "Click here" or "Submit," use action words like "Invite your friends" or "Refer your friends" to be more specific and persuasive.
By using a referral program template that incorporates these fundamental principles, you can create a successful referral program that drives growth and brand advocacy. Referral program templates also help you launch faster, saving you valuable time and helping you get results sooner than building your own referral engine from scratch.
If you're looking to get more customer referrals for your business, using referral program software with a wide range of referral program templates is the way to go. With the right template, you can launch your referral program in days, not weeks, and have the fundamental referral principles built into the core of your program.
Take advantage of social media platforms
Statista estimates that the number of social media users will climb to six billion by 2027. It's a haven for marketers, and that's why your referral program needs to establish a viable presence on social media platforms.
If you get your social media messaging right, you can diversify your customer base in no time. There are many social media templates for your referral program page, so all you need to do is to identify the different rewards you can offer.
Of course, the referral process can only work if you have a great product to offer. If you want to have solid social proof to back up your products and services, you should also optimize your social media pages. Make sure that you post positive testimonials and reviews, proof that you have a working personal relationship with existing customers.
Don't underestimate the natural referral message that you can get out of an established social media presence. Allow your existing customers to offer a reward or referral bonus to their referred friends, as this could further boost the presence of your referral landing page.
When managed the right way, social media could be a perfect channel for your referral program.
Don't underestimate the value of referral email
Along with social media, you should also look into a referral email program. As a staple in any form of email communication, a referral email invitation should start with a strong, catchy subject line. Your subject line should be brief, exciting, and attention-grabbing.
Of course, there are referral program email templates available online. To gain new customers through this method, it's important that your company advocates timely emails. It should be done in a relevant context, not just in a random, trigger-happy way.
For example, you should have a referral email schedule where you take advantage of holidays or special occasions to promote your product. If the year is nearing the Christmas shopping spree, your subject line and referral email template should be in line with Christmas. You can also align your referral code and call to action to the particular occasion.
The bottomline is that the more relevant and customized your referral email is, the more customers will visit your referral program page. You should remember that people receive a large number of promotional emails every day, so what can you do to stand out?
If you could optimize your referral program headline and call to action, your referral email will absolutely make a lasting impression.
Simplify your referral form
You may have a catchy referral headline or a unique referral link, but a complicated referral form could drive potential customers away. Customer referral forms should be simple, easy to accomplish, and direct to the point.
Also, your form could include a link to your referral program landing page. This way, potential customers will know what's in store for them if they proceed to sign up for an account or buy your product. It goes on to say that your referral landing page should contain important bits of information regarding your products and services.
On top of all these, you should ensure that your referral forms are working. Conduct form submission tests from time to time, and check if the information is properly transitioned to your data sheet or software.
Lastly, you should also check if your referral landing page can handle a surge in traffic. If a social media post containing your referral link suddenly becomes viral, your website or referral landing page should be able to accommodate a drastic increase in visitors or users.
Not sure where to start? Here are some tips!
Once you start using our referral software, you'll be able to search our template library for a referral program template that matches your industry, is based on the goal you want to achieve, and is designed to fit seamlessly with the integrations you use. Or you can check out some examples of referral programs built on our software here.
For instance, our double-sided referral program template is the most popular. Our referral experts have designed this template to have a reward and incentive already built-in to the mechanic. So all you need to do is edit the design, imagery, and text to suit your business needs. There you go, a ready-to-launch referral program tailored to suit your business.
Our referral experts understand that every business is different and so is every industry which is why they have also made referral program templates based on industry types.
Whether you're a B2B or B2C business, or if you're the marketer for a SaaS platform, own your own solar business, have your own restaurant, are a financial advisor, or sell online learning courses, we have a referral program template to suit your industry. Our team of experts builds at least ten new referral program templates every month, catering to new industries and customers.
Have you got a specific goal in mind for your referral program? Great! We have templates designed to help you meet those goals. Want to increase sales? You can use a referral program template that encourages your existing customers to refer their friends to make a purchase. If they do, you'll offer a discount as a reward or incentive. Looking to get more meetings or demos booked? Our experts have built referral program templates where the person referring can share their link with an invitee with the call to action to book a meeting or schedule a demo.
Whatever your goals are, we've got a referral program resources and templates that will only take a couple of days to get up and running.
Can you integrate your referral program directly with your CRM?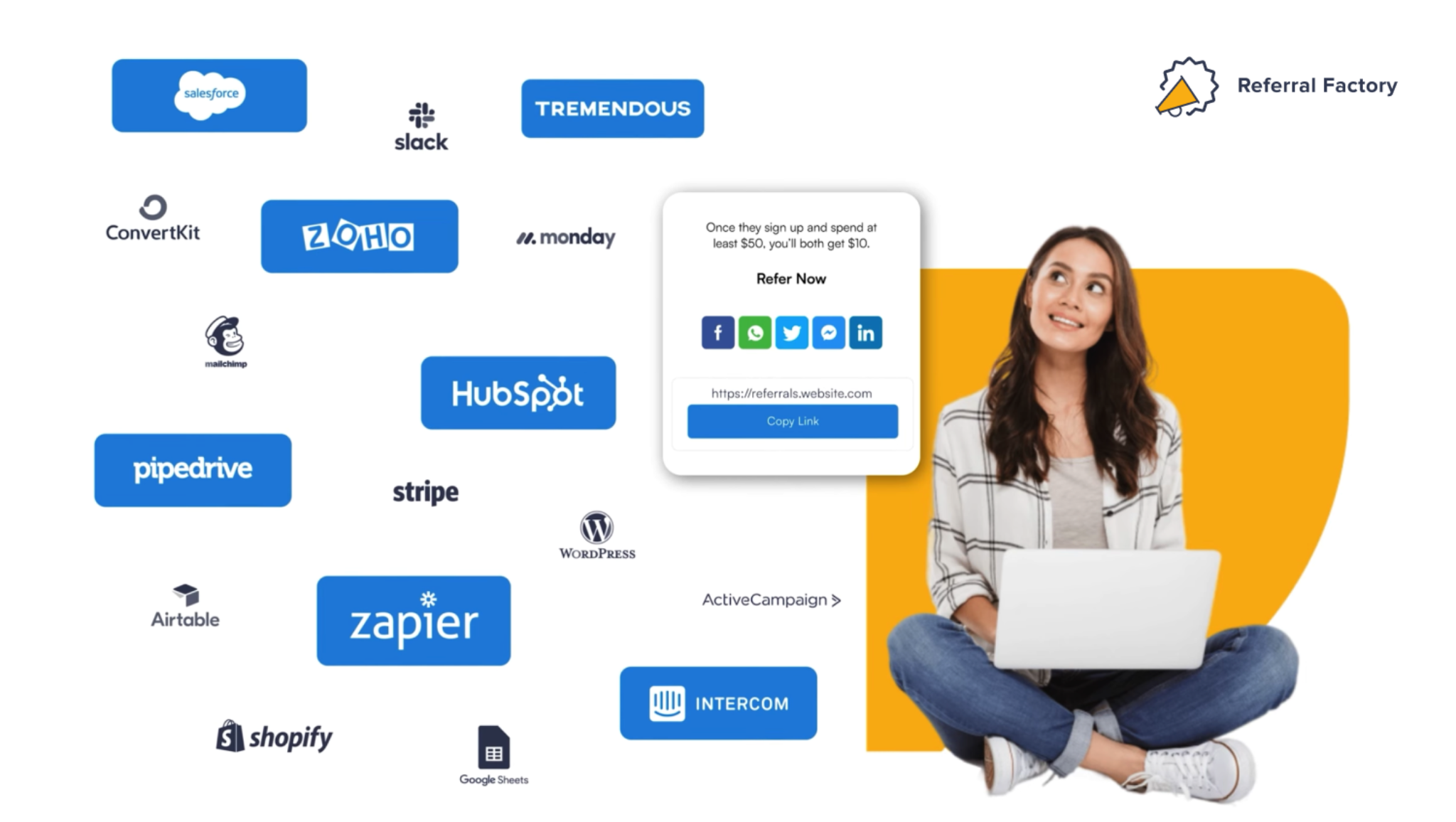 Referral Factory has templates designed to integrate directly with HubSpot, Zoho, Salesforce, Pipedrive, Intercom, and many more. These templates will make it easier for you to build a referral program where you can send referred leads into your CRM, track referrals when they convert using your CRM, and create a referral loop with your CRM so that you can get even more referrals without spending weeks working with a developer to automate the process.
You can also connect your referral program template to many other tools like payment gateways, air-table databases, blockchain ledgers and more. You just might have to do a bit more work to set up these referral integrations.
How do I promote my referral program?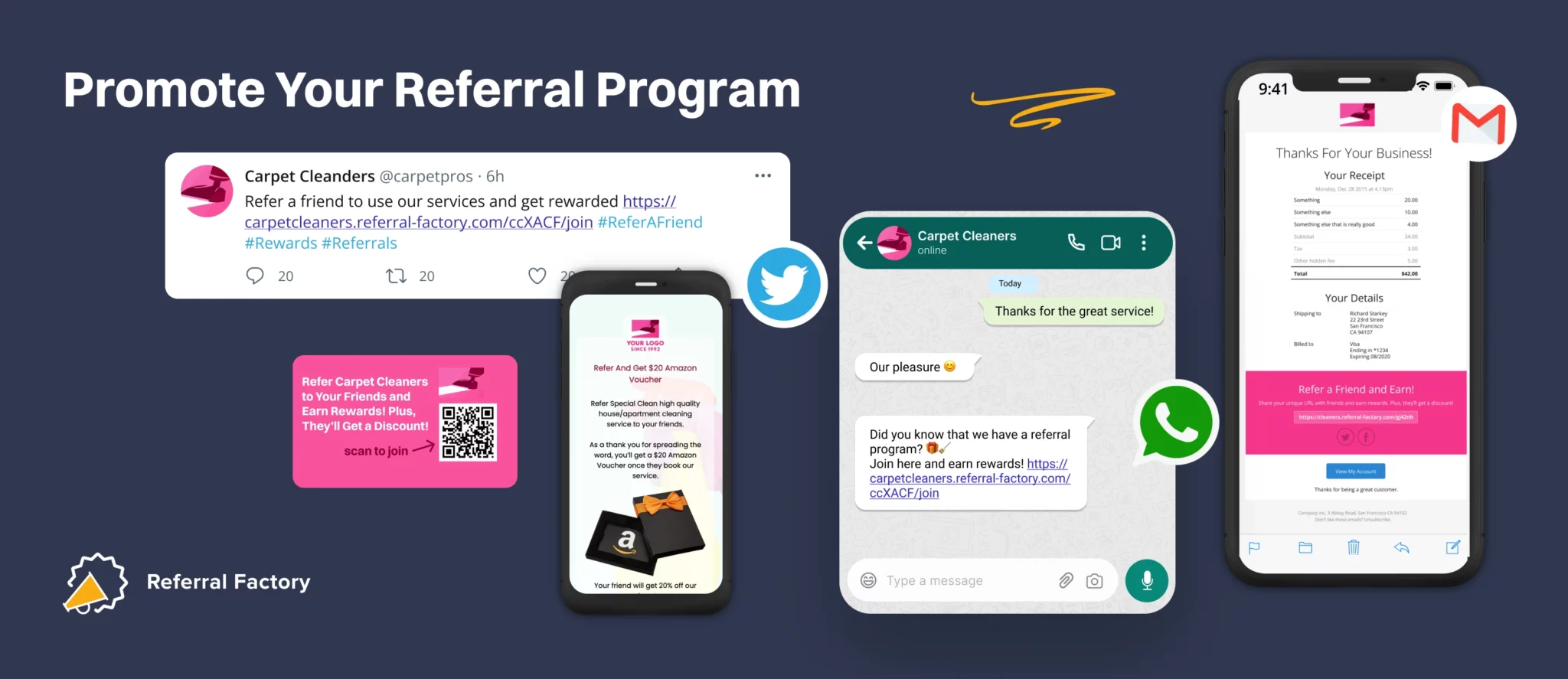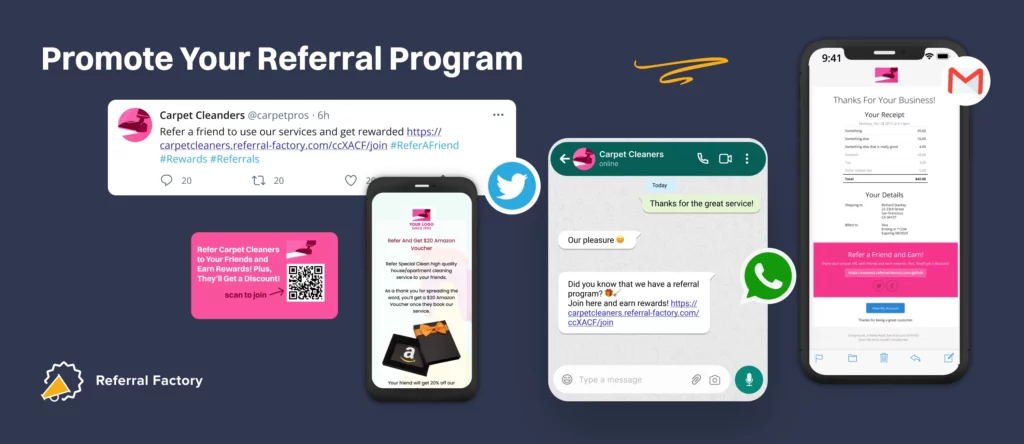 Once your referral program is launched, you'll need to put effort into promoting it to your customers and fans. Here are a few ways you can do that:
Put a referral widget on your website – this helps you turn your web traffic into referrals
Embed your referral program in your best blog posts – this helps you turn your turns your engaged readers into referrals
Email all your customers directly, and ask them to refer
Promote your referral program on social media
Moreover, you should also put more effort into creating unique referral links for your loyal customers. A unique referral link could garner more engagement, especially if the referrer is an influencer or a prominent figure in social media. By letting referrers customize their referral link, you're allowing a satisfied customer to bring your referral landing pages to a new level.
How can I track the performance of my referral program template?
Referral programs have become increasingly popular as an effective way to drive new business. However, it is essential to track the performance of your referral program template to ensure that it is successful in achieving its goals.
Here are some steps to help you track the performance of your referral program template:
1. Set clear goals: ro track the performance of your referral program, you need to first establish clear goals. These goals should be specific, measurable, achievable, relevant, and time-bound (SMART). Examples of goals could include increasing the number of referred customers, improving conversion rates, or increasing customer engagement.
2. Use referral tracking software: referral tracking software can help you track the performance of your referral program template by providing real-time data and analytics. This software can show you how many referrals have been made, who has referred the most customers, which referral channels are most effective, and more.
3. Analyze customer feedback: ask your referred customers for feedback about their experience with your brand. This can help you identify any pain points or issues that need to be addressed to improve your referral program.
4. Continuously optimize your program: use the data and feedback you collect to optimize your referral program continuously. Make changes to the program to improve its performance and achieve your goals more effectively. This could involve tweaking the incentive structure, adjusting the referral messaging, or identifying new channels to promote your program.
Utilizing referral program templates can elevate your marketing efforts, ensuring optimal tracking and optimization. By establishing clear goals, employing referral tracking software, analyzing customer feedback, and consistently optimizing your program, you can drive new business and foster improved customer loyalty each month.