Tesla market capitalisation surpassed $1 trillion in 2021 making it only the sixth company to reach that valuation. According to Statista, a selection of top car manufacturers spent an average of $495 on advertising for each vehicle sold, Tesla didn't spend a single cent on advertising overall. The majority of these ad dollars spent by major automotive manufacturers went towards Facebook, Instagram and YouTube. This explains the trillion-dollar valuations of Google and Meta, as most companies have accepted spending money on digital ads as a requirement for their growth and success.
But how did Tesla join the elusive trillion-dollar-valuation club alongside Amazon, Apple, Google, Meta and Microsoft without caving into this requirement?
Tesla Built A Great Product And Service
First, it starts with having a great product. Rather than spend its budget on advertising, Tesla heavily invested in research and development. In 2021 they spent almost $3000 dollars on R&D for each car they sold. For context, $3000 was the combined spend of Ford, Toyota and GM on R&D for each car sold on R&D. This placed their vehicle leaps and bounds ahead of alternatives in regards to quality and functionality. Coupled with the effect of scarcity as a result of being a pioneer in the electronic vehicle segment, the demand for their vehicles surpassed their ability to supply.
Enthusiasts were lining up to dole out upwards of $50000 to get their foot on a Tesla accelerator because it had the best technology and features in the market. Additionally, owning a Tesla came with a sense of prestige as it was a head-turner on the roads.
If you want to mimic the growth of Tesla, then there is a lesson to be learnt in regards to how you invest in making sure that your product or service is the best it can be.
"None of my companies buy advertising or pay famous people to fake endorse. Product lives or dies on its own merits. I trust the people" – Elon Musk on Twitter
Tesla Formalised Customer Advocacy
The great thing about building the best possible product is that people who use and love your product will organically tell about it. That's what we call word-of-mouth marketing. Tons of people were already speaking about Tesla and recommending it to others before they officially launched their referral program in 2015. Their annual revenue increased by 25% that year and the company would reach their $1 trillion valuation one month after ending the referral program in September 2021.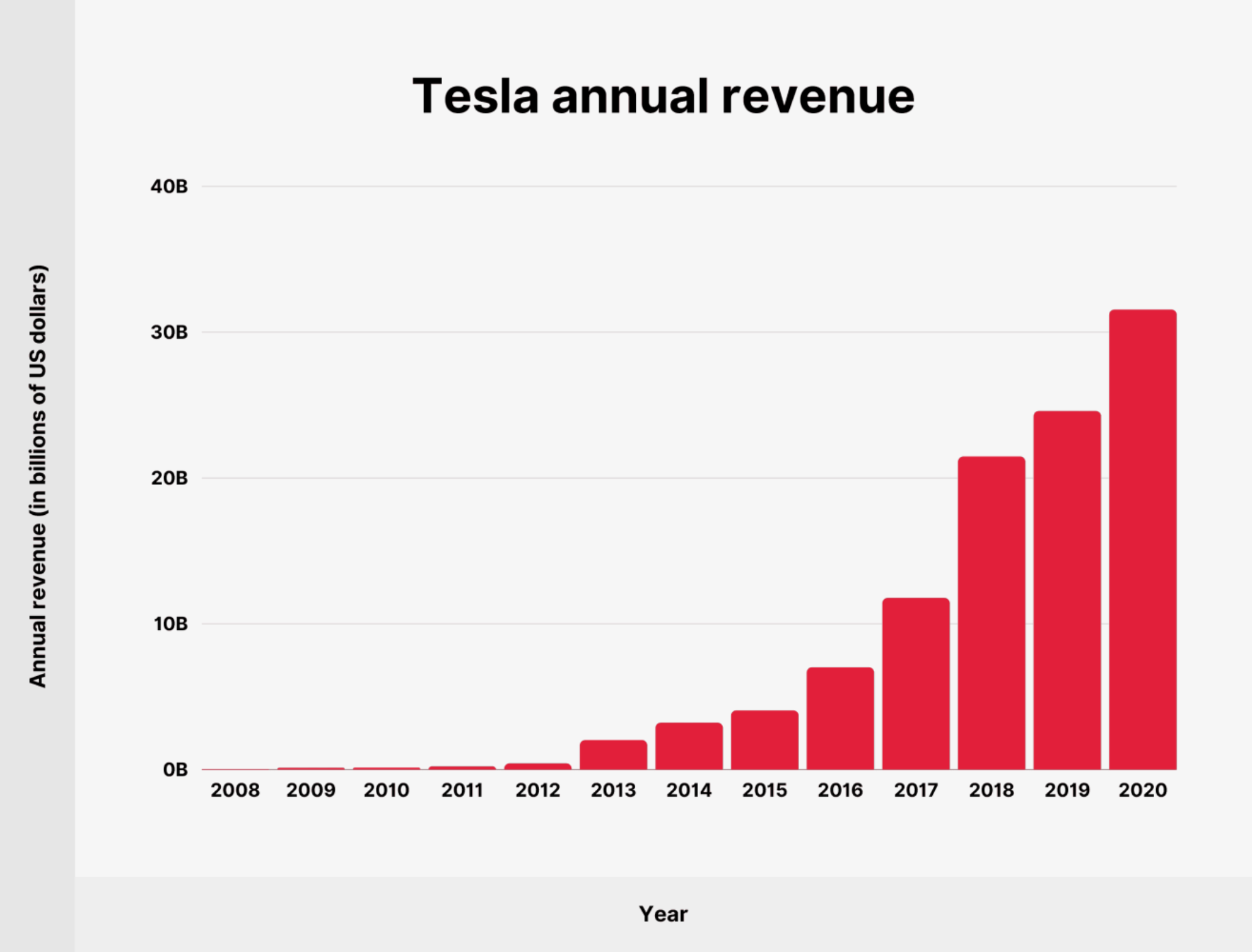 While they didn't spend a single cent on advertising, there was an investment in marketing to develop their referral program and fulfil the rewards and incentives for the program. Marketing is the process of creating a market for your product or service by understanding and meeting the needs of customers. Advertising is the process of creating attention for your product or service by paying other companies to promote your product on their channels. It's important to make this distinction because money was spent by Tesla. It just wasn't spent on advertising. There's no way to accurately determine how much Tesla spent on their referral program, but what we do know is that you can create your own referral program in less than 15 minutes from as little as $95 per month with our referral software. We even have a template you can use as inspiration to create a referral program just like Teslas.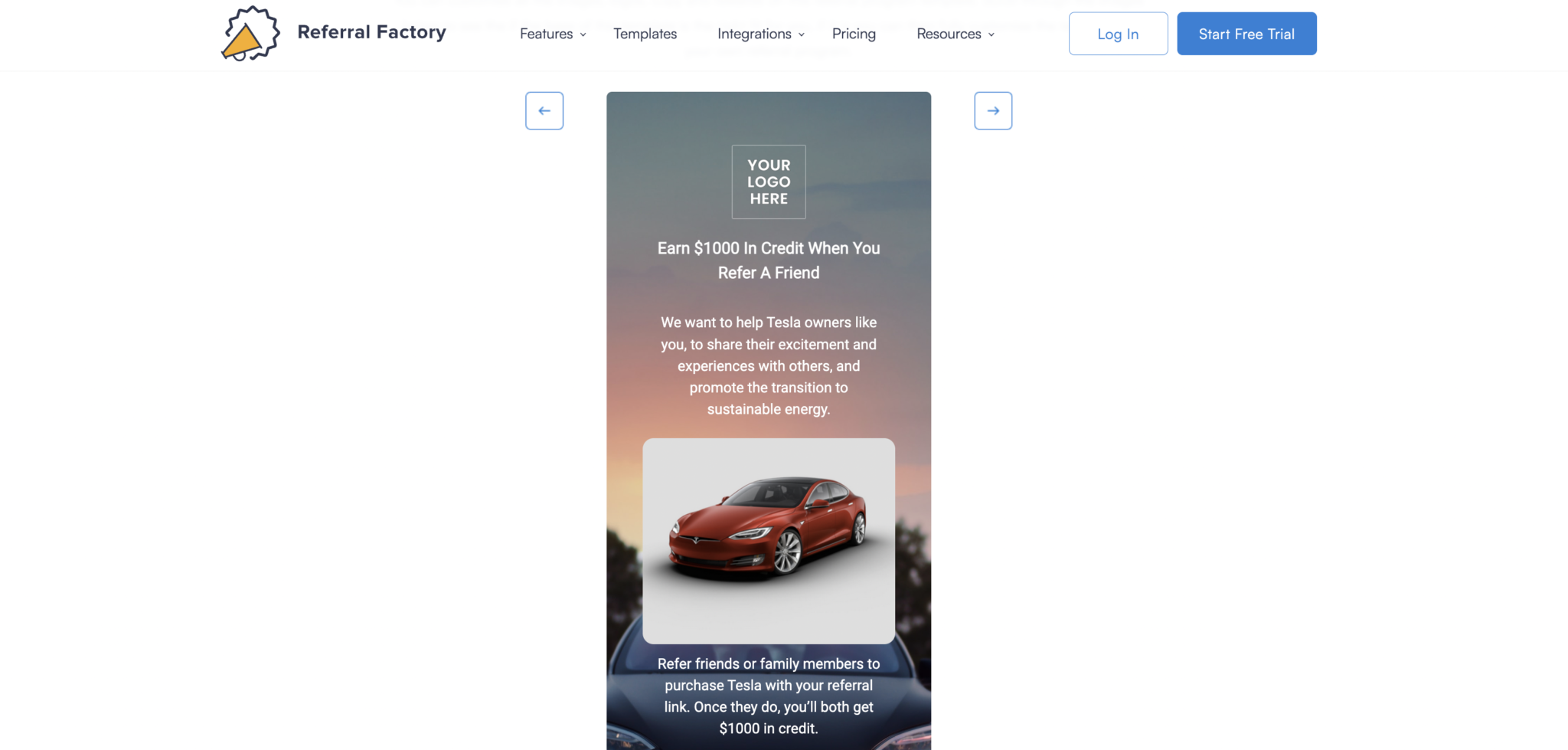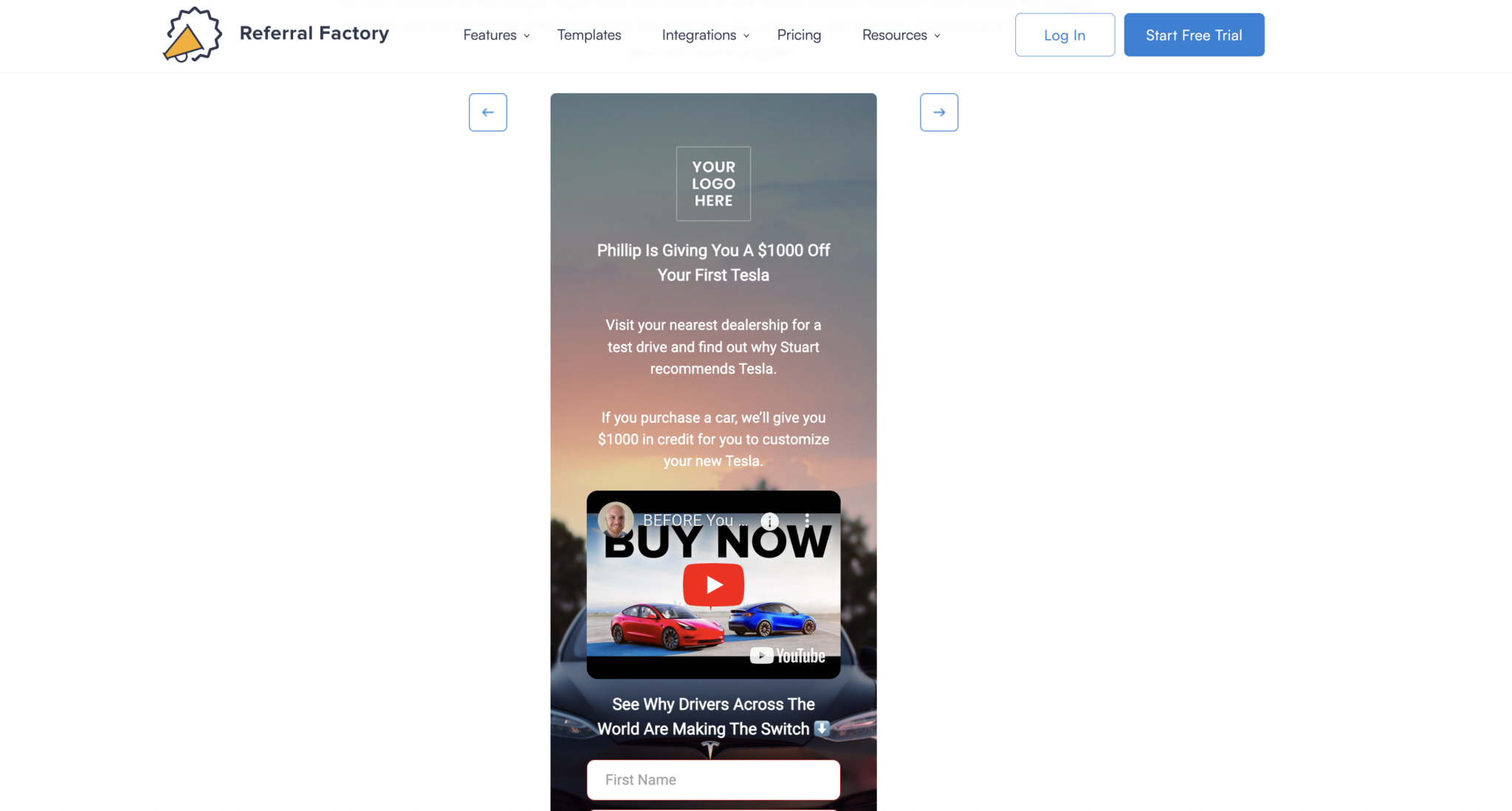 Let's take a deep dive into what the elements of Tesla's Referral Program were that contributed to its success and ultimate trillion-dollar valuation.
Tesla Offered Customer-Oriented Rewards & Incentives
Tesla's Referral Program went through many variations throughout its existence. But, one thing that remained constant was that the rewards and incentives highlighted a keen understanding of their customer's needs. The rewards were double-sided, which meant that both the user referring and the user being referred got access to them. The standard reward was between $1000 and $1200 Tesla credit which could be used to discount the cost of a Tesla. That's a 2% discount on the standard Tesla Model 3, which is currently the cheapest available Tesla. But it wasn't the discount that really drove the success of the referral program. It was the gamification or the program with tiered and exclusive rewards for referrers that drove it to the moon.
Here is a list of some of the rewards they offered referrers:
1000 miles of free supercharging on the Tesla Supercharger Network for a successful referral
Tour of SpaceX raffle for anyone with a successful referral
Tesla owners jacket for 3 successful referrals
Invite to Tesla event for 10 successful referrals
Next-Generation Tesla Roadster (valued at $250 000) for 50 successful referrals
Tesla Model S, home charger, and a trip to Gigafactory for most referrals in specific regions
While all these rewards didn't run concurrently, there is a lot to be learned from a look at their rewards through the various iterations of their referral program.
Rewards don't have to be money. In fact, it's better if the rewards are experiences money can't buy. You couldn't buy a tour of SpaceX or a trip to the grand opening of the Gigalfactory.
Exclusivity, exclusivity, exclusivity. While a Tesla owners jack or tote bag may seem small, the prestige of the reward was heightened by the fact that the only way to access these rewards was by being a referrer. Another thing money couldn't buy.
Gamify your referral program by creating a competition where the user who generates the most successful referrals receives an extraordinary reward.
A simple discount or coupon code will go a long way for your referral program. But if you want it to reach the next level, understand your customer and consider rewards that are experiential, exclusive and gamified.
Tesla Created Frictionless and Efficient Referral Workflows
It can be a nightmare setting up a seamless referral program with touchpoints that look and feel just like your brand. This is the exact problem that created the opportunity for the birth of Referral Factory. But Tesla is as much a software company as it is a hardware company. Their team of developers built a referral program natively into their existing software. This allowed customers to conveniently access the referral program on the mobile app or website through a dashboard Tesla called Lootbox. Customers could access their unique referral link in the dashboard and also keep track of how many referrals they had generated.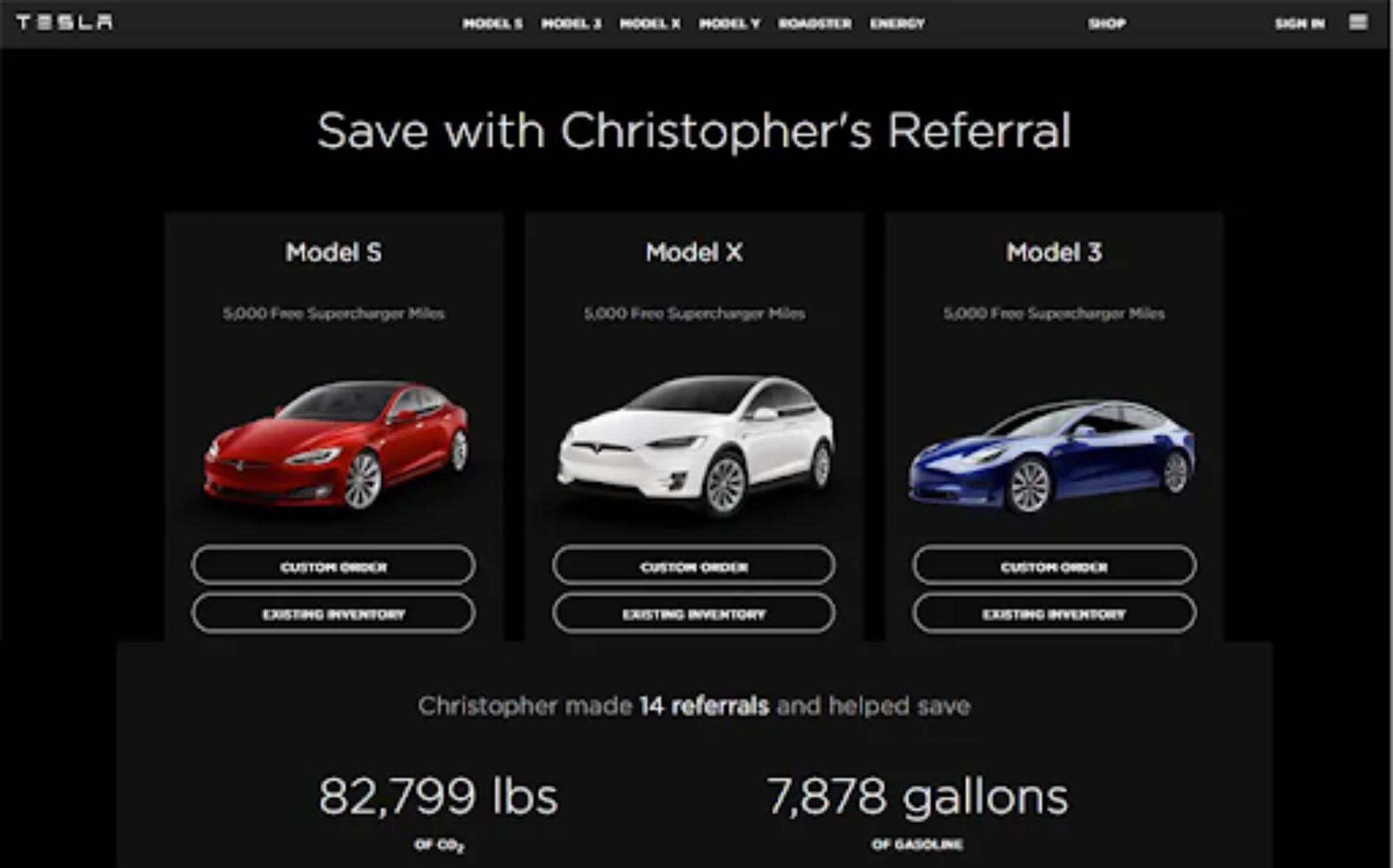 On the backend, Tesla had a dashboard where they could see everyone's referrals. The whole system was fully integrated and automated keeping track of each referral's lifecycle stage from the first click to a successful order where the vehicle leaves the showroom floor.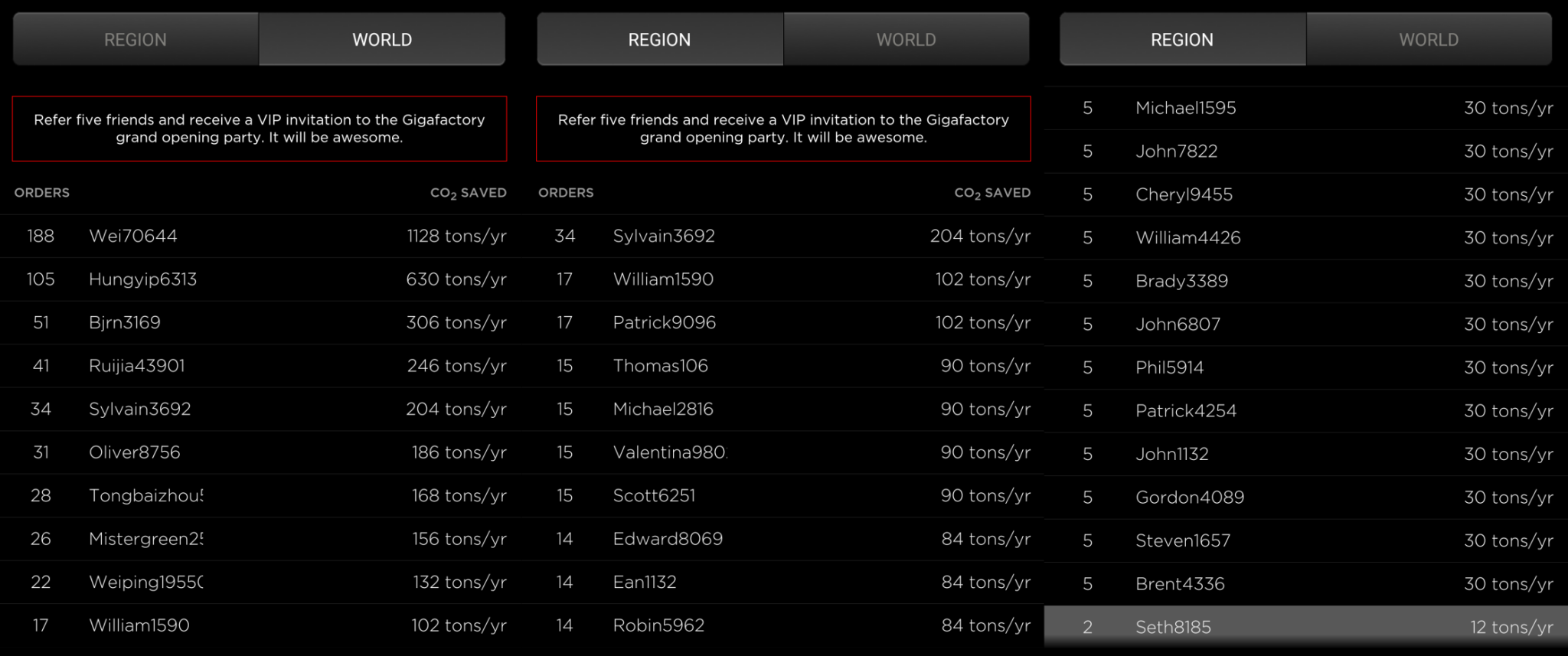 You may not have the budget or expertise to develop your own program, but with Referral Factory you can have the same functionality as the Tesla Referral program for your own products or service without needing to code. It's quick and easy to use without compromising on customisation or quality.
Referral Program Templates for every kind of business ✔️
Set your own rewards ✔️
Campaigns that look and feel like your brand ✔️
Track and monitor your referrals ✔️
Fraud-detection ✔️
Additionally, our tool makes it easy to integrate with the customer relationship management tool you already use. We have certified apps that integrate with HubSpot, Salesforce, Intercom and Pipedrive. If you don't have a CRM you can still use our Zapier integration to grow your business on autopilot by replicating the same functions as the Tesla Referral program.
Tesla Reminded Users And Make It Easy To Spread The Word
Tesla Referral Program was built into their app and website with its own dashboard which made it front and centre of attention. Through the app, they were also able to push notifications to remind their users and give updates in real-time on referrals.
If your referral program is relegated to a tiny link in the footer of your website, how do you expect it to perform well? You need to use all the means available to you to remind your users of the program and rewards on offer without spamming them.
Additionally, it needs to be easy for users to share, refer and track. That's why we've integrated the sharing of referral links on Facebook, WhatsApp, Twitter, SMS, Facebook Messenger and Email into each user's referral link dashboard. They can also see the number of successful referrals in the same dashboard.
Don't take for granted how something as simple as making your referral program easy to promote for referrers can drive your campaign to success.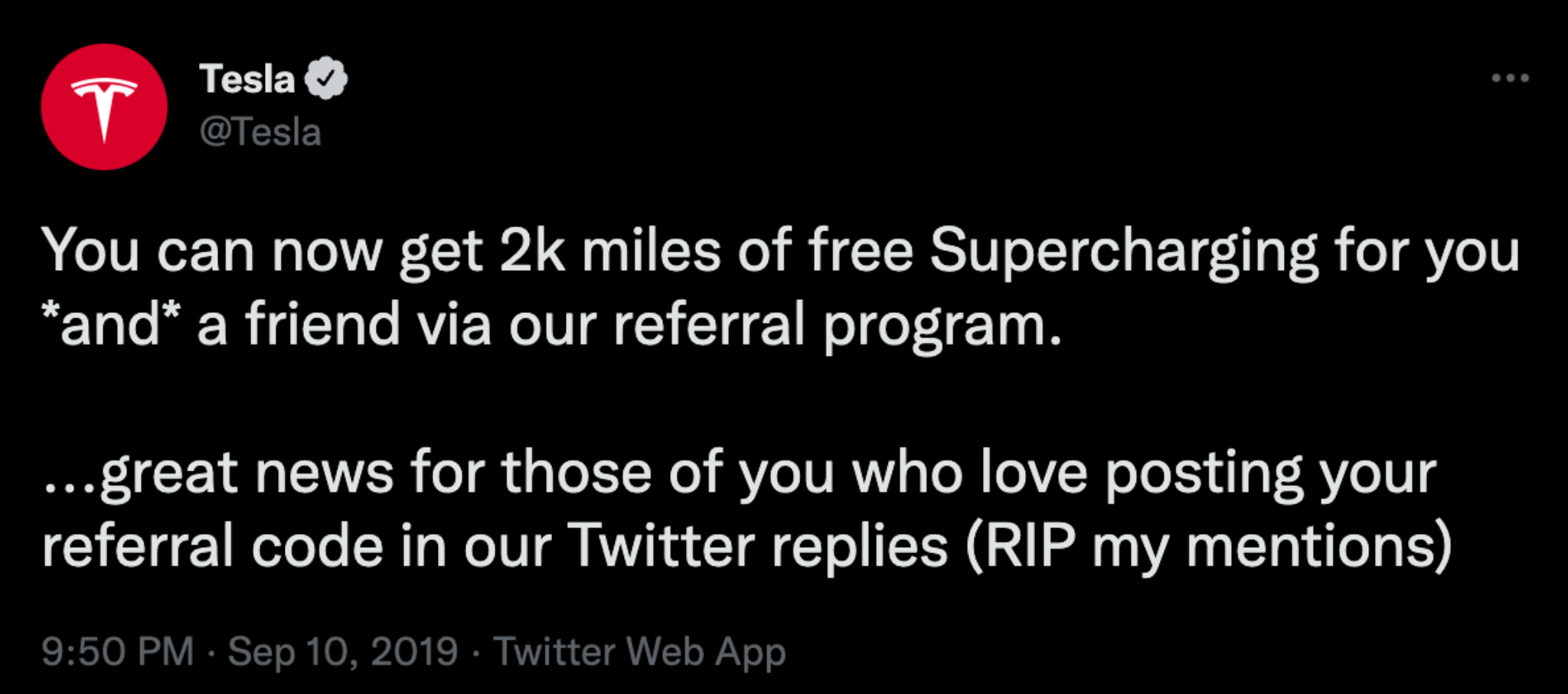 But Did Their Referral Program Move The Marketing Needle?
Of course, the Tesla Referral program wasn't the only reason they'd eventually reach the $1 trillion valuation. But it's worth diving into to figures to asses what ROI it had.
We'll use the example of one of their referral programs where they offered their customers the Tesla Roadster as a reward for generating 55 successful rewards. The reward was limited to a maximum of 2 Roadsters for each person reaching the threshold.
Andy Slye, a Tesla enthusiast and YouTuber would generate 295 successful referrals. He did so by sharing his referral link throughout a Tesla YouTube series that would still be generating referrals today if the program wasn't closed by Tesla.
The cost of rewarding Andy for Tesla was $500000 as the Founder Series Roadster was valued at $250000. But what did Tesla gain? At the close of the program, Andy had generated 1265 successful referrals. For a conservative estimate, let's assume that the referrals were all for the Model 3 which was the cheapest model at $35000 for the standard version. Tesla generated more than $44 million in sales from Andy alone. They received $88 for each dollar they spent on his reward.

Business2Community took a stab at calculating the total ROI for Tesla's referral program and they estimated in excess of 42x on every dollar spent on their referral program. That's multitudes higher than the ROI you can expect from paid social or search ads. That's why Tesla doesn't spend any money on advertising.